Demystifying dysplasias
Wednesday, February 5, 2014 - 12:00am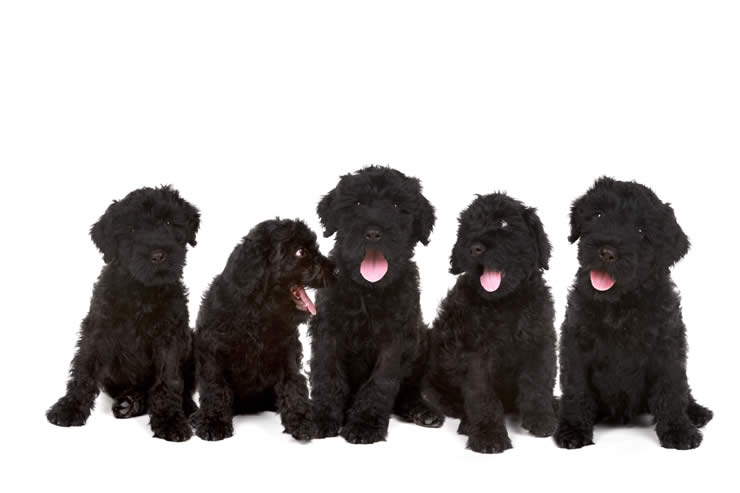 Cornell's College of Veterinary Medicine invites Black Russian Terriers to participate in a genetic study that will improve the health and well-being of these dogs. The results of the study will hopefully lead to the development of a genetic test designed to provide breeders with the information they need to effectively reduce the incidence of hip and elbow dysplasia in this breed. To participate, please call 607-253-3060 and ask to speak with Susan Garrison or email your interest to vetbiobank@cornell.edu.
Hip and elbow dysplasia are inherited developmental malformations that result in painful and debilitating arthritis. In its most severe forms, these two dysplasias cause crippling lameness especially when they occur together in the same dog. Led by Dr. Rory Todhunter, who has devoted his scientific explorations to understanding and eliminating hip and elbow dysplasia in dogs, Cornell has developed a patented method of assessing hips for dysplasia and identified marker tests for hip dysplasia in several other breeds. The data obtained through this study will allow the Cornell team to develop a test that will predict the risk of developing hip and elbow dysplasia in Black Russian Terriers immediately after birth.
To support this study, please submit a blood sample to the Cornell Veterinary Biobank, a resource for researchers around the world studying a variety of conditions. Inclusion in the Biobank is completely confidential and facilitates the study of many additional diseases. In addition, please send OFA hip and elbow reports. Eligible Black Russian Terriers must be 2-years-old or older. We will work with the OFA to obtain additional measurements on the radiographs of your dog. We also welcome the submission of samples from any Black Russian Terrier over the age of 10, along with its medical history.
"If we can help lower the incidence of hip and elbow dysplasia in the Black Russian Terrier gene pool, it will make a huge impact on the health of the breed," said Dr. Marta Castelhano, one of the principal investigators of this study and Director of the Cornell Veterinary Biobank. "This study will provide the knowledge and tools that we need to stop propagating genes that diminish the quality of life for future generations of this breed."
For more information, please contact Susan Garrison at vetbiobank@cornell.edu.