Faculty wins medal for diabetes discoveries
Monday, May 5, 2014 - 12:00am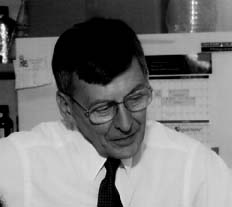 Dr. Geoffrey Sharp, professor of molecular medicine at the College of Veterinary Medicine, has been selected as the 7th Annual Lacy Medalist by the Mid-Western Islet Club. The club, whose membership is drawn from diabetes researchers in most of the States between the East and West coasts of the United States, is dedicated to fostering research and greater communication and interaction between young and established pancreatic beta cell biology investigators.
Chosen for his innovative discoveries in diabetes research, Sharp will receive the medal and deliver a lecture on his work at this year's annual meeting of the club on May 21st at the University of Alabama's Comprehensive Diabetes Center in Birmingham The Lacy Medal Award is named for Dr. Paul Eston Lacy, a pathologist and renowned diabetes researcher who pioneered islet transplantation in the treatment of diabetes.
Sharp advanced the field of diabetes research in several areas involving the mechanisms by which insulin secretion is controlled by both stimulatory and inhibitory influences. His most recent work involves G-protein control of insulin-containing granule pools, exocytosis, and endocytosis.
Before his studies in diabetes, Sharp began his scientific career studying circadian rhythms. He led teams of human participants on two expeditions to the Arctic island of Spitsbergen, carrying two and a half months' worth of food and supplies, together with tents and all the equipment and chemicals required for the studies. Spitsbergen was chosen to take advantage of the 24 hour daylight, the ability to impose dark-light cycles at will, and to achieve complete isolation from other human activities
Stimulating various changes to circadian rhythms by changing light-dark timing, he found it took between three and five days for  the subjects to adjust to a complete reversal in the timing of light and dark. During this adaptation period and control periods prior to and after the change,  he documented daily cyclic changes in sleep-wakefulness, the levels of white blood cells, body temperature, adrenocortical steroid secretion, urinary volume and electrolyte secretion and correlated the relationships between them.
In 1960 he left his lectureship at Nottingham University for a postdoctoral fellowship at the Middlesex Hospital Medical School in London and two years later came to the US for another postdoctoral position at the Massachusetts General Hospital where he studied transepithelial ion transport..
In 1970, he moved almost accidentally into studies on the mode of action of cholera toxin when one of his students was about to join the NIH and go to work on cholera in Bangladesh. A few weeks after their discussions on the topic he discovered the major molecular mechanism by which cholera toxin causes the disease. He continued to study the actions of cholera toxin both in Bangladesh (on patients) and for some time afterwards in Boston, Mass.
When the India/Pakistan war made a planned sabbatical leave in Bangladesh impossible, Sharp took a sabbatical at short notice in Albert Renold's Institut de Biochimie Clinique in Geneva, Switzerland to study diabetes. While at that point he knew almost nothing about diabetes he was working in one of the most renowned diabetes research centers in the world. This sabbatical was so successful that it lasted essentially for two years, but was then extended for another eight years as he flew from Boston to Geneva and back five or six times a year to continue his collaborative studies there. He has studied diabetes, the pancreatic beta-cell, and islet function ever since.
In 1978 Sharp became chairman of the Physiology Department at Tufts University Medical School. Only two years later, in 1980, he left Tufts and moved to Cornell University where he was offered the exciting opportunity to build a new Department of Pharmacology from scratch. Two years later he took on additional responsibilities as Director of the Division of Biological Sciences. He is currently a professor in what is now the Department of Molecular Medicine at Cornell's College of Veterinary Medicine.