Dr. Bettina Wagner to lead research at College of Veterinary Medicine
Friday, May 30, 2014 - 12:00am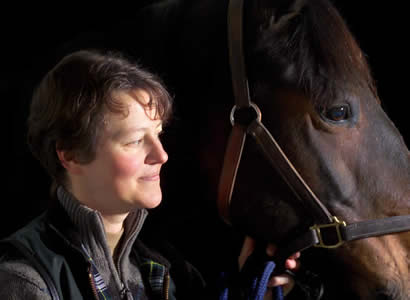 Dr. Bettina Wagner has been appointed Associate Dean for Research and Graduate Education at the Cornell University College of Veterinary Medicine. She will serve a five year term beginning September 1, 2014.  Dr. Joel Baines, who currently holds the position, will become the Dean of Louisiana State University's School of Veterinary Medicine effective September 1, 2014. 
"I'm looking forward to my new responsibilities," said Wagner. "It is an important position and an excellent opportunity to promote research and graduate education at the College."
Wagner received her DVM in 1990 and her Dr. med. vet. degree in veterinary immunology in 1993 from the School of Veterinary Medicine in Hannover, Germany and completed a postdoctoral position in 1994 studying the isolation and characterization of IGHC genes in the horse. At the College's Baker Institute for Animal Health she served as a Visiting Professor from 2002 to 2004 and as a Senior Research Associate from 2004 to 2006. In 2010 she joined the Department of Population Medicine and Diagnostic Sciences as Assistant Professor of Immunology and became an Associate Professor in 2010. 
Wagner's research has focused on equine immunology, particularly immune responses and protective mechanisms in neonates and young foals. For this work she was honored with a two-year term as the Harry M. Zweig Assistant Professor in Equine Health in 2009.  
"Bettina is an outstanding scientist who has made major contributions to the detection of animal diseases and brings enormous credibility to this important leadership position," said Dr. Michael Kotlikoff. "I hope the College community will join me in congratulating and wishing Dr. Wagner success and thanking Dr. Baines for his leadership over the past years." 
As Associate Dean, Wagner will be responsible for the strategic leadership and advancement of research and graduate education at the College. She will oversee research administration across the College, forging collaborative partnerships between researchers and other stakeholders across the College.
Managing the College Research Office, which facilitates grant applications, she will forge opportunities for faculty collaborations; implement research initiatives; serve as Chair of College Research Affairs Committee. In addition she will provide administrative oversight for internal grant programs, including the Zweig Memorial Fund Program; serve as Director of the Veterinary Investigator Program and as Associate Director of the Cornell University Agriculture Experiment Station, and provide strategic leadership for the College's research programs and summer research programs.