Young hawk's plight inspires support near and far
Tuesday, July 1, 2014 - 12:00am
People from across Cornell and far beyond have banded together to ensure the wellbeing of E3, the youngest of three siblings from the nest of Big Red and Ezra, the red-tailed hawks nesting on Cornell's campus.
Staff from the College of Veterinary Medicine are caring for the injured fledgling and working with the Cornell Lab of Ornithology to update the global online community that followed the lives of these birds 24/7 this season at AllAboutBirds.org/Cornellhawks.
E3 was injured on Sunday, June 15, just one day after he flew from the nest for the first time. As he was resting on a greenhouse roof, an automated vent closed on him as people watched live on the ground and online. Viewers immediately swung into action to contact staff around the university, who arrived on the scene to help and disabled the automated window.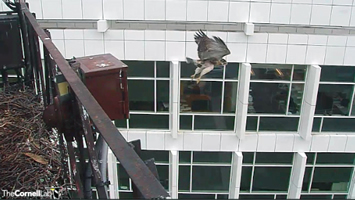 Initially, the crowd feared that E3 was dead. But eventually he stood up, tried to fly, and plummeted to the ground. Cornell Lab of Ornithology staffer Victoria Campbell, a licensed wildlife rehabilitator, took him in to the Janet L. Swanson Wildlife Health Center at the College of Veterinary Medicine, one of only four university-based wildlife centers in the U.S. that provide diagnostic, medical, and surgical care to sick, injured, or otherwise impaired native wildlife.
Since his arrival at the Center, E3 has undergone two rounds of surgery to repair a broken wing. Managing veterinarians Dr. Ricardo de Matos, lecturer in Zoological Medicine, and Dr. Noha Abou-Madi, clinical associate professor of Zoological Medicine, continue to monitor the young hawk during his ongoing recovery and convey updates to the online community, where thousands await the latest news.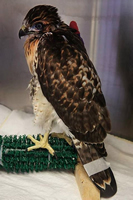 "We are so grateful that E3 is receiving care by the world's top experts in veterinary medicine," said Miyoko Chu, director of communications at the Lab of Ornithology. "We thank everyone at the Wildlife Health Center for helping E3 and providing frequent and informative updates for the millions of people who have come to know and love E3 and his family through the live cams."
The Lab and veterinarians from the Janet L. Swanson Wildlife Health Center have been sharing updates in the news section of the Cornellhawks web page and Bird Cams Facebook page, where the community has expressed an outpouring of support.
Hundreds of compassionate viewers have contributed donations to the Janet L. Swanson Wildlife Health Center to facilitate E3's care. These donations have gone a long way toward care for the young bird who remains hospitalized. If you would like to contribute to the Center's ongoing care of E3 and other wildlife, please visit the link below: