Cornell pride inspires $500,000 gift
Wednesday, July 30, 2014 - 12:00am
World War II was in full swing when Dr. Richard Basom '44 started veterinary college at Cornell.
Because of the war, his program was accelerated to three years rather than the usual four. He attended summer school for two summers and graduated earlier than most do, yet the friendships and memories he formed in those few years proved powerful and lasting.
He went into large animal practice for his first year out, then into mixed practice for several years before venturing out to start his own mixed practice and finally transitioning to small animal practice in Henrietta, NY, near Rochester. During all that time, he retained fond feelings for Cornell and the education he gained there.
In 2013 those memories were revived once more as Basom returned to the College for a tour of Cornell University Hospital for Animals and the Veterinary Education Center. Basom had always spoken fondly of Cornell, so his financial advisor, Neil Frood A&S '96, had arranged the tour, which brought up once more his feelings of strong affinity with Cornell.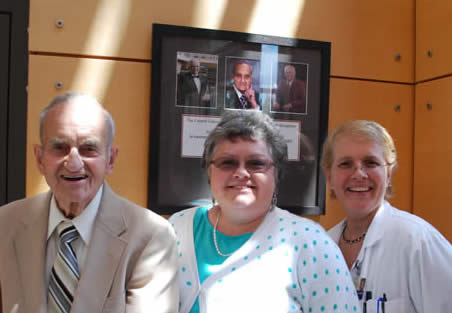 "I liked everything I did at Cornell," said Basom. "I loved Ithaca and all our professors. I chose to give to Cornell because I feel a strong gratitude for my education. I'm proud to have such a wonderful school here in NY and to know it is so well thought of nationally. So many of my classmates have made names for themselves. I'm proud to be an American and I'm proud to be a Cornellian."
Those feelings of pride strengthened when he visited to see how the College has grown, and inspired Basom to name the College as a beneficiary to a $500,000 charitable trust.
Basom's gift has been commemorated with a plaque hung in the main entrance to the Veterinary Education Center. It bears the pictures of three men: Basom; Dr. Kenneth McEntee '44, his roommate at Cornell and lifelong friend; and Dr. Robert Kirk '46, a world renowned peer and helpful mentor in small animal medicine on whom Basom called several times.
"Dr. McEntee was a close and good friend, and Dr. Kirk was so helpful and did such a good job on books he coauthored that I thought he should be recognized," said Basom.
The unrestricted gift will serve the College's most pressing needs.
"I hope it will perpetuate ongoing research and educational activities, help students succeed, and help keep the College on the cutting edge as it has been for years," said Dr. Basom.