Elephant doctor leaves legacy of conservation and kindness
Friday, September 26, 2014 - 12:00am
Dr. Jim Laurita '89, executive director of Hope Elephants sanctuary in Hope, Maine, passed away Tuesday, September 9, after an accident while tending to the elephants he cared for. He is remembered for his compassion for animals, particularly elephants, to which he devoted much of his life.
Laurita had experience working at the Bronx Zoo and as head elephant trainer for a wildlife park in Oregon. He had traveled to India to work with elephants before settling in Hope, Maine to start a veterinary practice in Maine. In 2011 Laurita sold his thriving practice to focus on establishing Hope Elephants. Living steps away from the facility, he became the foundation's 24/7 elephant caregiver, an enthusiastic educator on the importance of wildlife conservation, and an energetic collaborator with like-minded organizations worldwide.
"Jim's passion for all animals, but especially elephants was boundless," said Hope Elephants in a statement released on its Facebook page. "It was Jim's ability share that passion with all around him that not only helped to make our organization a reality, but also enriched and enhanced the lives of all those who had a chance to know Jim. It was through education that Jim passed on his passion and the importance of wildlife conservation."
Hope Elephants' mission is to provide a unique and caring home for injured and aging elephants, and to provide an educational program that inspires visitors to participate in wildlife conservation. They collaborate with individuals and organizations committed to wildlife conservation, especially those working to protect and preserve elephants.
The sanctuary provides state-of-the-art medical and physical therapy, and nutritional support. All care is administered by a professional team of experienced elephant handlers and veterinarians. Its elephant habitat consists of a 52' X 60' barn with a vaulted ceiling designed and built for caring for elephants. It opens to a large outdoor paddock where the elephants roam varied terrain, including a mud wallow, orchard, and shade trees. The light-filled barn with a radiant-heated floor is covered with screened sand.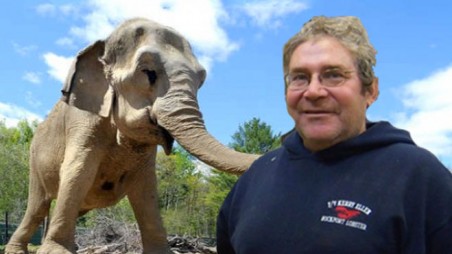 After more than 40 years performing for the public, Hope Elephants' Asian elephant residents, Rosie and Opal, needed specialized medical care. They had gone to the Endangered Ark Foundation in Oklahoma after leaving the circus where Laurita had met them in the late 1970s. Laurita designed the Maine facility to offer care more specific to their needs.
Rosie's trunk is partially paralyzed due to nerve damage. She is unable to drink water easily and has adapted a throwing motion to feed herself. Nerve damage in her shoulder has led to gait problems and arthritic joints in her forelegs. Opal suffers from limb and joint deterioration and requires physical therapy to alleviate some of her pain and discomfort. They moved to Hope, and under Laurita's leadership, the sanctuary successfully developed and applied innovative treatments that are improving Rosie and Opal's quality of life and that will benefit other injured elephants.
"For Jim, his first thought, always, was for the well-being of 'his girls,'" Hope Elephants said in a statement on its website. "The sacrifices that he made to make Hope Elephants possible and sustainable were incredible. Everyone who knew him appreciated that his commitment was total."
The sanctuary's board of directors elected to return Rosie and Opal to their previous home, the Endangered Ark Foundation in Oklahoma, where they are reported to have settled back in comfortably with the foundation's larger herd.
The future direction of Hope Elephants is under discussion; meanwhile, the nonprofit has set up The Jim Laurita Fund to help raise the $300,000 the organization owed Laurita at his death. Contributions will go to his surviving family.