National Veterinary Technician Week spotlight
Tuesday, October 14, 2014 - 12:00am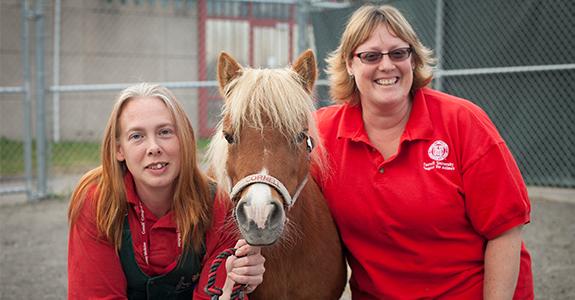 On a typical day, Laura Barlow, a licensed veterinary technician (LVT) in medical oncology at the Cornell University Hospital for Animals, will check on emergency patients admitted overnight to her service and help facilitate their morning needs. She also will meet with clients; admit patients to the hospital; take their temperatures, weights, blood pressures, and respiration and heart rates; collect diagnostic samples for blood work and urine testing; place catheters; administer fluids; give chemotherapy treatments; assist veterinarians with biopsies, operations and administering anesthesia; schedule ultrasounds and radiographs; and complete all related records while teaching Cornell veterinary students how to do the same.
In the Equine and Nemo Farm Animal Hospital, Kalli Anderson-Dyer, LVT, will perform many of these same tasks, as well as set up for routine dental work or eye injuries (not quite so routine when you are dealing with a horse, cow, pig or alpaca, she says); prepare for emergency procedures; and arrange other services such as farrier (horseshoeing) work. She also teaches students how to work around large animals when performing these tasks.
All 80-some LVTs at the Cornell Hospital for Animals, including the Equine and Nemo Farm Animal Hospital, and other technicians across campus will celebrate their profession Oct. 12-18, when the College of Veterinary Medicine recognizes LVTs in honor of National Veterinary Technician Week.
Created in 1993, National Veterinary Technician Week recognizes LVT contributions and serves to educate the public on the work LVTs perform. "Usually, when people hear the word 'technician,' they think of technical skills, not the nursing and healthcare skills we bring to our work," Barlow says. "People become LVTs because they want to provide compassionate, high-quality care to animals. Patient advocacy is always our top priority."
During the recognition week, displays in Cornell's animal hospitals promote the work of LVTs and the hospital director hosts a gathering for all the hospital LVTs.

Barlow says that Cornell's LVTs have all graduated from a program accredited by the American Veterinary Medical Association, have passed a national examination and are licensed in New York state. Some LVTs find themselves drawn to a particular specialty, she says; coming to Cornell allows LVTs to obtain in-depth experience and knowledge in their specialty, which could be in anything from exotic pet medicine and wildlife health, for example, to ultrasound, imaging, nutrition, neurology and cardiology.
Anderson-Dyer started working with small animals in general practice but switched to caring for equine and farm animals when she came to Cornell. "Once I started working with large animals, I knew I had discovered my passion," she says.
Barlow began her Cornell career in the Companion Animal Hospital, and, after working in several other areas, found her niche in its oncology unit. "I enjoy developing relationships with patients and their owners over time, as they return for chemotherapy or radiation treatments, and I am there to help them through their pet's treatment," she says.
Both Barlow and Anderson-Dyer enjoy the teaching aspects of their jobs. "You cannot work here without loving to teach," says Barlow. Anderson-Dyer says that most of her students already have a solid background in veterinary medicine, but need to become comfortable dealing with large animals hands-on. "The anatomy is different in a large animal; the drug interactions are different," Anderson-Dyer says. Procedures are handled differently depending on the size of the animal.
Anderson-Dyer says that LVTs need to be organized, flexible, able to multitask and keep a number of activities moving forward – all while working under the direction of a veterinarian. "You also need to remain calm under pressure, so that you can 'be there' for the client and patient," she says.