LVT Week honors dedicated professionals
Tuesday, October 13, 2015 - 12:00am
When people first learn that Laura Barlow works in a cancer clinic, they assume her job is depressing all the time. Barlow tells them that her experiences are more often like this:
"One of my patients saw me from the other side of the waiting room, bounded over the chairs at full speed toward me, and rolled over on his back for a belly rub," she says. That would be unusual behavior for human cancer patients, but Barlow, a Licensed Veterinary Technician (LVT), says it happens regularly at the Cornell University Hospital for Animals (CUHA).
"Since they visit us frequently for treatments and monitoring, I get to interact with the owners every visit, I get to bond with the patients," she says. "Many of our patients get on the table willingly for their treatments. We love these pets and bond with them as if they are a part of our family as well."
"Don't get me wrong--cancer stinks," Barlow adds. "I hate that anyone or any animal gets it. But I am here to help my patients have a good quality of life for as long as possible."
It is tempting to characterize LVTs as nurses, but the analogy only goes so far. "I get to work alongside the veterinarian, but I have all the fun," Barlow admits. "I do client communication and patient care: restraint, venipuncture, IV catheter placement, fluid therapy, anesthetic monitoring, surgical preparation, blood transfusion medicine, medication and chemotherapy administration and much more."
Requirements vary across the US, but in New York preparation for a career as an LVT includes two to four years in a college-level animal science program accredited by the American Veterinary Medical Association. Candidates must then pass a national exam in order to obtain their license and complete set number of continuing education hours afterwards to maintain it.
It takes a great deal of motivation to become an LVT. Perhaps some people are just born with it.
"I always knew that I wanted to work in Veterinary Medicine," says Barlow. When an uncle suggested becoming an LVT, "I explored the option and just knew that this is exactly what I wanted to do!"
Other LVTs come to the profession after exploring other career options. Patrick Brennan, head of the LVTs in Emergency and Patient Care at the equine and farm animal hospitals, originally went to college to study animal nutrition, "but within a week learned I wanted a career that was more hands-on.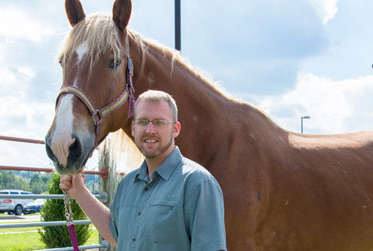 "I grew up on a dairy farm and always enjoyed being around animals, specifically large animals," he adds. "Being around animals, specifically large animals, has always been a huge part of my life."
Erin Berthelsen took an even longer route: She became an accountant first. One tax season her childhood dog became ill. "I nursed him until he passed away," she says. "I discovered that I really enjoyed learning about what makes animals sick and how to treat them."
Berthelsen is now the clinical research coordinator at CUHA. Researchers from across Cornell University contact her to request samples of animal blood, hair, and other tissue for their studies, and she encourages owners to donate the samples from their pets. Berthelsen also keeps track of all of the clinical trials in the hospital that involve client owned animals. When the hospital is very busy she helps by drawing blood, restraining patients for exams, helping to administer chemotherapy, sedating for radiographs and ultrasounds and drawing up vaccinations.
It does get busy—and stressful--at times. "Veterinary medicine in general is 24/7," says Brennan. "That is one of the things I like most about my job. However, CUHA never closes. There are always people here, 365 days a year around the clock. My colleagues deserve gratitude for the personal sacrifices that they make to keep the hospital going and the animals cared for, just like doctors and nurses, police and firefighters."
National Veterinary Technician week, Oct. 11 – 17, was created to raise public awareness of the profession and the educational background, skill set and knowledge LVTs have to offer. At CUHA, the celebrations were extended beyond the hospital's 90 LVTs to the entire staff. "Each member is integral and necessary to making our hospitals run efficiently," says Barlow. "It starts with the custodial and facilities staff, to the admission, discharge and scheduling personnel, animal attendants, farm hands, pharmacists, veterinarians, and the list goes on and on."
What about the part of the job that most people would dread? Berthelsen readily admits that patient deaths are hard to take. "Seeing that pain and sadness in owners when a beloved pet is gone breaks my heart. I know firsthand what they are going through."
More often, though, there are moments of pure joy. "The best part about my job is when I see how happy pets get when they see their owners after treatment," says Berthelsen, "especially if we were able to help that pet feel better. I can expect to say, 'aww,' at least once a day here."