Cornell CVM grad joins Cornell Ruffian Equine Specialists
Sunday, March 20, 2016 - 12:00am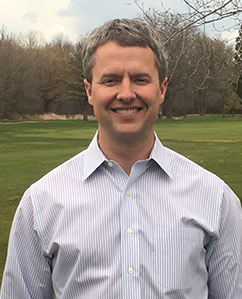 Dr. John Pigott, a veterinary surgeon and 2009 graduate of the College of Veterinary Medicine at Cornell University, has joined Cornell Ruffian Equine Specialists (Ruffian) in Elmont, NY. Dr. Pigott will provide service in sports medicine, regenerative therapy and elective and emergency surgery.
Dr. Pigott comes to Ruffian from the Wisconsin Equine Clinic and Hospital in Oconomowoc, WI, where he worked in sports medicine and advanced imaging and performed orthopedic and soft tissue surgery. He completed an equine surgery residency at the Ohio State University and earned a master's degree there after researching intra-articular mesenchymal stem cells in horses. During his time at Cornell, Dr. Pigott worked with Ruffian specialist Dr. Norm Ducharme, researching the equine upper airway.  Based on his past experience and research, Dr. Pigott has spoken at both national and international conferences on the topics of regenerative medicine, lameness and orthopedics.
"Dr. Pigott comes with a strong background as an accomplished equestrian, and was selected for his expertise and experience in equine sports medicine, regenerative technologies and innovative surgical skills," says Dr. Alan Nixon, Chief Medical Officer at Ruffian. "He joins a team of six full time vets at Ruffian, led by Dr. Tom Yarbrough, to provide specialist care in all facets of equine referral surgery and medicine."
"I decided to join the team at Ruffian Equine based on my passion for orthopedics, respiratory surgery and sports medicine, with the goal of further contributing to a highly specialized team that provides a superior level of care in every aspect of the practice," says Dr. Pigott.
Located opposite the backstretch of historic Belmont Park, Cornell Ruffian Equine Specialists extends the reach of the Cornell Equine Hospital, where internationally renowned specialists inspire and capitalize on the synergy between the science and art of medicine. Cornell equine specialists leverage their knowledge, experience, and professional partnerships to provide excellent specialty care in state-of-the-art facilities that promote the health and well-being of horses.