Calder, Cazer pick up SUNY Chancellor Awards at Albany ceremony
Thursday, April 7, 2016 - 12:00am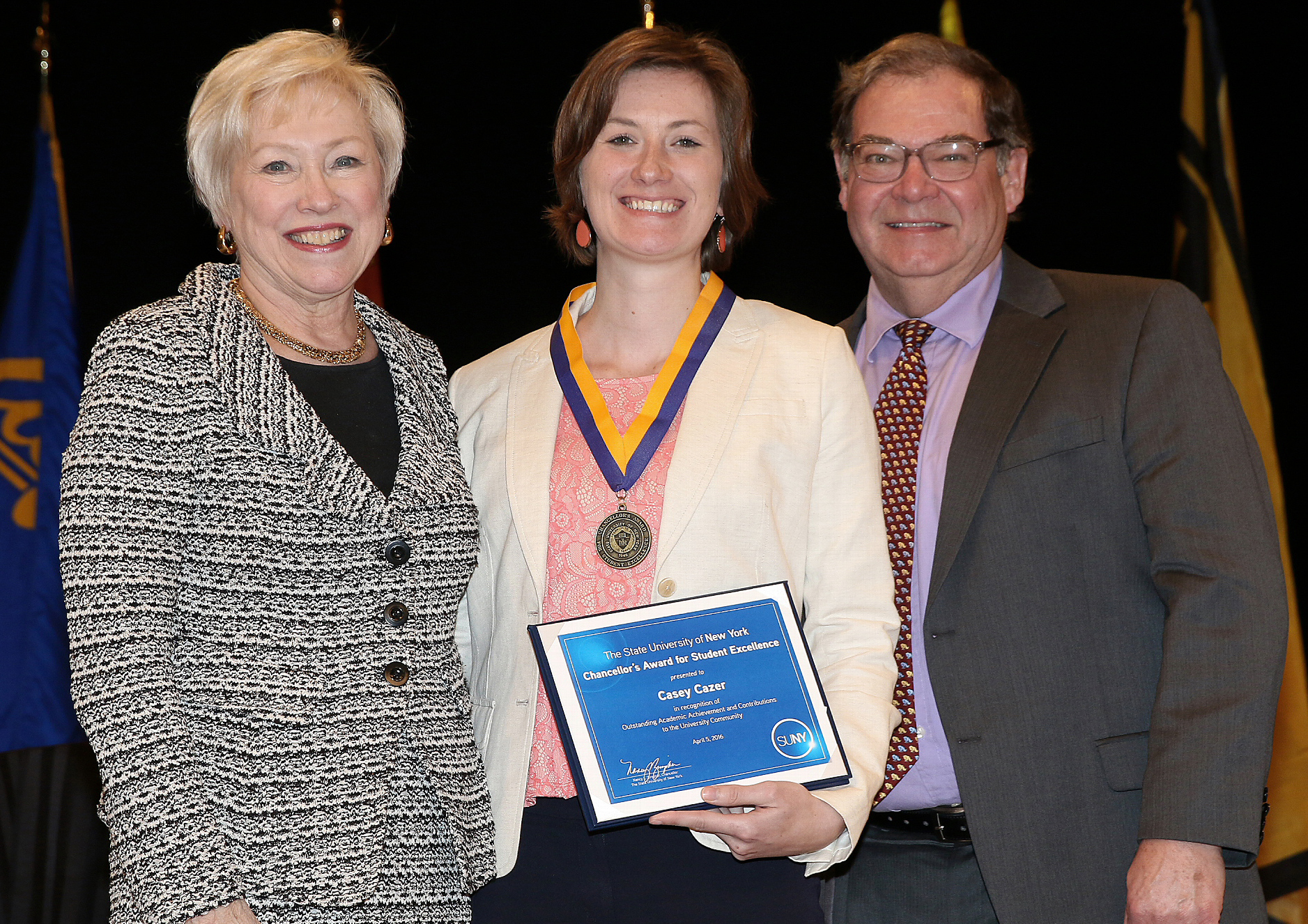 Rebecca Calder and Casey Cazer were among 248 students from 64 campuses to receive a 2016 Chancellor's Award for Student Excellence at a ceremony in Albany April 5. The award is the highest honor bestowed upon a student by the State University of New York (SUNY). The College of Veterinary Medicine is one of four Cornell colleges affiliated with the SUNY system.
Students are nominated for the award by the chief administrator at their schools. Winners have "best demonstrated and been recognized for their integration of academic excellence with other aspects of their lives including leadership, campus involvement, community service, arts (creative or performing), athletics and/or career achievement," according to a SUNY press release announcing the awards.
In the release, Calder was cited for participating in several research projects and specialized training programs for dairy-oriented students. "Her contributions to the Cornell college environment and the veterinary profession are reflected in her dedication to her peers and colleagues and to the promotion of bovine health and dairy agriculture. In addition, she has helped organize major college events for professional development and the general public."
Cazer "has distinguished herself as a student leader while maintaining a record of academic excellence. She served as a student representative on a number of college committees and co-founded the college's Student Wellness Initiative. Casey co-authored four scientific papers, served as producer and stage manager for the Veterinary Players and in 2015 was the veterinary student coordinator for the New York State Fair's popular Dairy Birthing Center."
"This award is our way of saying 'thank you' to stand-out SUNY students whose achievements reflect their own impressive hard work as well as the support of their families and friends, and SUNY's world-class faculty and staff," said Chancellor Nancy Zimpher. "The 248 students we honor with this year's award have excelled academically, become role models on campus, and established themselves as leaders in the community. Congratulations to all of the students receiving the 2016 Chancellor's Award for Excellence."
Caption (L-R): SUNY Chancellor Nancy Zimpher, Casey Cazer and former Cornell CVM Dean Donald Smith.