King remembered as "a legend" in pathology
Friday, April 22, 2016 - 12:00am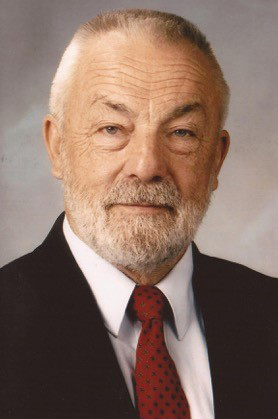 Dr. John M. King, DVM, a Professor Emeritus of Pathology at the Cornell College of Veterinary Medicine (CVM), passed away April 14 at the age of 89. A veteran of the US Army, Dr. King earned his DVM at Oklahoma State University on the G.I. bill. He came to Cornell CVM in 1955 and worked here for 50 years, during which time he authored three textbooks and published numerous papers. Dr. King spent his sabbaticals in foreign countries that invited him to teach and do applied research. Over the years he earned a reputation for ground-breaking insights into disease.
"Dr. King was a legend in Anatomic Pathology," said CVM Clinical Associate Professor of Pathology Dr. Elizabeth Buckles, DVM. "A large number of current pathologists were either trained by him or were trained by his trainees, and there are legions of vet students who were inspired by him."
"John was the unrivalled master of observation and perhaps the finest pure pathologist our field has ever known," said longtime friend Bruce Williams, DVM. Dr. King was famous for his necropsy "Show and Tell" events, when he would challenge students and faculty to identify diseases by looking at affected tissue. "Even at 5:00 on a Friday afternoon, the risers were always packed and it was standing room only," said Williams.
Dr. King is survived by his wife, Marie Ryan King of Ithaca. There will be a memorial service May 12 from 1 to 3 pm at Sage Chapel on the Cornell campus. The service is open to the public. In lieu of flowers, memorials may be directed to the charity of one's choice.