Professor Emeritus Bud C. Tennant remembered as researcher, mentor and friend
Tuesday, November 22, 2016 - 9:31am
­­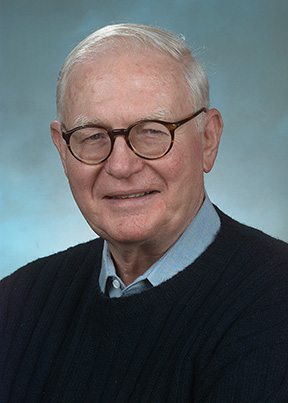 Dr. Bud C. Tennant, James Law Professor of Comparative Medicine Emeritus, died Nov. 16, 2016 at the age of 83. Dr. Tennant had a long and distinguished career at Cornell University, retiring in 2013 after more than 40 years at the College of Veterinary Medicine (CVM).
In a 2015 interview, Dr. Tennant traced his career choice to his childhood experience of taking family pets to the veterinarian. A large-animal internist, he received his DVM from the University of California-Davis in 1959, and in 1973 was board-certified by the American College of Veterinary Internal Medicine, an organization that he helped to found.
Dr. Tennant joined the Department of Clinical Sciences (DCS) at Cornell CVM in 1972 as a Professor of Comparative Gastroenterology. His research interests included gastrointestinal and liver diseases of domestic animals and viral hepatitis, and he continued to pursue them even after retirement. Dr. Tennant's work in viral-induced liver disease using a woodchuck model has had a predictive influence on clinical therapeutic trials in humans, and he was awarded the 2016 Baruch S. Blumberg Prize by the Hepatitis B Foundation. After retiring, Dr. Tennant continued researching the pathogenesis of serum hepatitis in horses.
CVM recognized Dr. Tennant's many contributions to veterinary internal medicine by awarding him the Robert W. Kirk Distinguished Service Award in 1999. In 2002, he was formally acknowledged by the New York State Veterinary Medical Society for his outstanding service to veterinary medicine in New York State.
"Dr. Tennant was the ultimate university professor; he had wide ranging interests in addition to his work as an internal medicine clinician, teacher, and researcher. He was a wonderful mentor, a thoughtful contributor to decisions of the faculty and college, and a constructive critic for many individuals that he worked with and helped over the course of his career," said CVM Dean Lorin Warnick. "And for many, he became a close and valued friend. We will deeply miss him."
"Dr. Tennant was the most distinguished university professor I have ever met, and as kind a gentleman as I have ever known," said colleague Dr. Thomas Divers. "He was my closest collaborator on equine liver disease projects, and I will miss our travels and his frequent visits to my office to discuss our research and veterinary medicine, and share many stories from his life."
"In Dr. Tennant's letter indicating his intent to retire he wrote about his research plans after retirement, and he wrote 'please give my thanks and best wishes to friends and colleagues on the faculty and staff of the Department of Clinical Sciences for continued success'," said DCS chair Dr. Margaret McEntee.  "He was a part of the fabric of the department for many years and will not be forgotten."
A memorial service will be held at Kendal at Ithaca at a later date. In lieu of flowers, donations may be made in Bud's memory to the Hepatitis B Foundation, 3805 Old Easton Road, Doylestown, PA 18902, or a charity of your choice. For additional information please contact Bangs Funeral Home, (607) 272-1922.