CVM hosts first-ever animal health hackathon
Friday, February 3, 2017 - 2:00pm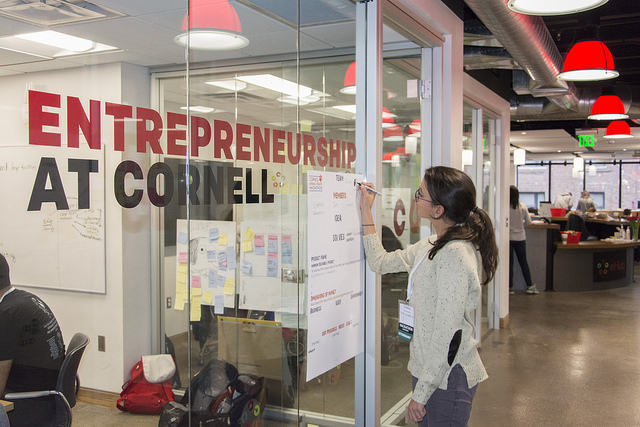 The world's first-ever hackathon dedicated to animal health took place last weekend--generating dozens of innovations and sparking unique collaborations. The event, co-hosted by the Cornell University College of Veterinary Medicine and Entrepreneurship at Cornell, partnered 130 Cornell students from across degrees, majors, and colleges (including  32 DVM students) with professional mentors to generate ideas for promoting animal health. 
The Hackathon was held at the eHub Collegetown, a flexible co-working space for budding Cornell entrepreneurs located just off the Ithaca, N.Y. campus. The first day began with presentations and panel discussions from innovators and leaders from a range of organizations, including clinics, startups and academia. Then students broke up into multidisciplinary teams comprising students in business, veterinary medicine, engineering, programming, and design and started brainstorming.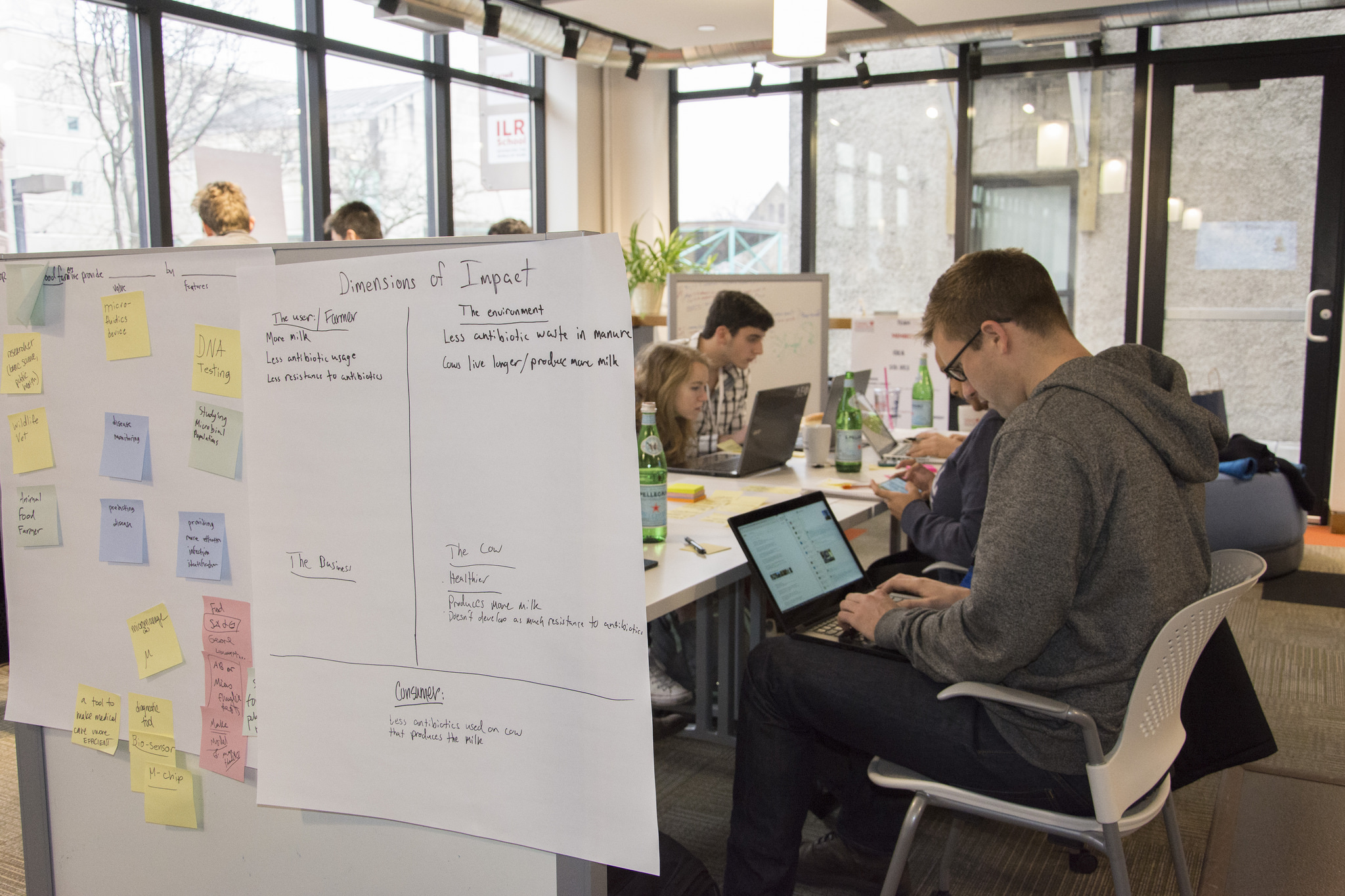 The mentors spent Saturday helping each team refine their "PiNG" –Progress, Needs, and Goals. On Sunday, the Hackathon judges (Dr. Monica Dias Figueiredo of Merial; Dr. Andrea Landsberg of Abbott Molecular Diagnostics; Dr. Nick Nelson of Pet Partners LLC; and Dr. Mark Olcott '95 of VitusVet) conducted speed-round judging, giving each team one minute to pitch their idea.
Out of more than 25 groups, 12 were selected to give four-minute presentations in front of the entire audience. These ideas ranged from a specially-designed comb to make topical medication applications easier for pet owners (Team TransFur) to an auditory processing algorithm for early detection of domestic bird illness (Team Chirp Alert).
Judges then named winners in three 'vertical' categories:
 Service award: Team Animal Friendly devised a web extension to help online shoppers identify which products were created humanely and which were not.
Software award: Team Hive Mind pitched a service for beekeepers that monitors and analyzes their brood frames using machine learning and image segmentation algorithms.
Hardware award: Team Retriever proposed a wearable device that harnesses multiple low-power wireless technologies and a passive NFC failsafe to maximize the chances that a lost pet is returned. A free companion app enables the community to help search and connect lost pets with their owners.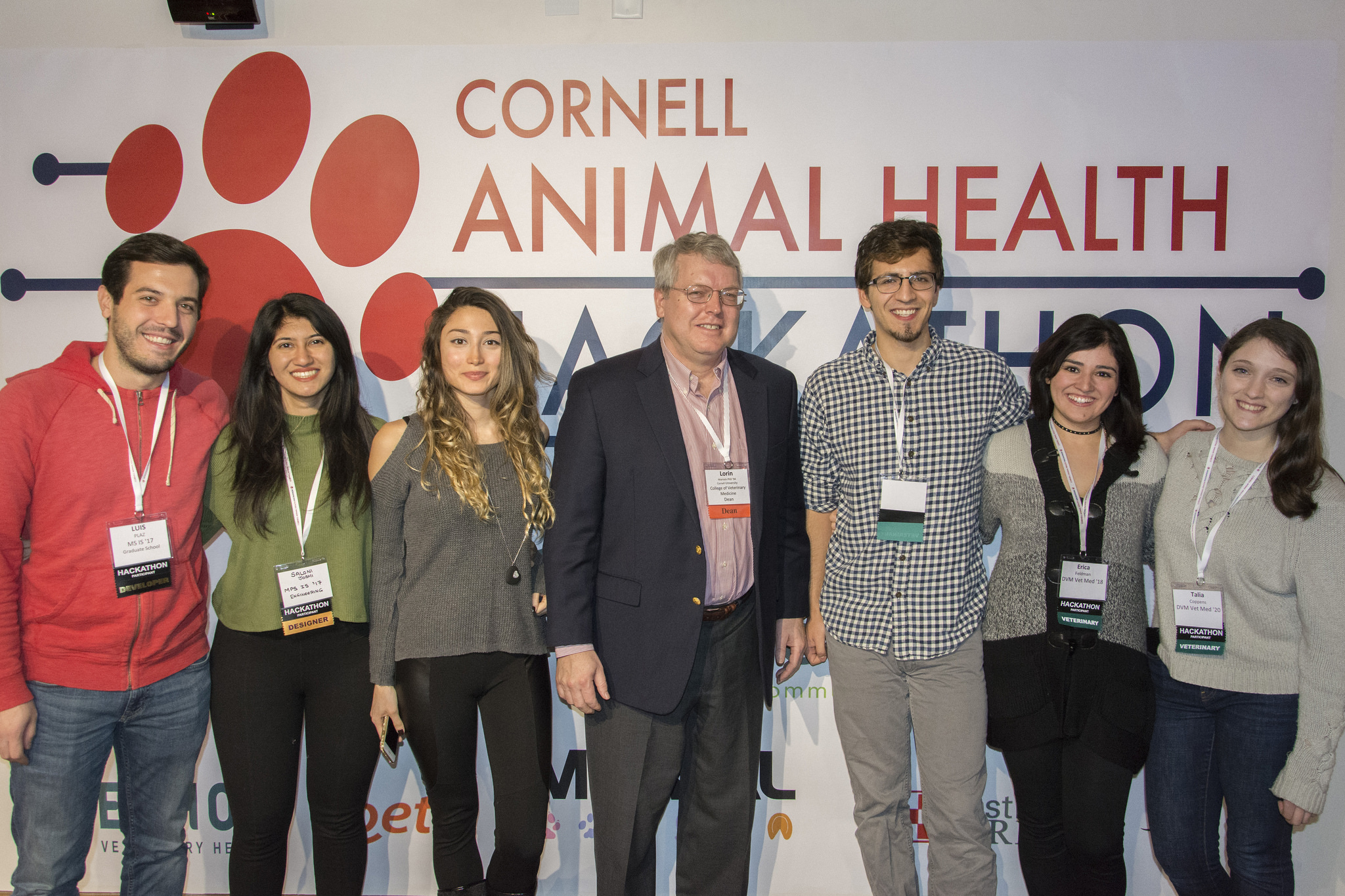 The Grand Prize winner, Team Retriever, comprised three DVM students (Erica Feldman '18, Matthew DiFazio '18, and Talia Coppens '20), a computer science student Ezgi Demirayak '17, and two information science students (Luis Plaz, MS IS '17 and Saloni Joshi MS IS '17). The group spent the bulk of their time researching existing technologies, identifying needs, and surveying veterinary students and pet owners. "We weren't expecting to win," said Coppens, after just receiving the news. "I guess we were so in it for those two days, we didn't really see how we compared to the competition."
Later, Team Retriever released a formal statemen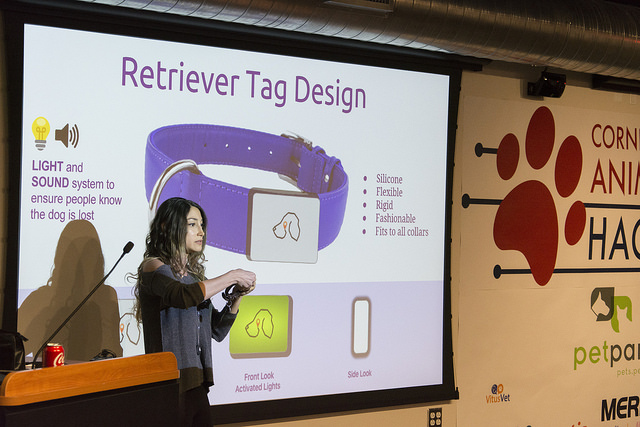 t about their experience: "The Animal Health Hackathon was a highlight of our educational careers, and something we will be proud of for the rest of our lives. The whole team was incredibly impressed by the other ideas on display, to the point that it could have been anyone up there on the stage. We were left guessing right up until the last minute, and were surprised and honored to have been recognized by the judges. We know we were lucky to have formed such a multi-talented team on such short notice, but we credit our communication and cooperation to our success. Keep an eye out for team Retriever in the future, because the hackathon was just the beginning!"
"I was very impressed with all the work done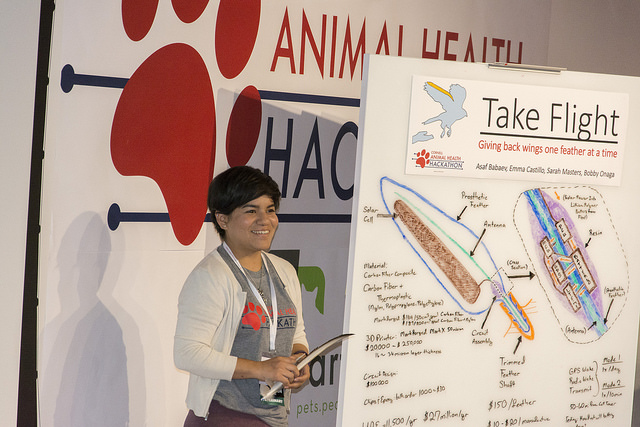 over the weekend by all the teams that participated," says Dean Lorin Warnick. "It's very inspiring to see such enthusiasm, creativity, and innovative thinking directed towards animal health and veterinary medicine.  The teamwork by students from disciplines across campus and their interactions with speakers and mentors were highlights of the weekend.  My hope is that this will be just the beginning in terms of the entrepreneurial spirit that's been sparked at this event."
Share this: