Science vs. Superbugs: Antimicrobial Resistance Symposium unites experts to tackle a growing concern
Friday, May 12, 2017 - 9:29am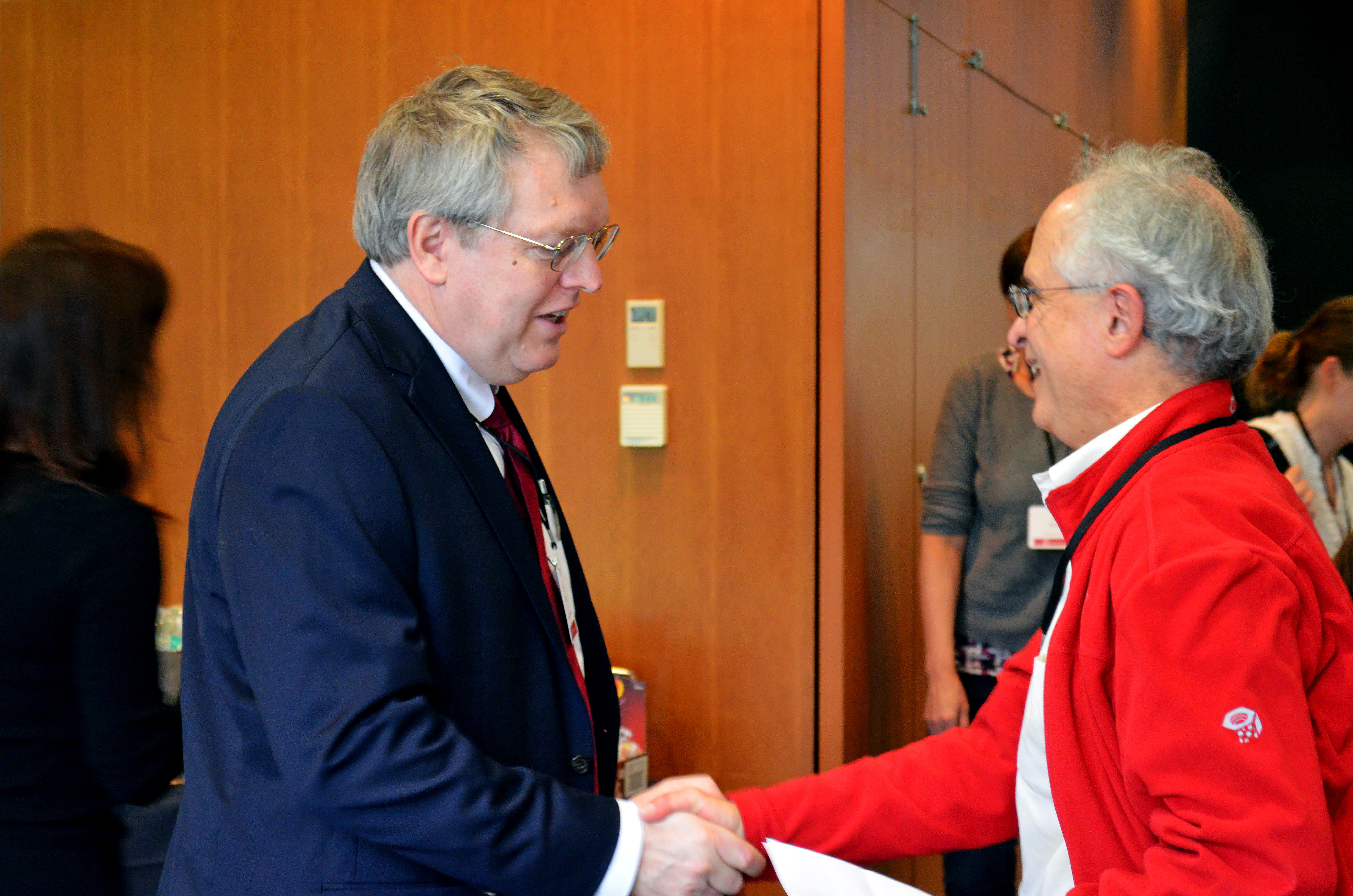 "There are times when transmissible diseases can actually be so serious that they can threaten the very security of the nation or the world. [Antimicrobial resistance] has been classified as a problem that reaches that level." These were the words from Dr. Arjun Srinivasan, associate director of Healthcare Associated Infection Prevention Programs at the Center for Disease Control and Prevention (CDC), and the keynote speaker at the College-sponsored symposium, "Antimicrobial Resistance: Research Synergies in Human and Animal Medicine," that took place at the Cornell Botanical Gardens on May 4.
Srinivasan's message is no shock to College leadership and faculty, many of whom work diligently in studying and combating this problem every day. Indeed, Dean Lorin Warnick, whose own scientific interests focus on antimicrobial resistance, spearheaded the development of the symposium along with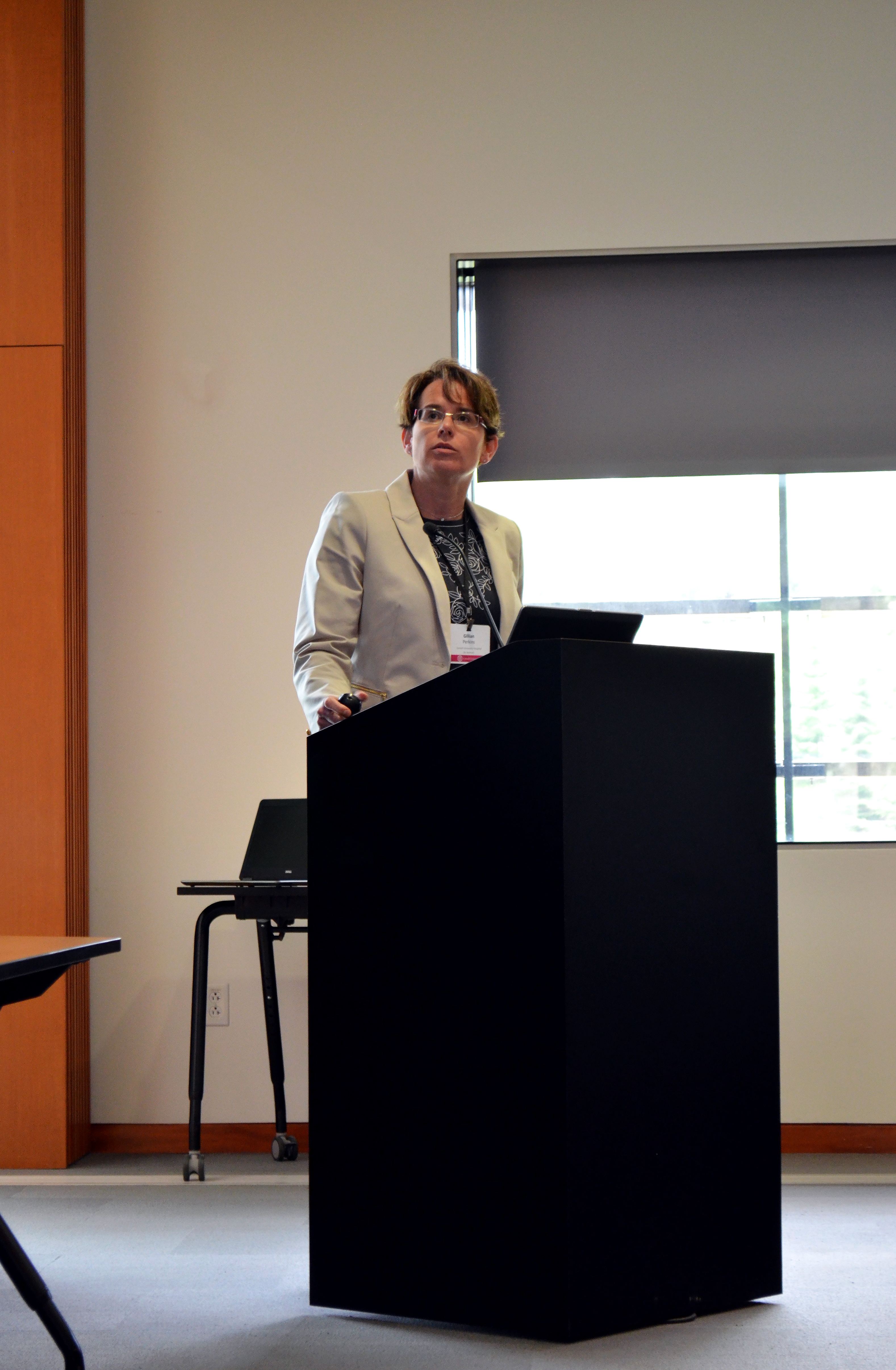 Senior Associate Vice Provost for Research Andy Bass. "We thought it would be great to get everyone together to discuss this issue and build some relationships that could lead to collaboration in the future," said Warnick.
The result was a packed room full of students, scientists, doctors and veterinarians—and featured presentations from the College of Veterinary Medicine and Weill Cornell Medical College (WCM)faculty, as well as other experts such as the CDC's Srinivasan. "When it comes to antimicrobial resistance, it's truly an issue where we're all into it together," said Warnick.
Bass agreed. "We have so much to offer each other … I'm struck by how much force these two campuses [Ithaca and WCM] and their affiliates have to bring upon this issue—it's very inspirational," he said.
Gillian Perkins, senior lecturer of Large Animal Medicine and director of biosecurity for the Cornell University Hospital for Animals (CUHA), discussed the state of antimicrobial resistance at the hospital, noting that the data and overall understanding of antimicrobial resistance and its impact on our animal patients and their owners is limited. "Currently, there is very little surveillance data on our hospital environment and on rates of antimicrobial resistant infection in our patients, so that's something we would like to move forward on," says Perkins.
Daryl Nydam, associate professor of Ambulatory and Production Medicine and director of Quality Milk Production Services (QMPS), discussed the work he and his group does to encourage judicious use of antimicrobials in the dairy industry—60% of which is used to treat mastitis. Standard practice has held that all mastitis cases are treated with antimicrobials, however many cases do not require—or improve from—antimicrobials. "Cornell is a pretty darn good place to study this," said Nydam. "We have an awesome living laboratory to do some really tangible work in this area." As a result, QMPS has developed a rapid, low-cost diagnostic service that enables dairy managers to get a "treat" or "do not treat" answer for all mastitis cases in their herd. For roughly five dollars in diagnostic costs, the program can earn over $30,000 per 1000 cows, or $100,000 for a 3000 cow dairy operation similar to those where the research was conducted. Along with the financial benefit, the test has reduced antimicrobial use by 60%.
Keynote speaker Srinivasnan noted that the kind of strides made in herd treatment demonstrated by the QMPS are key in reducing the risk of antimicrobial resistance. Data show that improving antibiotic use alone can "slow development of resistance, and we might even be able to reverse it," he said.
Salmonella
Typhi as an alternative method to treating typhoid. Dr. Brian VanderVen, assistant professor of microbiology and immunology, presented his work in attacking the survival pathways of M. tuberculosis as a potential for combating tuberculosis—particularly targeting the bacteria's cholesterol metabolism.
From cheap dairy cow diagnostics, to decoding bacteria's defenses, the event showcased the breadth and depth of the College's expertise and innovation, and set the stage for future conferences and collaborations in the important field of antimicrobial resistance.
A variation of this story was published in the Chronicle. 
Photo credit: Sarah Nickerson
Share this: