Cornell veterinarians lead 'pet oasis' on the JFK tarmac
Tuesday, June 13, 2017 - 4:26pm
By Jon Craig
This month, veterinarians from Cornell University helped open a new animal care and import-export center at John F. Kennedy International Airport called The ARK.
JFK is the third U.S. airport equipped to receive, vaccinate and shelter birds, horses, cats, dogs and other animals arriving or departing on international flights. The other airports authorized to receive animals are in Miami and Los Angeles.
People traveling through JFK can have their pets examined, treated, fed, walked and boarded in the event of illnesses or flight delays.
Dr. Lauren Neuendorf Jordan '11, DVM '15, started her new job June 5 as medical director of AirHeart Pet Hospital at JFK ARK.
During a tour of the airport animal hospital's state-of-the-art facilities near JFK's cargo buildings, Jordan said she was thrilled to have landed a dream job in a spacious, modern center. "I could dance in here," Jordan said of the new pet hospital's roomy surgical room.
Dr. Linda D. Mittel, a senior extension associate at the Animal Health Diagnostics Center at Cornell's College of Veterinary Medicine, led a tour of ARK with news reporters June 8 as part of the Media Relations Office's "Inside Cornell" program.
Christopher Lapkowski, assistant manager of ARK Pet Oasis, at JFK with a military working dog.
Mittel has practiced equine veterinary care for 30 years, researching equine diseases, tick-borne diseases and parasites in horses. An expert in infectious diseases, she consulted on the facility's state-of-the-art biosecurity designs and helped establish protocols for handling any animal without proof of vaccinations or showing signs of illness.
Not only will the new airport animal facilities make it more convenient for pet owners to move or travel, Mittel said, but The ARK also should help curb the spread of animal and avian-borne diseases.
"It's not unusual for an entire family, including pets, to travel by air nowadays," Mittel said.
Mittel estimated that 3,000 to 4,000 horses will travel in or out of JFK annually, and a total of 10,000 to 15,000 animals will pass through the international airport in Queens, New York. (Number totals are imprecise since some pets are classified as "carry-on baggage.")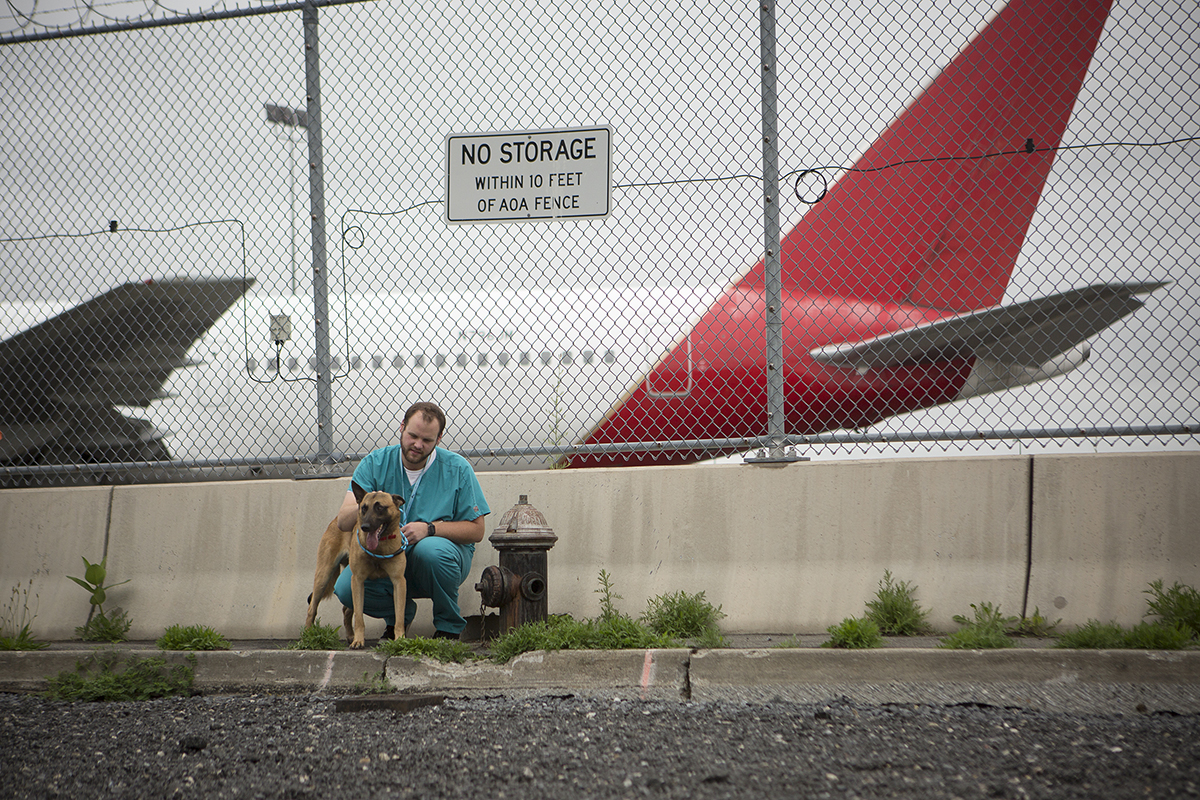 Mittel said animals are quarantined for three to 30 days depending on where they originated and their physical condition and vaccination records. The ARK's staff is ever-vigilant for rare and contagious diseases, Mittel said, working closely with the U.S. Centers for Disease Control.
Elizabeth A. Schuette, managing director of The ARK at JFK, said the new equine quarantine center features 48 climate-controlled stalls for horses. The stalls are controlled by the latest biosecurity designs to prevent dangerous domestic and foreign diseases, she said. The facility's concrete was coated in specialized paint, also to prevent transmission of disease, Schuette said.
The ARK Aviary has three rooms for staff to feed, clean and care for birds under supervision of the U.S. Department of Agriculture.
The ARK's $65 million "pet oasis" is located on 14 acres at JFK. Since the opening of the first phase of the project in January, the center has housed horses, dogs, cats, rabbits, turtles, mice, goats and other animals.
"We are right on the tarmac. They can be in our facility within an hour," Mittel said.
In addition to consulting on the project, veterinarians at Cornell Ruffian Equine Specialists, located seven miles away in Elmont, New York, are on call to consult on horses in distress or needing medical attention.
The center features in-transit companion animal kennels, boarding, veterinary and diagnostic services. The final phase of the project, which includes a 24/7 veterinary clinic and long-term pet boarding facility, will be fully operational by the fall.
The ARK also provides showers and lounges for grooms who accompany export horses. Neuendorf Jordan said there are about 30,000 workers at JFK who will now have access to veterinary services for their pets. There also are about 2,000 canines working at JFK who may need care, Johnson said, including dogs used by the military as well as federal and state government agencies.
This article originally appeared in the Cornell Chronicle.
Jon Craig '80 is a writer based in New York City.
Share this: