Veterinary Adventures: High school students explore veterinary medicine courses during Summer College
Friday, July 14, 2017 - 12:55pm
This summer, high school students from around the country and around the world come to Cornell for Summer College—one of the oldest and most prestigious programs of its kind—to attend three- and six-week precollege programs.  The College of Veterinary Medicine offers three three-week courses, including Equine Practice, Conservation Medicine, and Veterinary Science and Small Animal Practice.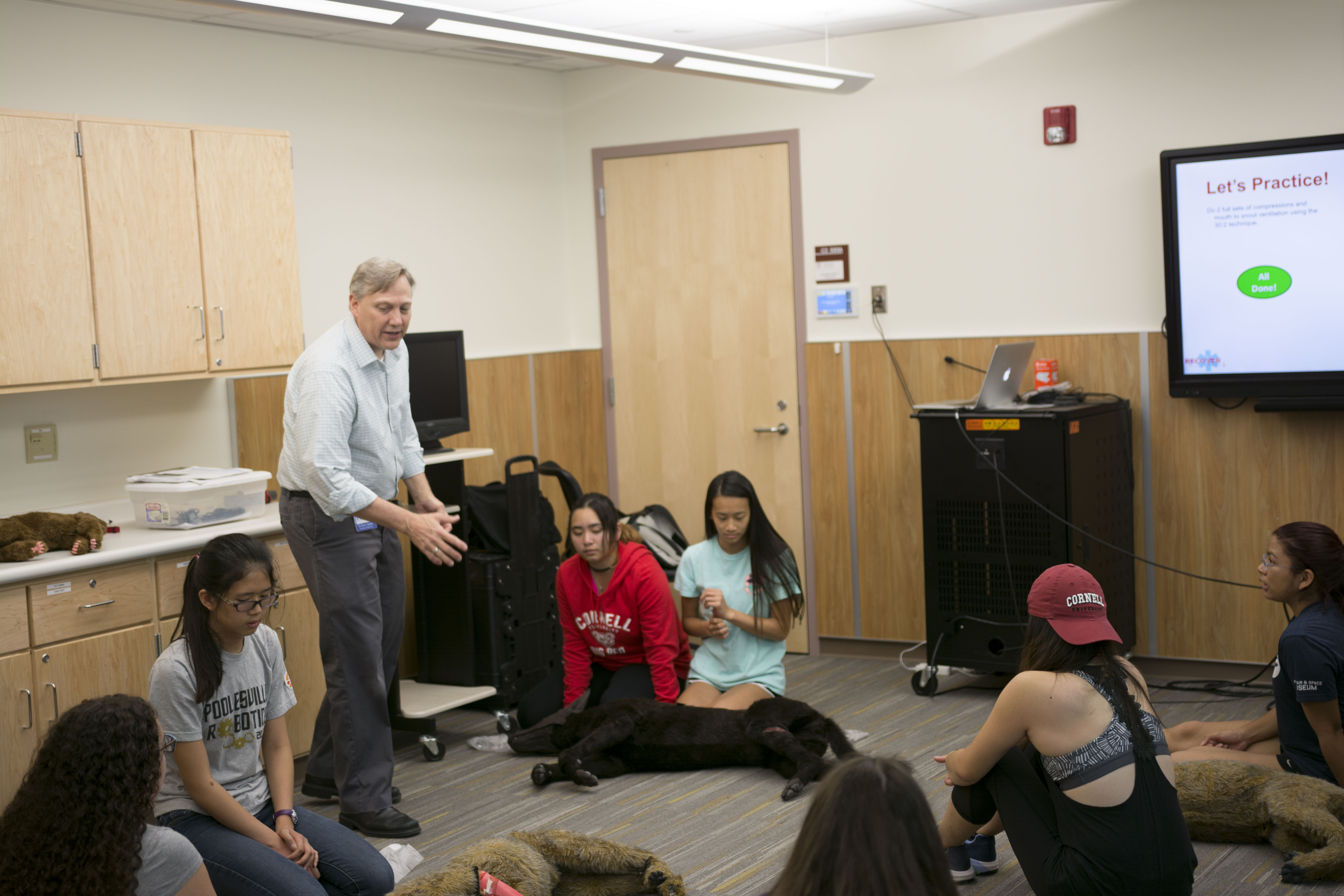 The Small Animal Medicine course, which was started by Dr. Paul Maza and Dr. John Hermanson, is team-taught,with Drs. Allison Miller and Kelly Lyboldt serving as the primary teachers this summer. The course covers the basic form and function of the musculoskeletal, cardiovascular, pulmonary, and digestive systems, as well as common topics in small animal practice, such as spaying and neutering and handling emergencies.
My professors were amazing," says Kiley Horning, who attended Summer College in 2016. "They made sure we understood the material, and they made class interesting and fun. They reinforced the material in our labs, which was very helpful, because we got to physically feel and see the anatomy we learned about in class. I took the course to see if I wanted to apply to college on a pre-vet track—and I now know that I do." 
Conservation Medicine, taught by Dr. Robin Radcliffe, introduces students to conservation practices, veterinary medicine, and biological principles as they relate to the health of the planet. Students in the course attend lectures, labs, workshops and field trips that illustrate the many ways veterinarians are helping to combat the decline of species worldwide.
 "We dedicate an entire three weeks to this single subject, which allows you to explore in great depth the
issues that are at the heart of the discipline," says Radcliffe. "In Conservation Medicine, this means that students not only learn about the health challenges of saving species and habitats on earth, but they also learn about the social, political and economic factors that must be addressed if any conservation or health impacts are to be realized."
Miller also teaches the Equine Practice course, which covers equine anatomy and physiology, breeding, foal care, common illnesses, nutrition, first aid, and hands-on learning at the Cornell Equine Park.
"Dr. Allison Miller was fantastic … she was incredibly helpful when trying to help me and other students understand the material," says Jessica Leab, who attended the 2016 equine course. "She did her best to keep the class fun and enjoyable even though it was very rigorous and intense."
 "The best thing about teaching these courses are the students," says Miller. "They are full of enthusiasm and eager to soak up everything they can learn about veterinary medicine in these short 3 week courses."  Radcliffe agrees. "These high school students are so excited to learn and do not take anything for granted - they only have three weeks with our faculty and fellow students and they take it all in."
At the end of these courses, students leave the College with a better appreciation and understanding of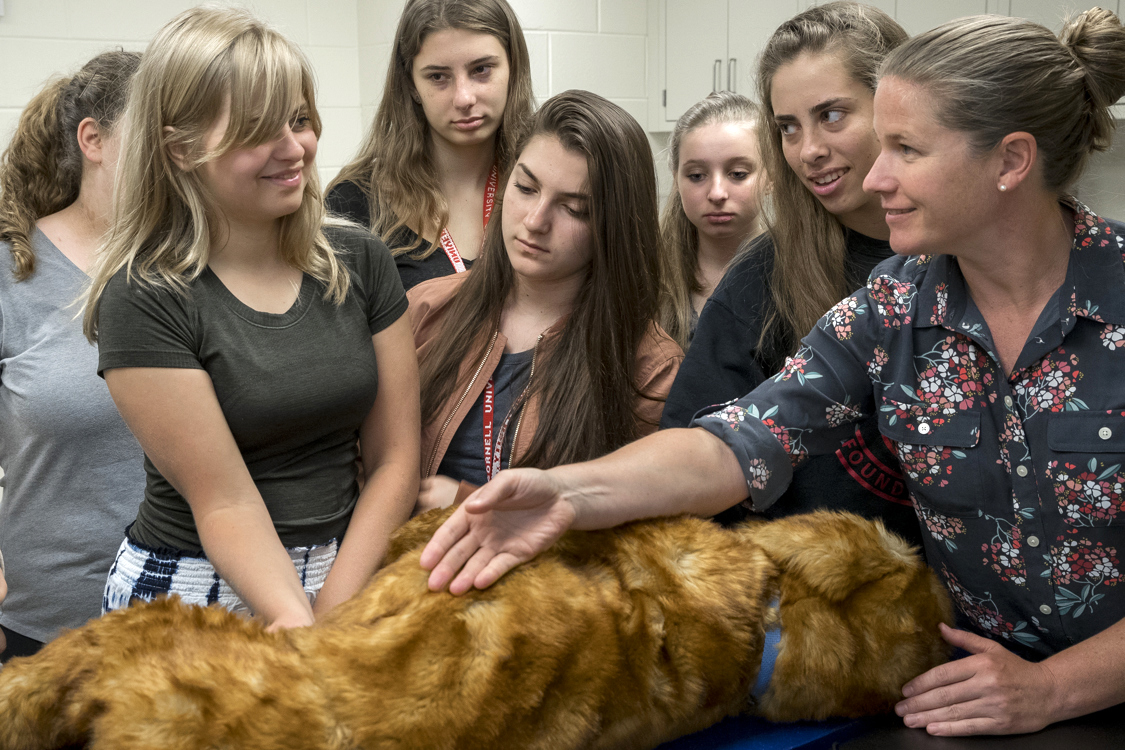 these areas of veterinary medicine. "We try to give them a taste of what it's like being a veterinary student including lectures, hands on labs with specimens and live animals, and problem based learning groups," says Miller. "I hope students get more excited about a career in veterinary medicine by learning all this information, hearing from guest experts from the College in specific veterinary fields, and learn more about all that Cornell has to offer."
For Radcliffe, he hopes his course can inspire the students not only around careers but also around conservation. "This is a great time in a young person's life to reach them and open their eyes to the amazing opportunities that a career in veterinary medicine can offer," he says. " A number of my students will go on to become veterinarians, but even those that don't will recognize that we are all in this together and our future requires a multi-disciplinary approach to problem solving and health of animals and humans is a great entry point to make change!"
Share this: