Robert Weiss appointed as new Associate Dean for Research and Graduate Education
Monday, October 9, 2017 - 9:57am
On October 1, 2017, Dr. Robert Weiss began his term as the next Associate Dean for Research and Graduate Education, following in the footsteps of Dr. Bettina Wagner, who served from 2014 to 2017. Weiss, a Professor in the Department of Biomedical Sciences, has a deep foundation in research—his lab studies how genomic instability and metabolic dysfunction affect mammalian development and tumorigenesis—and is excited to take on a new role in the College. "I'm excited about this opportunity," he says. "I'm very passionate about the areas that this administrative position oversees."
Weiss's appointment as the new associate dean was a natural one. "Having served on key College and university research committees and in graduate field leadership roles, in addition to his own graduate student advising, Dr. Weiss brings a wealth of experience to the position of Associate Dean," says Dean Lorin Warnick. "He also is Director of the Comparative Cancer Biology Program at the College and recognized for his work in fostering communication between cancer patients and researchers in the community through the Cancer Resource Center. I am very appreciative of Bob's willingness to take on the role of Associate Dean and look forward to the expertise and perspective he will bring to this critical position in the College."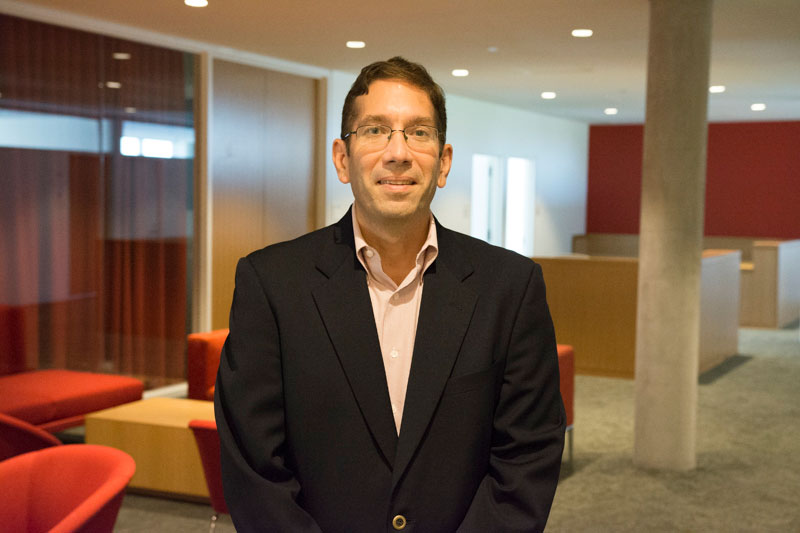 Weiss has been involved in research administration before; he has been a member of the College Research Council from 2008 to 2011, including two years as the co-chair from 2009-2011. Now, Weiss is excited to broadly support scientific endeavors at CVM in his new position as Associate Dean. He aims to continue to fortify the College's role as a leader in key areas of research, including infectious disease, cancer, stem cell science, reproductive biology, genomics, and regenerative medicine. Weiss is also excited to expand the College's scientific prowess into new areas—building up more expertise in topics like neurobiology and computational biology. "Another key aim is to bridge together our basic and clinical researchers—that's something we'll continue to strive for," he says. Additionally, he'd like to continue to build the College's work in clinical trials and partnerships with pharmaceutical companies to bolster drug development.
Weiss's position also oversees graduate education at the College, which he aims to ensure remains excellent. "This place is not only a top-notch research institution in terms of productivity and impact," he says. "But it's also a very supportive environment for graduate students. We're dedicated to mentoring our trainees and setting them up for career success."
Weiss's own experience with research has been a rich and varied journey—starting with his first foray as an undergraduate at Wabash College, developing a mathematical model for mollusk feeding behavior. "That experience showed me that the discovery aspect of research was really appealing to me," he says. Later, he turned towards biomedical science during his PhD at Baylor College of Medicine studying oncogenic viruses, which eventually directed him to his current interest in cancer biology both as a postdoctoral fellow at Harvard Medical school, and later as a faculty member at the College. "I found it to be an incredibly complex disease that has clear public health significance and also represents a tremendous intellectual challenge," says Weiss. "There has been remarkable progress in understanding and treating cancers in recent years, but it undoubtedly is a disease where more work is needed." Now at the helm of the entire College's research activities, Weiss is sure to help take on this and many other scientific challenges.
Share this: