Laura Goodman receives $25K Innovation in Veterinary Diagnostic Medicine Grant
Tuesday, October 24, 2017 - 4:21pm
The American Association of Veterinary Laboratory Diagnosticians (AAVLD) has awarded Dr. Laura B. Goodman a 2017 Innovation in Veterinary Diagnostic Medicine Grant. The $25,000 grant supports innovation in veterinary diagnostic medicine.

Dr. Go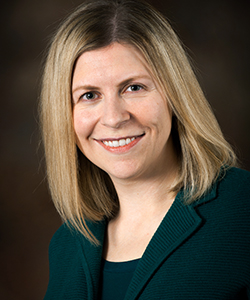 odman's research aims to develop a nanoscale PCR testing panel covering all major tick-borne disease pathogens in North America, which could be shared with other labs.

"We hope the research generated by this grant will help diagnosticians keep their labs on the leading edge of technology and improve efficiency and profitability," said Dr. Pat Halbur, president of the AAVLD.

"We congratulate our winners and are proud to support cutting-edge research and creative solutions that push the boundaries of animal health diagnostics and enable our customers to make the world healthier, cleaner and safer," said Martin Guillet, global head and general manager of AgriBusiness at Thermo Fisher Scientific who sponsors the award.

The grants were awarded at the AAVLD Annual Conference in San Diego earlier this month. Proposals were evaluated based on innovativeness, potential for broad impact on veterinary diagnostic medicine, clarity of the proposal, quality of the science, and likelihood that the research can be completed within a year.

To see the full press release, click here.
Share this: