Workshop prepares animal shelters for when disaster strikes
Wednesday, May 9, 2018 - 2:09pm
Local animal shelters received a crash course in disaster preparedness this weekend during a two-day workshop hosted by Maddie's Shelter Medicine Program at Cornell University aimed at safeguarding pets should a crisis strike the area.
Animal welfare workers from 12 regional humane organizations attended the workshop, where members of the ASPCA Field Investigations and Response Team (FIR) walked them through best practices when it comes to opening, running and deconstructing emergency pop-up shelters, followed by live-action simulations where participants practiced set-up and medical protocol.
The United States saw a score of natural disasters in 2017, with wildfires sweeping through southern California and hurricanes striking parts of the south and Puerto Rico. Most crisis situations give very little warning, and while weather events might be seasonal, their severity and frequency vary. "Last year was particularly difficult," said FIR shelter veterinarian Mary Lummis '81, DVM '85. "Many of the disasters we experienced last year happened back-to-back, so the ASPCA was responding to multiple emergency situations at once."
The FIR team responds to approximately 30 disasters each year, from natural crises like tornadoes and floods to manmade situations like dogfighting and hoarding. "Each response presents its own set of challenges – and there's always a curveball – which makes training for any situation that may arise that much more important," said Ehren Melius, medical operations director with FIR.
The most predictable curveball is funding, a constant stressor for many non-profit animal shelters. This workshop was supported by an Engaged Opportunity Grant from the Office of Engagement Initiatives and facilitated by Maddie's ® Shelter Medicine Program, providing a free continuing education option for humane workers in the region.
"They'll be the ones people rely on when disaster strikes, and if they don't have the training, they can't take care of our pets," said Sarah Nickerson, program coordinator of Maddie's ® Shelter Medicine Program.
In addition to the nuts and bolts of running a pop-up shelter, participants also shared strategies for creative fundraising and working with the public to share their stories during times of crisis. Shelters often request financial and response assistance from the ASPCA in these scenarios because of budget limitations. If the ASPCA deploys, the team works closely with local veterinarians and existing groups to provide the best possible response to a difficult situation.
"Working hand-in-hand is the only way we can make a positive change," said Melius.
A theme to the weekend was reinforcing how the work these shelters do translates to the wellbeing of animals. The training provided a broad look at animal enrichment and preparing them for adoption after the crisis has subsided. "We want to provide a comprehensive, efficient and empathetic approach to the problem," said Lacie Davis, FIR's shelter manager.
"As a group we've talked about wanting to do this for a long time, but until we were afforded this opportunity, the training seemed financially prohibitive," said Georgie Taylor, president of the Humane Society of Schuyler County. "The staff is really excited to be part of a larger effort in the animal welfare community."
This weekend focused on companion animal welfare. In future years, Maddie's ® Shelter Medicine Program has plans to expand to farm animals, given the high density of farms in the Finger Lakes. They also hope to develop a course for Cornell veterinary students on this topic that will culminate in a similar workshop, which will prepare graduates to effectively lead responses during crisis situations.
"You go to a location and don't have everything you need, but that's the point," said Lummis. "It's a disaster, and you have to do what you can with what you have."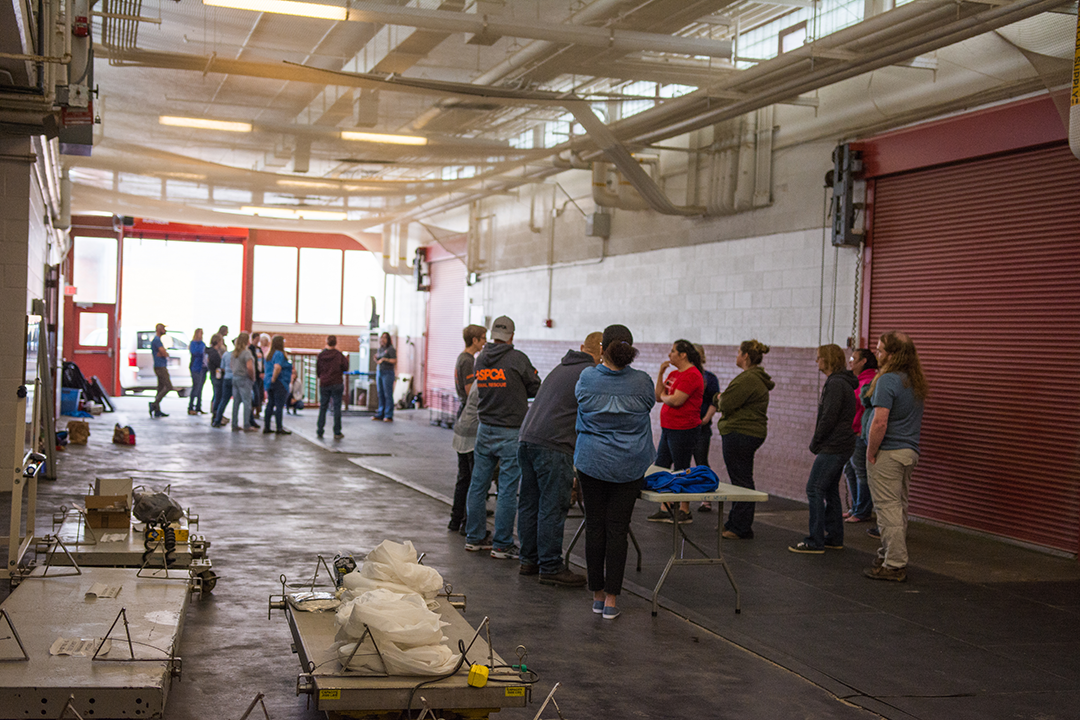 By Melanie Greaver Cordova