Cornell sets the bar for training veterinary techs in wildlife medicine
Tuesday, August 28, 2018 - 12:42pm
On the road to Ithaca one summer morning, Christina Parsnick pulled over to save an injured squirrel that had been hit by a car. The Niagara Falls native was on her way to Cornell's Janet L. Swanson Wildlife Health Center (WHC), where the squirrel could be treated and where Parsnick herself was about to begin an intensive six-week training program for licensed veterinary technician (LVT) students.
The Veterinary Technician Student Preceptorship in Wildlife Medicine is the first of its kind in the Northeast and gives veterinary technicians-in-training concentrated education in treating wild animals. That July morning was Parsnick's first day, and when she got to the WHC, the clinicians immediately started treating the squirrel.
"It was pretty cool that on my first day I was able to dive in and help with its treatments," says Parsnick. The squirrel recovered and was sent to a wildlife rehabilitator for release.
The WHC has long provided training in wildlife medicine to veterinary students and graduate veterinarians. When Sara Childs-Sanford, D.V.M. '99, became chief of service at the WHC, she and her team broadened their offerings to include a preceptorship specifically for LVT students.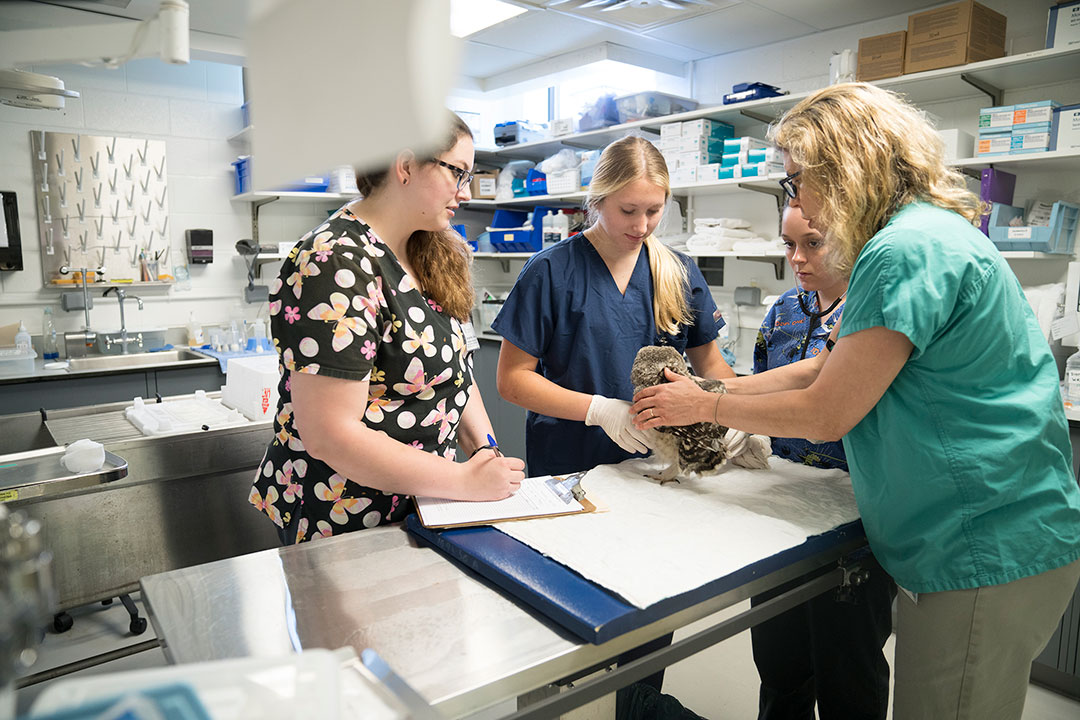 "There is definitely a lack of wildlife medicine training in LVT education, which is understandable given the short time period of the degree and the volume of material to cover regarding domestic animals," said Childs-Sanford. Technicians are essential to any professional veterinary team, providing patient care and contributing to clinical operations and services.
"Most veterinary students will likely get this exposure in their schooling, but technicians won't," says Alice VanDeMark, who runs the six-week program twice a year with fellow LVT Tina Hlywa.
Now in its second year, the preceptorship delivers immersive, specialized training. For two six-week blocks, three students receive hands-on training as soon as they walk into the hospital. "In the summer, we have anywhere between 20 and 30 animals hospitalized, so it's very busy," says VanDeMark.
Students learn how to provide multifaceted care for each animal. After six weeks at the center, they will have contributed to the treatment of each animal – whether it's properly disinfecting a porcupine's cage, preparing a hummingbird's medications, restraining a turtle while veterinarians examine it or entering information into a fawn's medical records.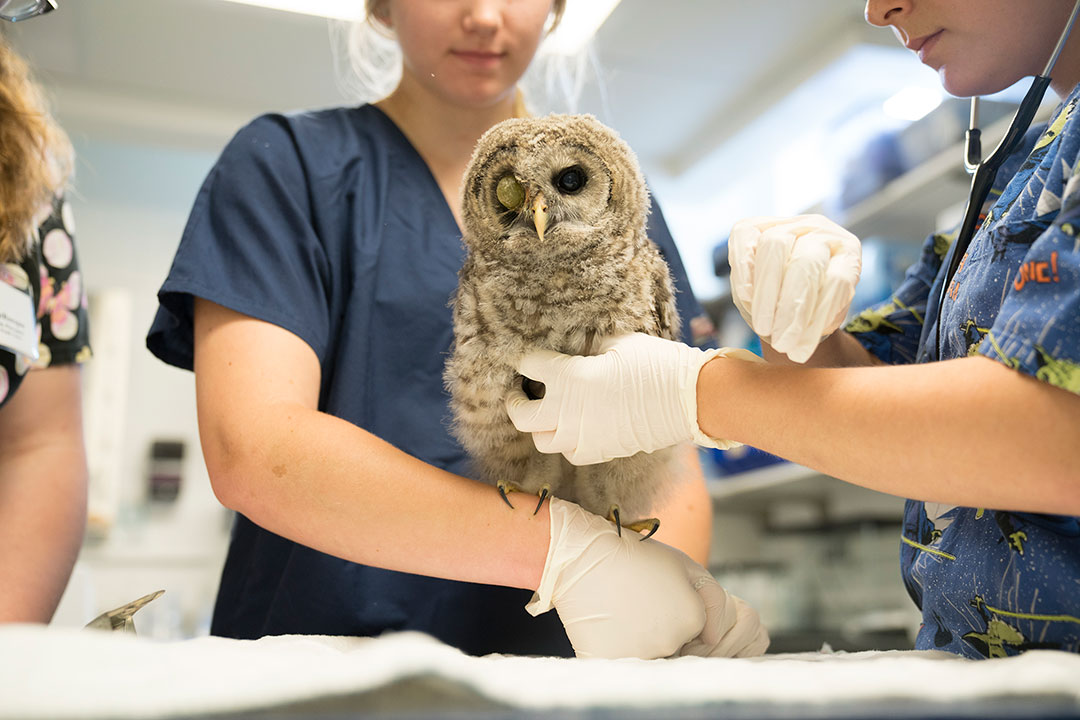 According to the New York State Wildlife Health Program, a partnership between the College of Veterinary Medicine and the New York Department of Environmental Conservation, about 20,000 wild animals receive care each year from rehabilitators and veterinarians across the state. All participants in the training program have been from New York, though it's advertised to accredited veterinary technician schools in Connecticut, New Jersey and Pennsylvania.
"It is an amazing learning opportunity and completely different from any other clinic setting," says Amanda Hartman, an Elma, New York, native who completed the program this summer.
Stephanie Jones of Charlotteville, New York, similarly felt like she was making a difference on day one. "There was not a single aspect of this job I didn't like. It was all for the welfare of animals, from assisting in surgery to even sweeping and mopping."
Most veterinary technicians will go into domestic animal private practices that may accept and treat wildlife patients, said Childs-Sanford. "Technicians with some experience and training in basic techniques pertaining to wildlife will not only be desirable applicants, but will also be able to contribute to the appropriate veterinary care of these unique patients."
VanDeMark agrees. "When you put that information on your resume that, yes, you can handle a red-tailed hawk, a snake, a fox – and you know where to give injections on all those animals or how to oversee their anesthesia – that's helpful on your resume when you're looking for a job."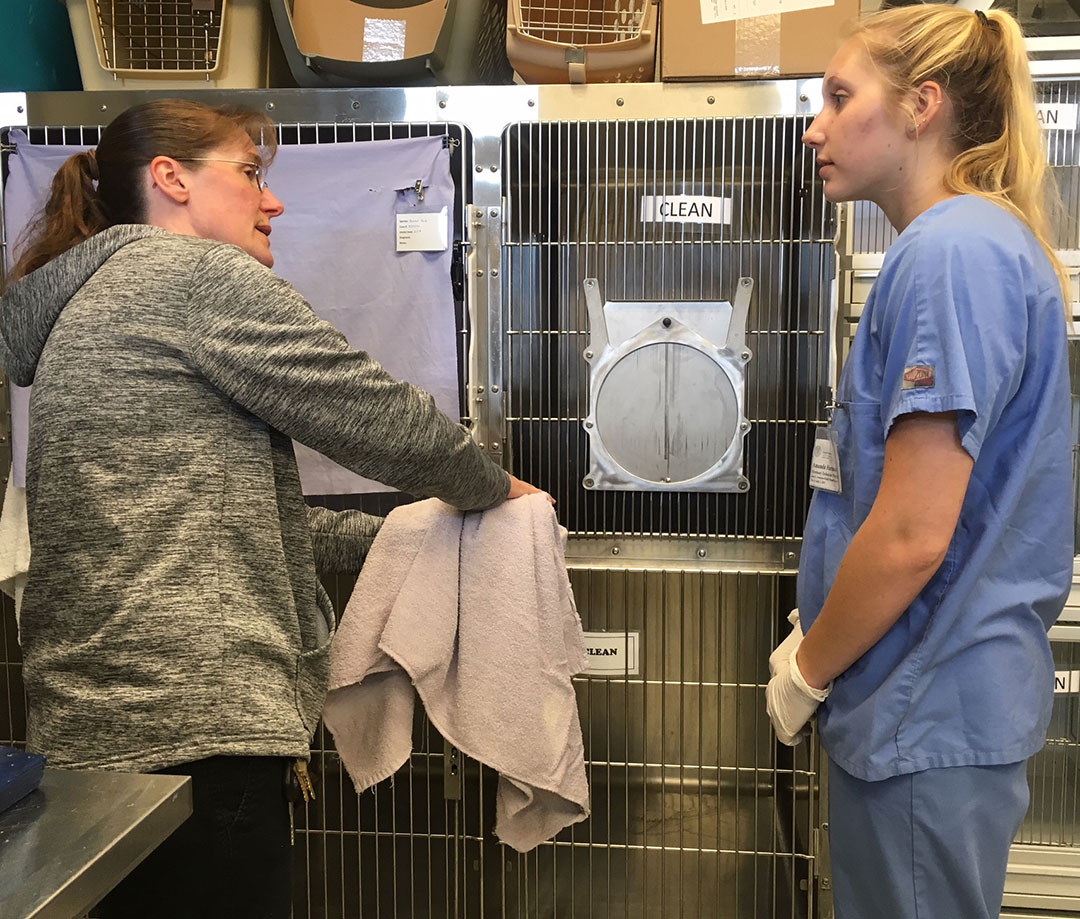 Program leaders VanDeMark and Hlywa have a combined total of more than 40 years of experience in wildlife medicine. "They serve as dedicated and patient mentors for our preceptors," said Childs-Sanford.
"The doctors and techs are the best in their field and to learn from them is an absolute honor," says Parsnick. "They were supportive, eager to teach and always there where I had a question, but they also trusted us to go off and do things on our own."
Samantha Brown, an LVT student from Rotterdam, New York, recalled feeling trust right away. "On the second day, I was already trusting Dr. Hopf to restrain a juvenile bald eagle while I administered pills into its esophagus with only my finger," she said.
The WHC plans to expand the program with regular training modules. VanDeMark also hopes to integrate this training with opportunities at the Cornell University Hospital for Animals and to provide financial assistance to students.
"Cornell's Janet L. Swanson Wildlife Health Center is in an excellent position to set the bar for education of veterinary technicians in wildlife medicine," said Childs-Sanford. "During their six weeks with us, we see the students grow tremendously into being confident, knowledgeable and capable in their skills."
"Cats and dogs are great," says Brown, "but how many times can someone say they fed a fawn from a baby bottle?"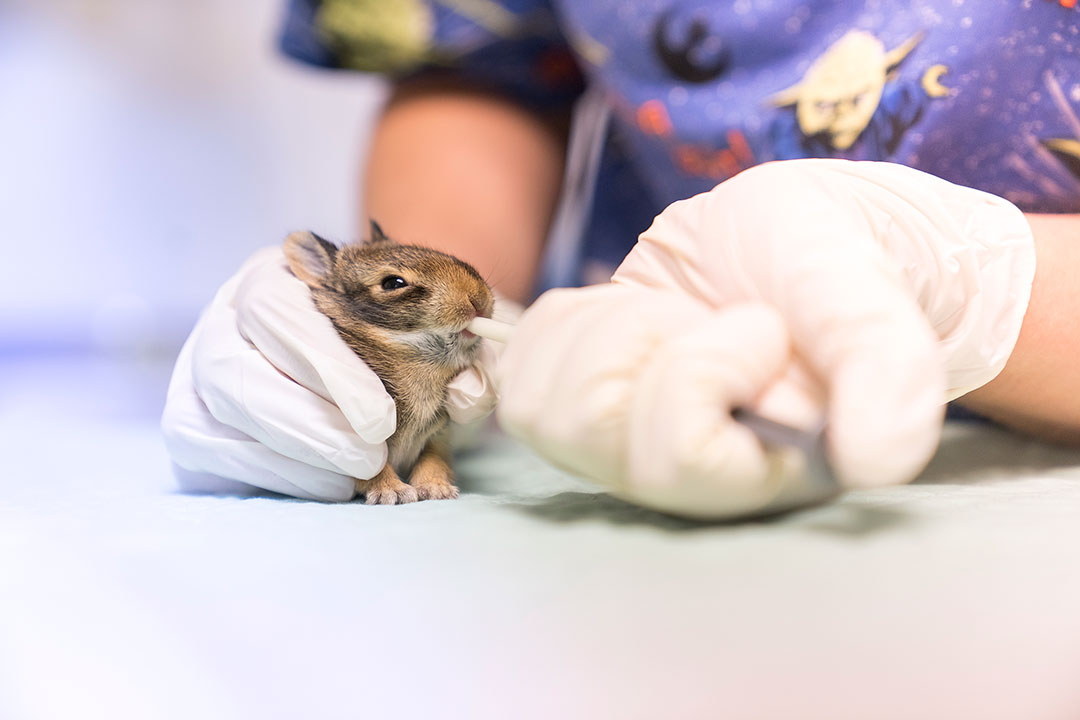 By Melanie Greaver Cordova