Dr. Kristy Richards invited to speak at Biden Cancer Summit
Thursday, September 27, 2018 - 3:13pm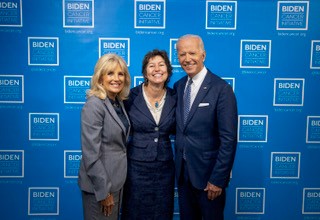 Biden Cancer Initiative brought together more than 350 attendees for the Biden Cancer Summit September 21, in addition to satellite events happening in 450 communities around the country, for what it described as "a different kind of cancer meeting."
Dr. Kristy Richards, associate professor in the Department of Biomedical Sciences and Weill Cornell Medicine, was invited by the initiative to share how her personal experience with breast cancer intersected with her research. She spoke during the opening session, which focused on the individual's journey through cancer, on both the trials and triumphs of such an experience.
According to the initiative, the Biden Cancer Summit was created to foster a more connected, collaborative cancer community and to instill a sense of urgency in the search for solutions to the most daunting problems faced by those on the cancer journey.
Watch the opening session on the initiative's website, see the full program of events and read more about what was discussed at the summit.