Class of 2019 celebrates hooding ceremony
Wednesday, May 29, 2019 - 11:40am
After countless hours of lectures, late nights studying and immersive learning on the farm or in the clinic, the Cornell veterinary class of 2019 was recognized through the college's hooding ceremony on Saturday, May 25 at Bailey Hall.
The graduating class comprises 96 students and a diversity of future career goals. The majority of the class, 61 percent, plan to go into private practice, while 32 percent will further their training with internships. All the new veterinarians will stay in the United States, with roughly one-third remaining in New York state.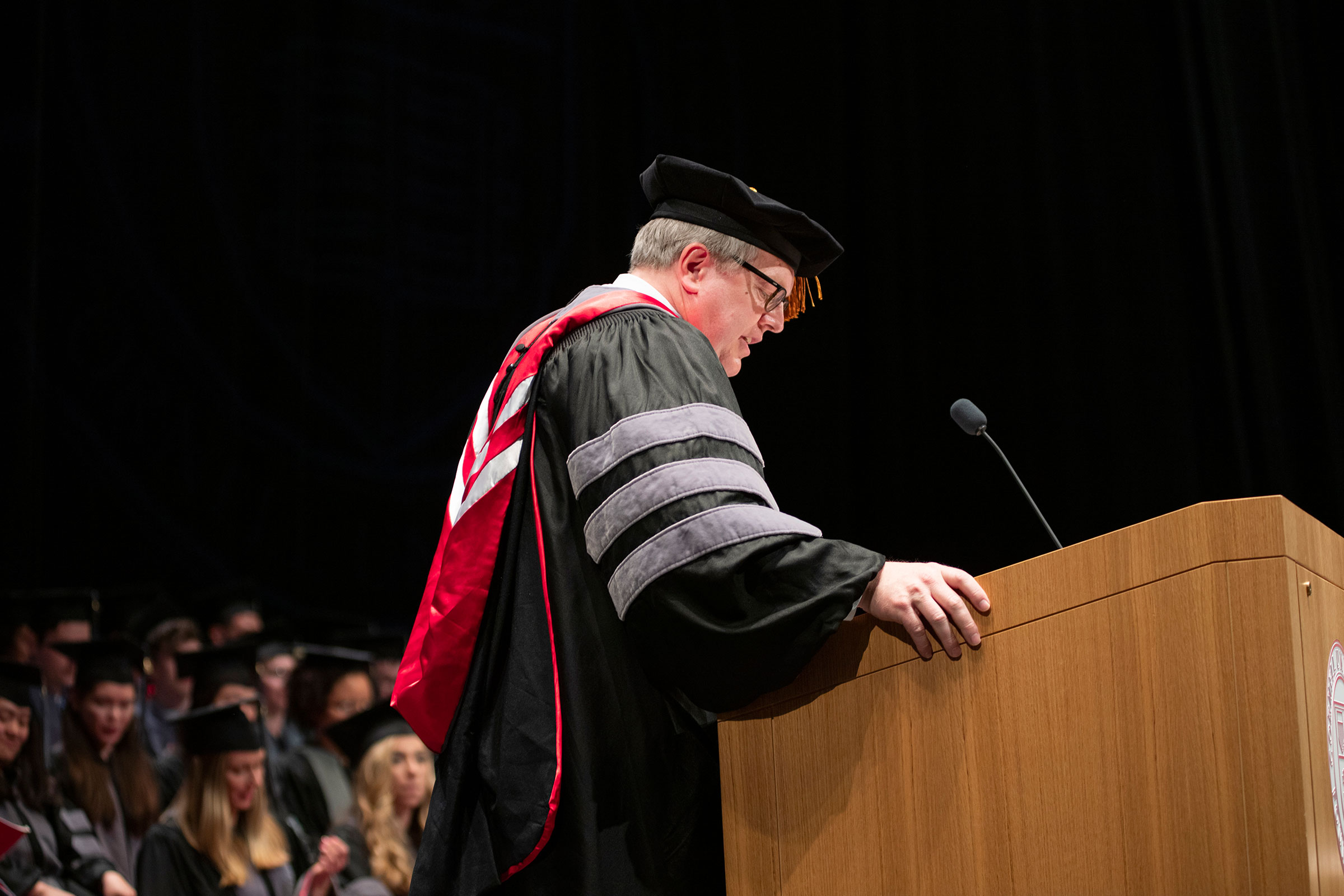 Lorin D. Warnick, D.V.M., Ph.D. '94, the Austin O. Hooey Dean of Veterinary Medicine, spoke with admiration for the group of graduates, as well as the college's residents and interns, on completing their training. "I hope each of you has a sense of satisfaction with what you have achieved," he said. "I'm sure your friends and family in the audience are proud of you — as are all of us at the college."
Warnick also thanked the graduates' families and friends. "If your experience was anything like mine, your parents and siblings indulged an unusual number of animals and great variety of species in your homes," said Warnick. "They have also no doubt heard more graphic descriptions of anatomy, pathology and symptoms of infectious disease than they ever wanted; and much of that was probably at the dinner table. For those not in the profession, please excuse us — we simply can't sit down to a meal together without these topics coming up."
Warnick noted how the Class of 2019 were agents of change, mentioning how they helped shape the college's wellness program and sustainability initiatives. "It is fitting that you have been in the college during a time of change; you now are joining a profession that is also rapidly evolving," said Warnick. "As the business of veterinary medicine is changing … we face a challenge in keeping service to animals and clients at the core of the profession.  But this also provides an opportunity; the quality veterinary health care depends on a foundation of excellent clinical skills, but to be most effective it must be surrounded by great communication, organization, and practice management." Warnick closed his speech by thanking the graduates and house officers.
Dr. Robert Weiner, president of the New York State Veterinary Medical Society, led the graduating class in taking the Veterinarian's Oath. Katherine Edmondson, M.S. '85, Ph.D.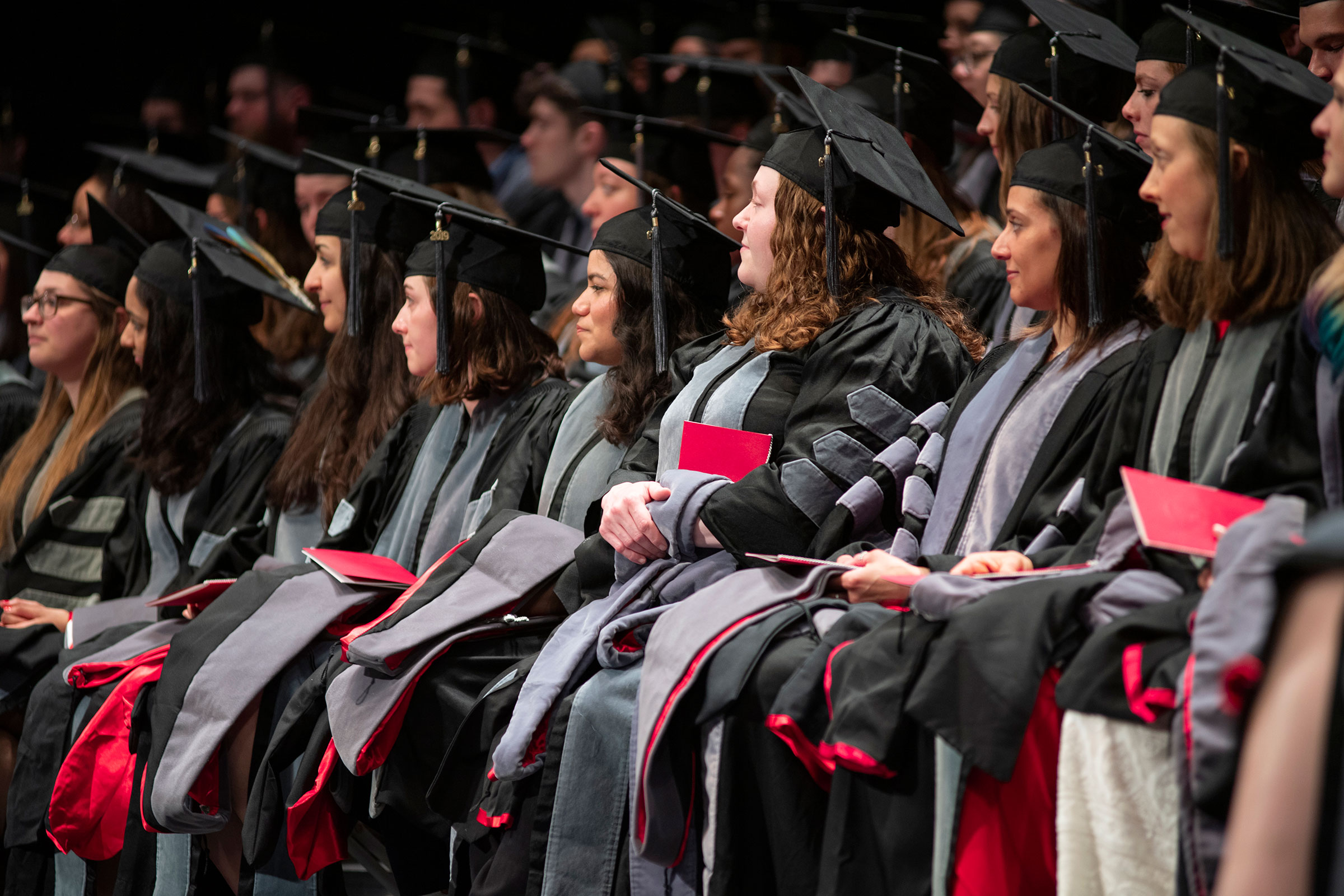 '89, assistant dean for students and instruction, announced the names and future plans of each graduate, followed by Warnick hooding each student. Mark Olcott, D.V.M. '95, president of the alumni association executive board, congratulated them upon their hooding.
Following hooding, Dr. Erin Epperly, assistant clinical professor of diagnostic imaging, recipient of the 2019 Zoetis Distinguished Teaching Award, gave the charge to the Class of 2019. Epperly told stories of her own experiences as a new veterinarian, reminding the graduates that they will face both failures and successes in their career, and that veterinary medicine can be unpredictable. "But one of the best parts about veterinary medicine is that the successes far outnumber the failures," she said. "I am completely confident about the doctors sitting on the stage before you. I am so proud of you all as people, and as vets."
Dr. Carolyn McDaniel, senior lecturer and foundation course leader for Block VII, presented on behalf of the Faculty Student Awards Committee three awards:
The Horace K. White Prize, awarded to the graduate with the highest academic record during their entire veterinary training, went to Allison Tuchrello, D.V.M. '19
The Malcolm E. Miller Award, awarded to a graduating student that demonstrates perseverance and scholastic diligence, went to Bridget Bickers, D.V.M. '19
The Leonard Pearson Prize, awarded to a student most successfully demonstrating potential for professional and/or academic leadership in veterinary medicine, went to Gilad Fefer, D.V.M. '19
The event closed with a performance from the college's own acapella group, Ultrasound, which finished with the entire audience joining in to sing Cornell University's alma mater, "Far above Cayuga's waters."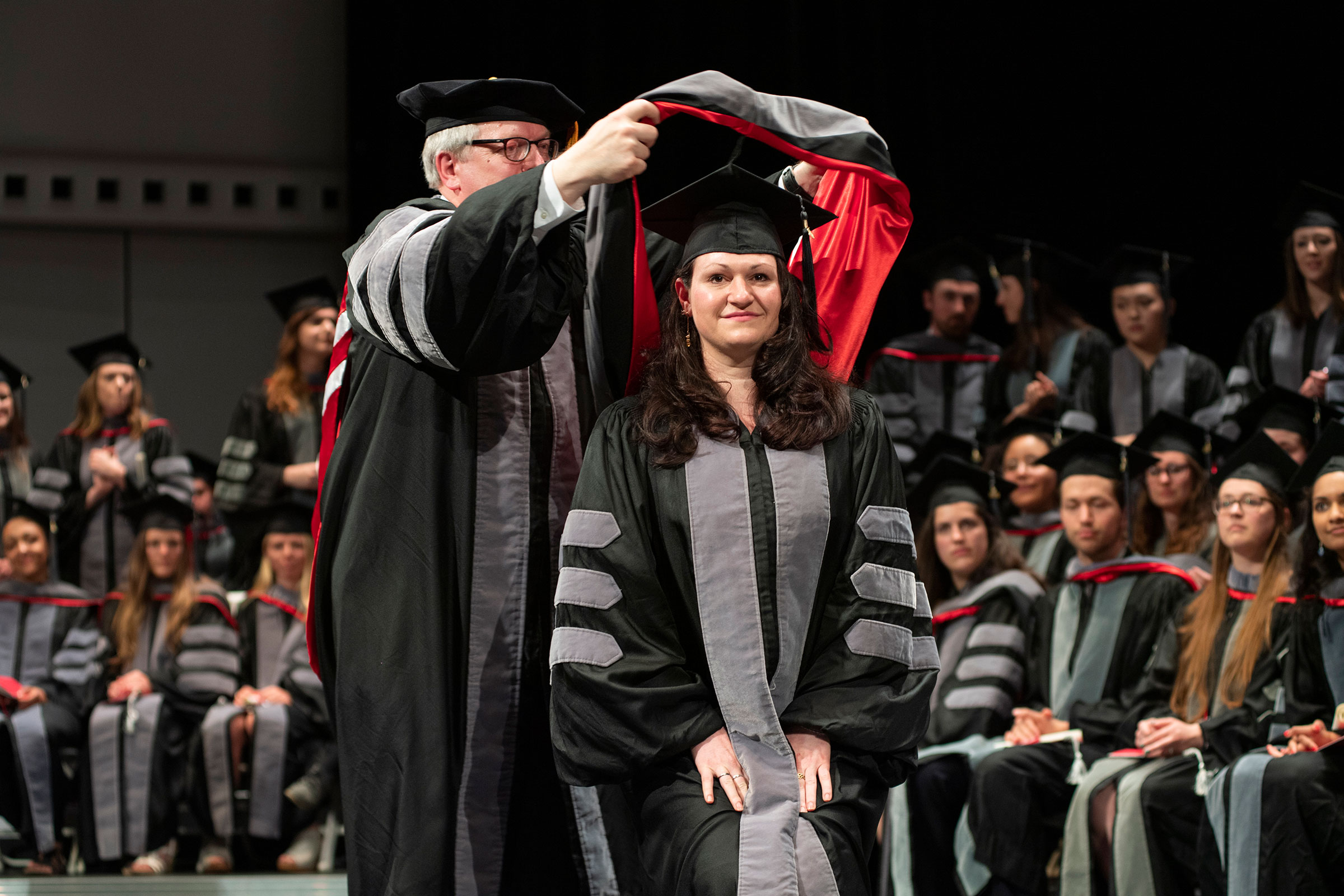 The graduating class is a diverse one, with many different backgrounds and interests. Students come from hometowns just a few miles from campus, or across the globe — as is the case for MJ Sun, D.V.M. '19.  She is originally from China, where her father watched the livestream of the event at 2am in the morning.  Graduate Shannon O'Keefe, D.V.M. '19, was a professional singer in New York City prior to CVM who used her art as a counterbalance during the challenges of veterinary school. "Having an outlet during all that studying was essential for my survival in vet school, and performing was something I could control, something I could feel good about," O'Keefe said. "It helped remind me that there were other things in life than studying."  
Shelby Wauson, D.V.M. '19, had been researcher in behavioral neuroscience before deciding veterinary medicine was a better fit for her. Cornell turned out to be transformative for Wauson in many ways. "I've become more focused on doing those things that I truly love, in the profession and beyond," she said. Wauson also became a mother during her time as a student. "Having [my son] Winter has allowed me to gain perspective that I needed," she said. "Balancing work and family is rarely easy, especially for women, but I feel I have a head start now." Wauson will start as an associate veterinarian for a nonprofit small animal clinic in Houston this summer.
O'Keefe, who plans to work at an emergency and critical care internship in Maryland after graduation, says her time at Cornell was one of challenge and reward. "As we approach graduation I am continually overwhelmed by how much I've learned and how much has changed in the way I think about medicine," she said. "It isn't easy, and it isn't always fun, but it is absolutely worth it."  
-By Lauren Cahoon Roberts
-Photography by Rachel Philipson
Wednesday, May 29, 2019 - 12:29pm