In the business of veterinary medicine: How Jorge Colón '92, D.V.M. '95, makes the profession work for him
Tuesday, August 13, 2019 - 3:17pm
Jorge Colón '92, D.V.M. '95, grew up with business in his blood. His family in Guaynabo, Puerto Rico, owned a firm that produced business and governmental paper forms, as well as the paper and machinery to create them. Colón saw his father, mother and brother working in the office managing clients, budgets and bottom lines, and that family culture rubbed off on him. "I like a spreadsheet," he says. "Business has always been a part of my life. Had I not been a veterinarian I probably would have been accountant." Today, Colón has successfully intertwined these two major interests into a successful career and a lifestyle that allows for plenty of quality time with his family. "I take my greatest pride in being a husband and dad — family is my priority in life," Colón says.
Rising to the challenge
As a young person, Colón had an interest in science, but his trips during high school with a veterinarian friend to the local the local racetrack sealed his destiny as an equine veterinarian. "I didn't know much about horses at the time, but it just mesmerized me," says Colón of watching the long-legged thoroughbreds thunder by on the track.
Colón attended Cornell University as an undergraduate, and knew he wanted to go straight on to Cornell Veterinary College to become an equine clinician. Moving to Ithaca, New York, from the island of Puerto Rico came with some culture shock for the teenaged Colón, however. "I grew up on an island where everyone is the same as you are, and the ocean surrounds you — and came to my freshman dorm where I met people who had never touched water that wasn't in their shower or the pool," Colón explains. "I almost couldn't comprehend that."
The extreme change was ultimately good for Colón. His experience at Cornell — both as an undergraduate and veterinary student, challenged him to excel. "It's not that I didn't have drive, but I needed someone to encourage me to go even further," Colón explains. "Cornell did that for me. It pushed me and gave me opportunities."
Sharpening skills
After graduating from CVM, Colón, moved to Lexington, Kentucky — the heart of racehorse country — to pursue an internship at a major equine hospital.
Today, Colón runs his own private equine ambulatory practice, specializing in reproduction, neonatology and radiology — and competes for business with major equine hospitals with 50-100 veterinarians on staff. "The environment is extremely competitive," says Colón. "These larger hospitals can offer things I can't — economies of scale, for example.  But I don't have to bill the way they bill, and they have expenses to take care of that I don't."
This nimbleness has been part of Colón's key to success. That, and his dedication to business education, which Colón pursued after a number of non-stop years in his private practice. "I was working every day no matter what the weather was, and I realized that I was tired of living like that, I needed to do something other than just working with mares and foals," he said. "I knew I needed to have more than one skill — and I already had understanding of business skills."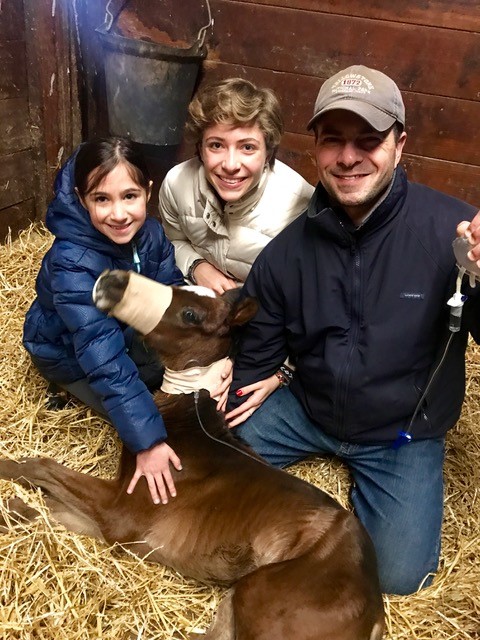 In 2015, Colón completed an online MBA program with a Finance Certificate at Colorado State University College of Business, all the while continuing his equine practice and being a father and husband.
He's bolstered this training with a Leadership Essentials Certificate through eCornell, become a facilitator of Lean inventory management through the Veterinary Management Institute, and written a textbook on the matter — "Essential business concepts for veterinary professionals." He also acts as a private veterinary business consultant, helping clients learn skills such as lean management, practice valuation and financial analysis.
Swimming with sharks
Colón effectively shifted his career from being an equine veterinarian to something more complex and ultimately, more rewarding. "I stopped thinking of myself as a veterinarian, and began to think of myself as being in the business of providing veterinary medicine," says Colón. "Once you make that shift, the whole concept of thinking about your business will change."
He applies this mentality not just to his own finances, but also to those of his clients. "One of the number one reasons horse owners elect not to have care is because of the cost," says Colón. "But I change that for them. I always tell my clients that I like to be conservative in my treatments so we can be aggressive when we need to be. If we do it the right way from the beginning, going to the vet is not a mortgage every time you go."
This approach has built him a successful practice of loyal clients, despite the fierce competition in heart of thoroughbred breeding country. "I'm a little fish in these big shark-infested waters and one of the ways I get to keep swimming is by taking care of my clients' needs and wants first," Colón says. "If you provide high quality service, they will want to come back."
 
Cornell connections
Colón credits Cornell with much of his success, and finds multiple ways to give back and stay involved with his alma mater. "I am who I am because of Cornell," he says. "It's amazing the doors that Cornell opens, the way people treat me once they know that's where I graduated." Colón serves on the college's Alumni Association Executive Board and has spoken to CVM's Veterinary Business Management Association student group (CVBMA). He is also an avid supporter of the college's newly-launched Center for Veterinary Business and Entrepreneurship (CVBE). "When I learned about the college's plan for this center, I was ecstatic," he says. "It was the exact representation of my idea of what needed to happen at Cornell."
For years, Colón had championed the belief that financial literacy is a fundamental part of veterinary medicine education. "You don't have to love numbers, but you do need to understand them," he says, noting how this acumen filters down into every aspect of a business owner's life. "If one doesn't have a financially healthy practice, then it will be very difficult to have a financially healthy personal life, or a quality family life."
With the launch of the CVBE, Colón hopes to see its educational benefits improve the happiness and success of fellow veterinarians. "My hope is that this can benefit not just individual practitioners, but also their communities," Colón says. "If you're financially healthy, perhaps that eventually turns to wealth, and you can then utilize your abilities to further philanthropic causes. The ultimate goal is not just what can you do yourself. It's what can you do for everyone around you, and to make the world a better place."
-By Lauren Cahoon Roberts