College honors employees for outstanding service and quality
Tuesday, August 27, 2019 - 10:43am
For their years of service and excellent work, 37 staff members earned awards in a celebration of their accomplishments at the College of Veterinary Medicine (CVM) Aug. 7.
"It's gratifying to see people here from throughout the college who are involved in everything from clinical patient care, diagnostic services, biomedical research, public health, international programs — all impacting lives in central New York, throughout the state, the nation and the world," said Lorin D. Warnick, D.V.M., Ph.D. '94, the Austin O. Hooey Dean of Veterinary Medicine. "This is a dynamic and invigorating place to work, and that's thanks to all that you do."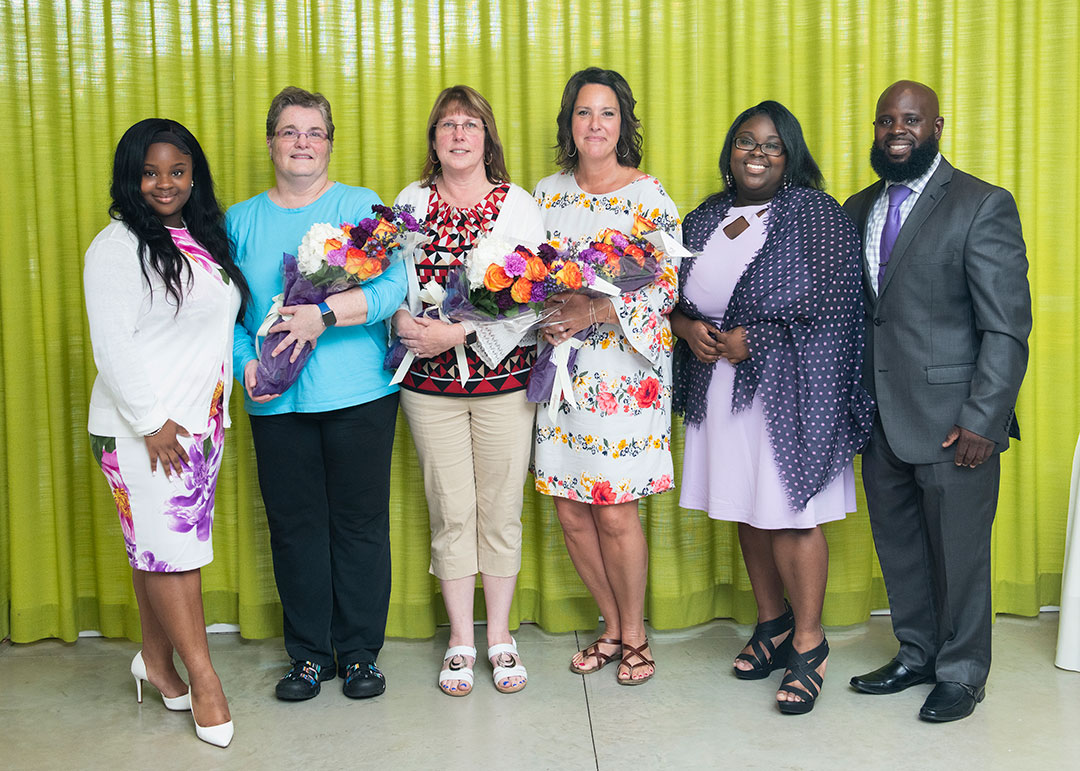 The ceremony included the announcement of this year's recipients of the Dionne Henderson Staff Excellence Award. Now in its second year, the award's namesake, Dionne Henderson, worked at the college for nearly a decade in administrative positions for both Human Resources and the Department of Clinical Sciences. She passed away unexpectedly in 2016 after complications from a cancer-related surgery. Her family attended the event.
"The best part is that this is a community celebration, and we have come together like I have never seen before to create a wonderful event to recognize our hardworking, dedicated staff," said Mary Beth Jordan, CVM's director of human resources.
The award was presented to three recipients: Marie de Roos, Gwen Frost and Nicole Woodhull. Marie de Roos is an administrative assistant in the Accounting Service Center (ASC). "Marie is the backbone of our Accounting Service Center," said Candy Hawker, accounts representative at the ASC, which nominated de Roos. "Her positive nature and warm personality are always a welcome addition to any committee and gathering."
Gwen Frost is a senior grants and contracts coordinator for the Animal Health Diagnostic Center (AHDC). "Gwen's dedication to each and every faculty member, her excellence in providing high-quality proposal packages and her ability to communicate across our college, the university and sometimes the world to bring a project together is beyond distinction," said Kim Potter, director of business operations at the AHDC, Frost's supervisor and one of her nominators.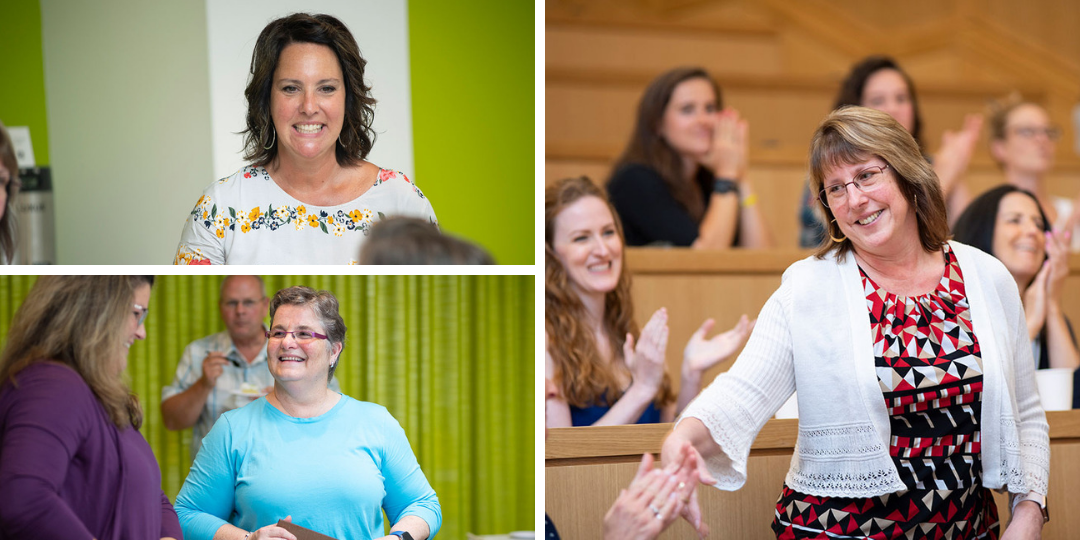 Nicole Woodhull is an executive staff assistant in the Office of the Dean. "Nicole is the most compassionate, diplomatic and welcoming supervisor we have had the honor to work with," said Christina Wilkinson, administrative assistant in CVM's student and academic services office and one of Woodhull's nominators. "She gives everything she does 110 percent and is not afraid to step outside her comfort zone."
The event also celebrated the Staff Service Awards, which recognize outstanding staff whose work contributes to the success of Cornell's students, faculty, alumni and colleagues at the university. Combined, their years of service totaled an impressive 985 years.
"For those of you who are celebrating service milestones, we know it's not just about the years you've been here," said Mary George Opperman, M.S. '17, Cornell's Vice President and Chief Human Resources Officer. "It's about all the dedication you've put in to those years, all the hard work and everything that you've accomplished."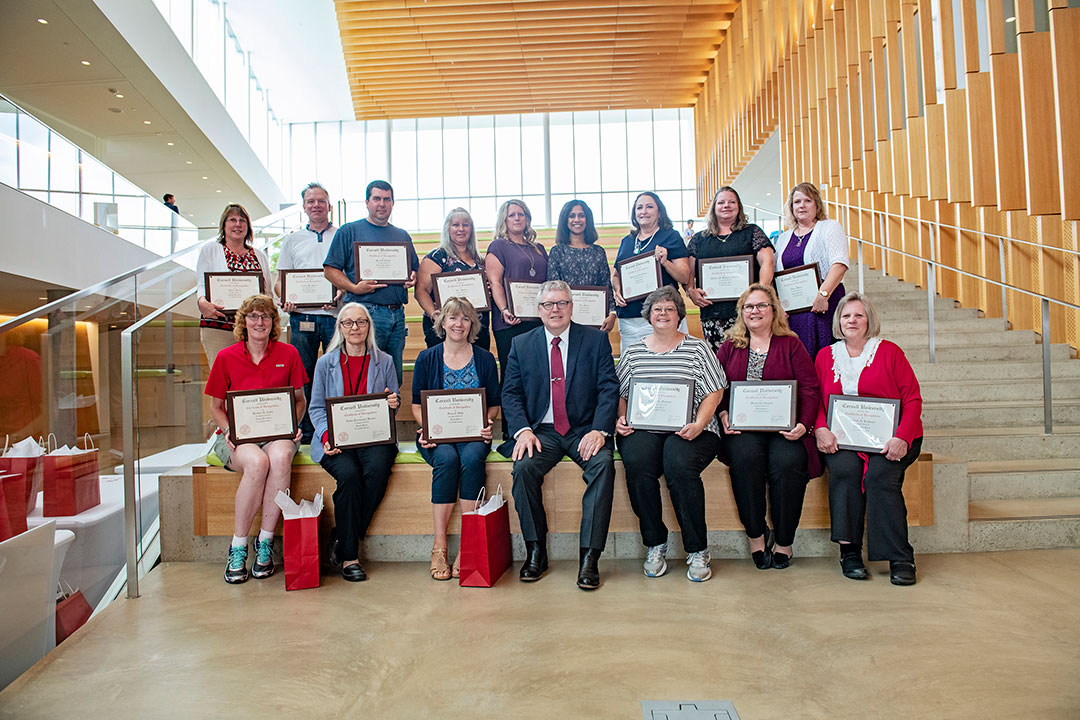 20 Years of Service
Rosemary Adessa
Gordon Andrews
Keila Dhondt
Kathy Fowler
Belinda Gross
Kimberly Hayes
Jen Powers
Jai Sweet, Ph.D. '96
Jessica Divell
Cathy French
Ariana Harris '05
Paul Jennette '87
Sherri Stull
Victoria Thomas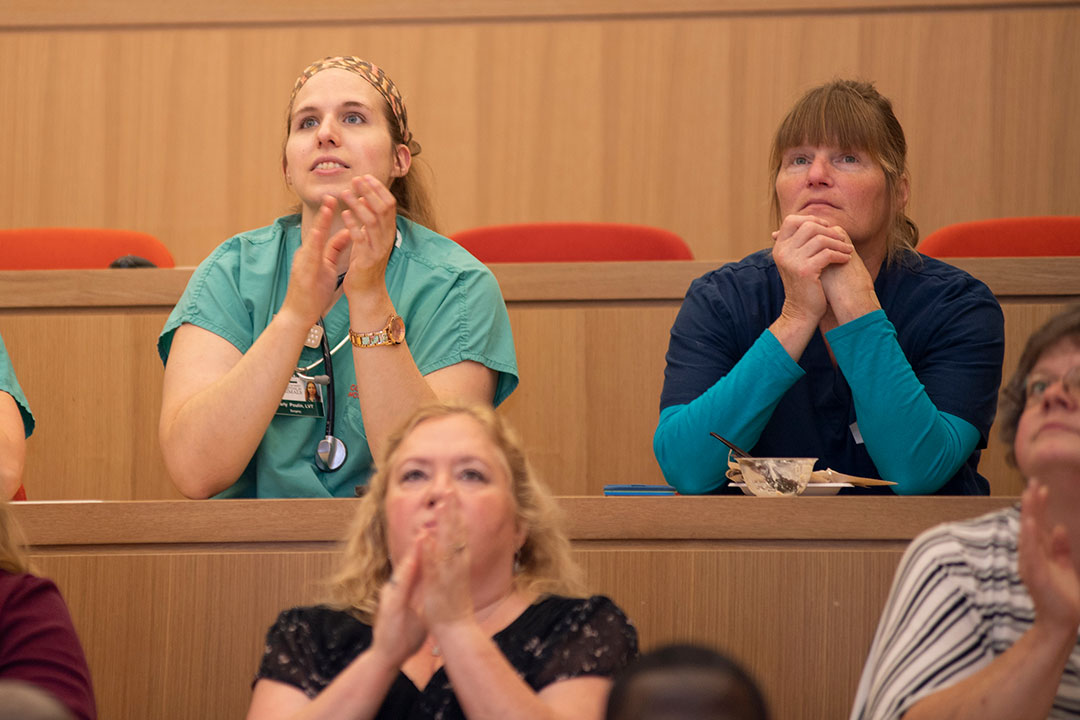 25 Years of Service
Catherine Brown
Scott Butler
Curtis Kretz '94
Laurie Lychalk
Joseph McLain
Casey Morgan
Michelle Stefanski- Seymour
Dean Wolf
30 Years of Service
Joby Cowulich
Wendy English
Brenda Henley
Diane Kilts, M.H.A. '96
Kim Salino
Deborah Watrous
Judy Withers
35 Years of Service
Barbara Catlin
Gwen Frost
Patricia Janhonen
Vonda Royce
Karen Wilcox
40 Years of Service
Linda Benson
Pamela Schenck
Amy Yeager '76, D.V.M. '79
 "This represents an amazing achievement," said Warnick.
By Melanie Greaver Cordova