Reticulated python from Rosamond Gifford Zoo receives eye treatment at Cornell
Wednesday, October 2, 2019 - 3:01pm
The Rosamond Gifford Zoo brought a somewhat unusual patient for treatment at the Cornell University Hospital for Animals recently — a 14-foot-long reticulated python named Raja.
The seven-year-old, 48-pound python had been treated for an intermittent eye problem for over a year, said zoo director Ted Fox. Cornell veterinarians who practice at the zoo suspected a blocked left lacrimal duct (the small tube that allows for tears to drain away from the eye). Snakes have a unique anatomy in that the eye is covered by a specialized scale called the spectacle or eye cap. The eye cap creates a closed space over the cornea and the rest of the eye called the subspectacular space. A blocked lacrimal duct causes tears to build up, causing an enlargement of this space.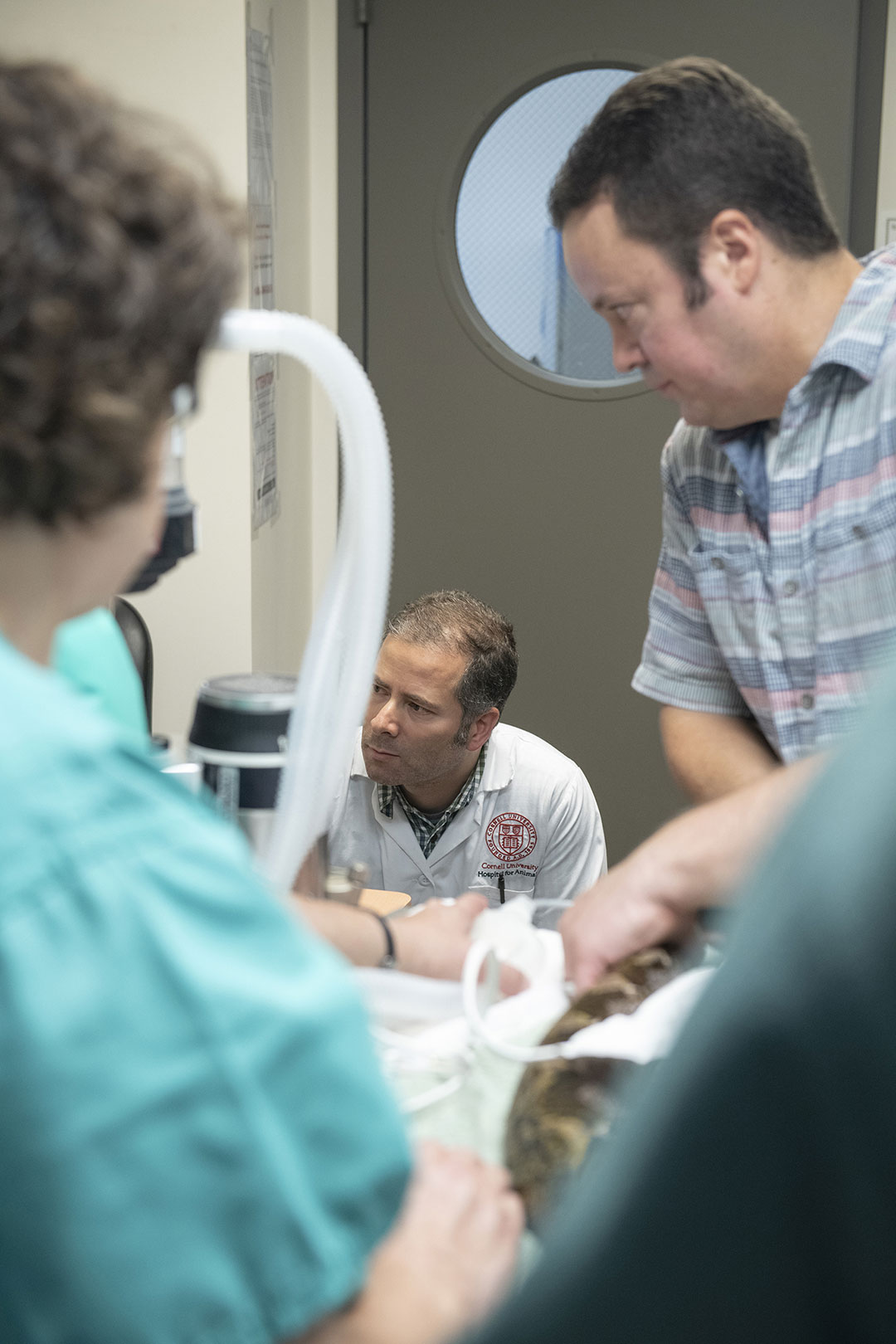 Despite multiple courses of treatments and two surgeries to help relieve the swelling, Raja's eye condition appeared to be deteriorating. The veterinary team recommended advanced diagnostics offered only at the Cornell College of Veterinary Medicine to help pinpoint a cause for this problem and help recommend a better course of treatment.
On Thursday, Aug. 29, three animal care specialists from the zoo traveled to Cornell with Raja for his treatment. There, they joined a team lead by Dr. Noha Abou-Madi, associate clinical professor in zoological medicine; Dr. Cynthia Hopf, third-year resident in zoological medicine; and two specialists in veterinary ophthalmology, Dr. Eric Ledbetter (professor in ophthalmology) and Dr. Filipe Espinheira (assistant professor in ophthalmology).
Raja was anesthetized and several advanced diagnostic tests were performed. First, a CT scan created a 3-D image of his head, which provided details of the structure of the skull and the eye. An optimal coherence tomography scan, a high frequency ultrasound exam and an in vivo confocal microscopy exam revealed that although his eye cap was inflamed, the rest of the eye structures were normal.
The decision was made to create a new naso-lacrimal duct by placing a stent between the eye cap and the cornea and mouth. Under a surgical microscope, a small tube was inserted and sutured in place. Raja recovered uneventfully and was brought back to the zoo that same afternoon. He has since been treated there; due to an excellent post-operative recovery, he will be reevaluated six to seven weeks post-op under anesthesia with plans to remove the stent at that time.
Cornell University College of Veterinary Medicine has a partnership with the zoo in which veterinarians in the zoological medicine section provide the care and treatment of the animals at the zoo, with Cornell staff working on site at the zoo four days a week.
In exchange, the zoo allows Cornell residents and interns to be involved in all aspects of the care at the zoo and veterinary students are invited to observe and learn in a teaching environment. Raja's case illustrates how this relationship provides the best care for the animals with state-of-the-art diagnostics, medical and surgical treatment options, while offering Cornell veterinary students the opportunity to work with unusual and challenging cases.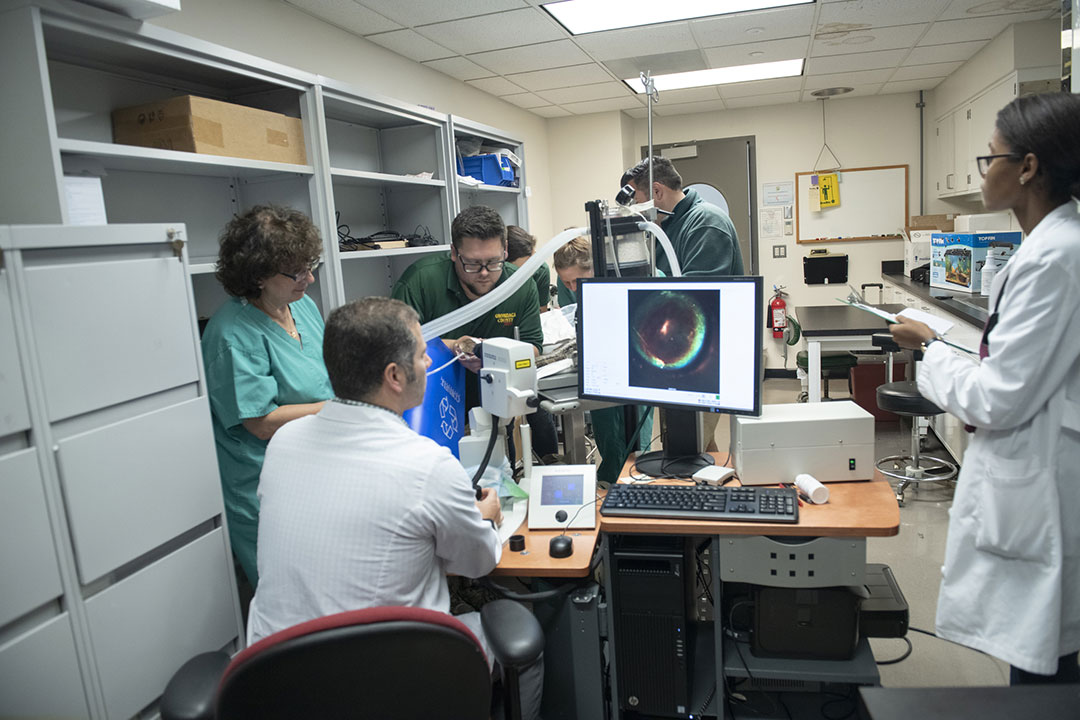 Reticulated pythons are native to Southeast Asia and are named for their markings. "Reticulated" refers to a repeating pattern of shapes, in their case a diamond pattern in yellow, black and green.
Fox said Raja's trip to Cornell went smoothly thanks to the expertise of his caregivers at the zoo as well as their working relationship with the Cornell veterinary team. The three animal care specialists who traveled with Raja and assisted with the procedures are collection managers Seth Groesbeck and April Zimpel and zookeeper Travis Pyland.
"We are fortunate to have the opportunity to build this symbiotic relationship with Cornell," Fox said. "The outstanding veterinary care that they provide and the exceptional animal collection and facilities that the zoo makes for a perfect collaboration in which animals and animal experts thrive!"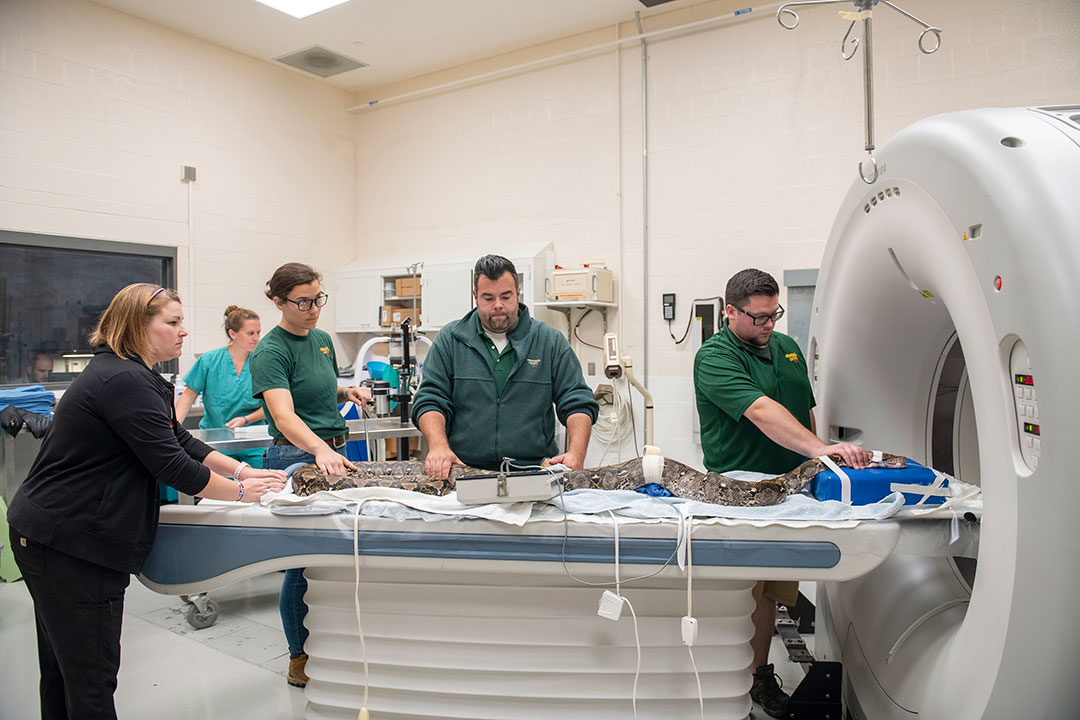 By Janet Gramza, Communications Manager at the Rosamond Gifford Zoo