Wayward one-eyed pelican first of its kind at Cornell wildlife hospital
Tuesday, December 10, 2019 - 10:03am
An American white pelican made history this fall as the first patient of its species at Cornell's Janet L. Swanson Wildlife Hospital. With only one working eye and suffering from parasites, the bird crash-landed in Oswego County, New York, too thin and weak to continue its migration to warmer wintering grounds.
"It was likely born this year, possibly in some of the more eastward nesting grounds now found for this species on the Great Lakes, such as Lake Erie," said Sara Childs-Sanford, D.V.M. '99, chief of service at the wildlife hospital. "It was weak and debilitated when found, and would not have been able to make the full migration south for the winter."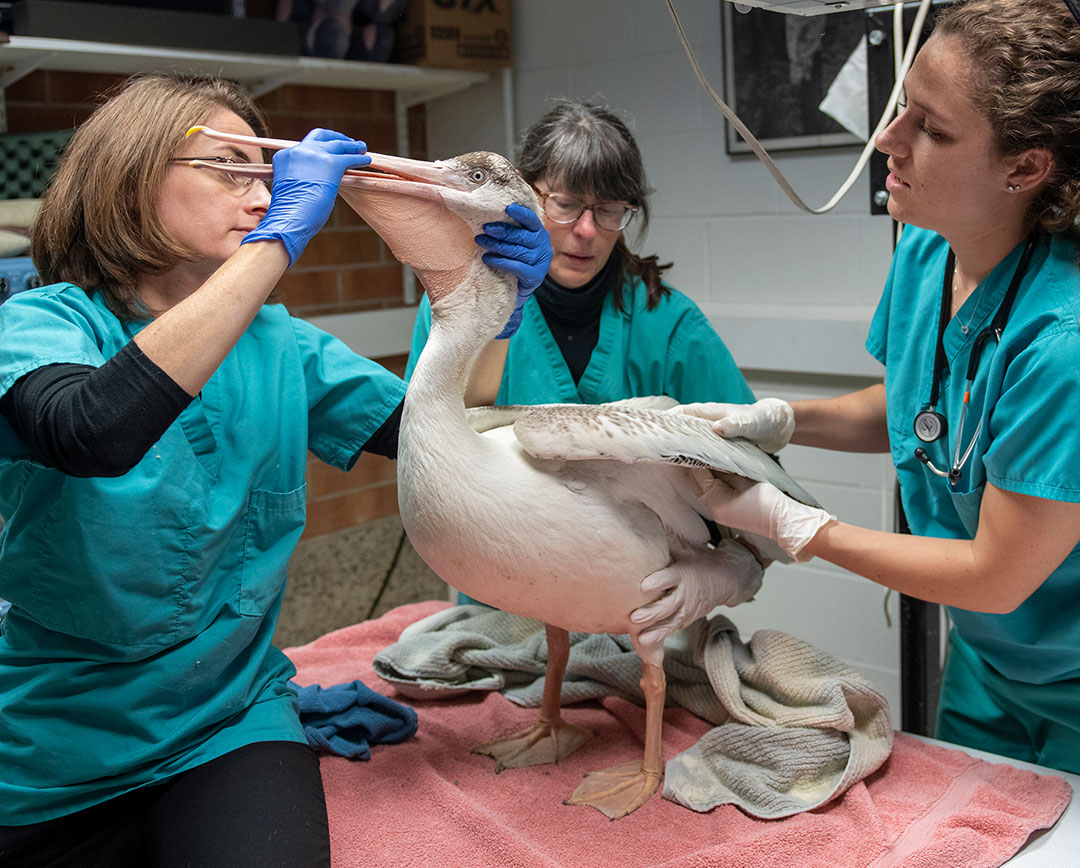 American white pelicans spend their winters on the coastline of Florida and return north each spring to breeding grounds in the United States and Canada. They are one of the largest birds in North America, with wingspans of up to nine feet; this posed a particular challenge for the clinicians and staff at the wildlife hospital. "It was amazing how large it was, even for a juvenile bird. Had it been an adult, we have only one cage it would have fit in," said Childs-Sanford. The average weight for an adult American white pelican is approximately 15 pounds, but as a juvenile, this patient only weighed eight.
During its brief stay at the hospital, the pelican's appetite also improved — and the bird wasn't shy about letting clinicians and staff know with loud brays and calls. "We went through large amounts of fish," said Childs-Sanford. "If this was a species we saw more often, we would need some bigger housing spaces as well as a large freezer full of fish!"
In addition to treating it for parasites and generally weak condition, the hospital consulted with the Cornell University Hospital for Animal's Section of Ophthalmology to have its injured eye examined. Clinicians concluded that the eye suffered a penetrating injury of some kind, likely a foreign object puncture wound. The injury healed before it arrived at the hospital, however, so the damage was permanent.
In some cases, white pelicans with ocular injuries are releasable, said Childs-Sanford. While brown pelicans rely on sight to hunt for fish, white pelicans will hunt in groups, working together to herd fish toward the shore where they are easily scooped into their pouches.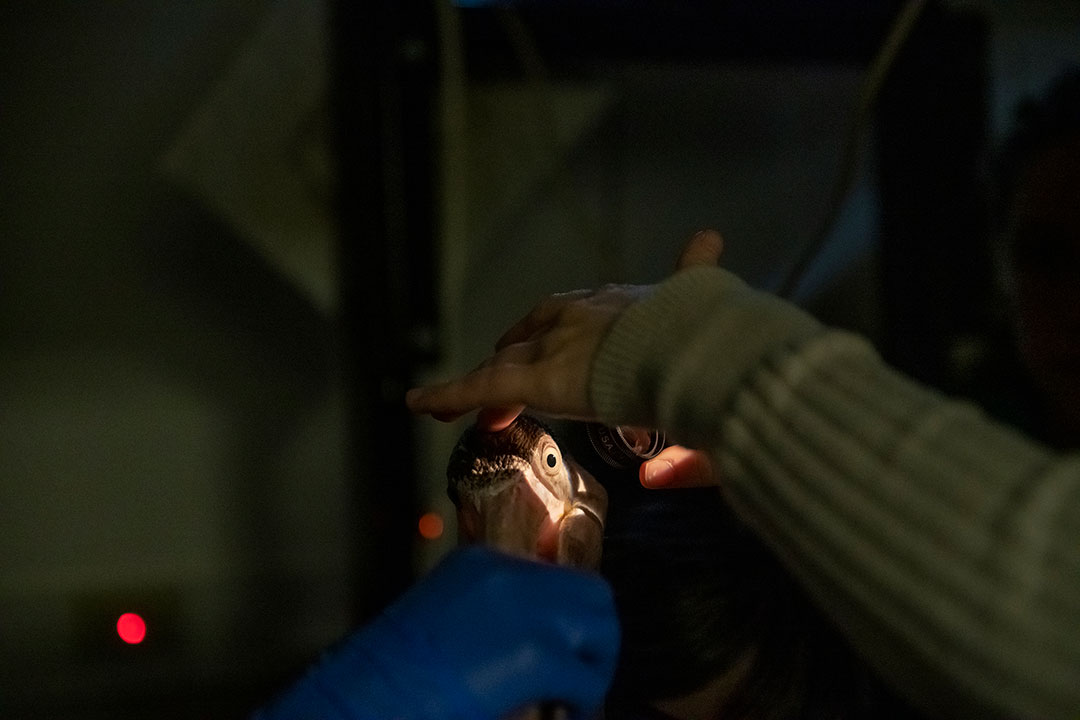 Helping the bird finish its migration
After its treatment at Cornell, the pelican returned to certified wildlife rehabilitator Jean Soprano of Kindred Kingdoms Wildlife Rehabilitation Center, who originally brought the bird in. Soprano arranged for the pelican's transfer to a wildlife hospital in Sanibel, Florida, called Clinic for the Rehabilitation of Wildlife (CROW). It was then put on a flight and picked up by CROW staff in Ft. Meyers.
Rehabilitators and veterinarians at CROW conditioned and tested the pelican for survival skills. Its poor vision and lack of interest in flying meant the bird could not be safely released into the wild. Said Childs-Sanford, "The great news is that CROW found a permanent placement for it at a facility in the Florida Keys, where it will live with other non-releasable white pelicans."
Cornell's wildlife hospital sees a great diversity of species, with a caseload of nearly 1,500 in the last year alone. "It's impossible to predict what animal might come through the door on a daily basis," said Childs-Sanford, adding that the unpredictable nature of their work, such as this unusual pelican patient, highlights the tremendous amount of coordination and collaboration with other wildlife professionals required to ensure a patient is properly cared for and either released or placed.
"We are proud to be a resource here at Cornell that wildlife professionals from across New York can send difficult or unique cases to receive advanced care and specialized consultation."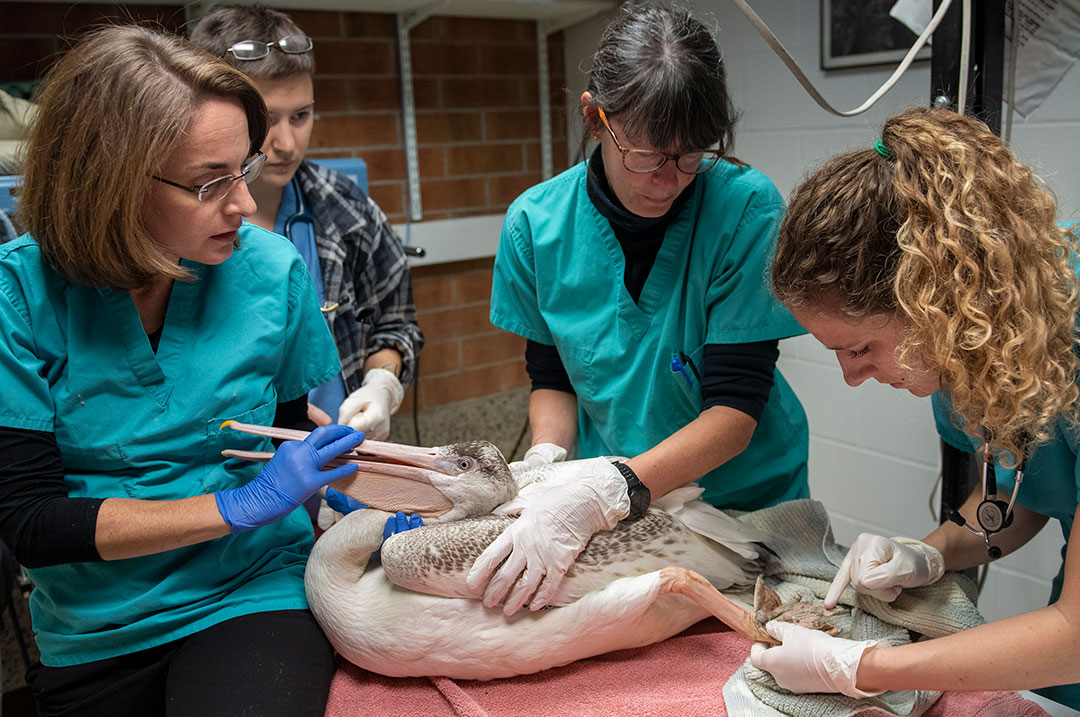 By Melanie Greaver Cordova