Any athlete, any breed: Cornell veterinarians care for the world's top dogs at Westminster
Thursday, February 20, 2020 - 12:01pm
The world's most elite dogs vied for titles at the 144th Westminster Kennel Club Dog Show, Feb. 8-11 in New York City, and Cornell veterinarians were there to care for any canine in need during the competition.
"It was an honor for Cornell veterinarians to be the official veterinary care providers for the second year in a row," said Dr. Meg Thompson, director of the Cornell University Hospital for Animals. "Our clinicians are able to provide the highest-quality care to these exceptional dogs and share information about our hospital services and research activities."
Fifteen representatives from the College of Veterinary Medicine (CVM) and Cornell University Veterinary Specialists (CUVS) provided wellness exams and medical care to the dogs and offered information about Cornell's hospital services and veterinary program to showgoers. Christopher Frye, D.V.M. '11, section chief of CVM's sports medicine and rehabilitation service, served as the lead veterinarian on this year's team, coordinating medical supply preparation, shift logistics and training.
"It was an amazing experience for all of us," said Frye. "I loved seeing a tremendous array of such well-cared-for dogs and meeting the families and team members that support their success."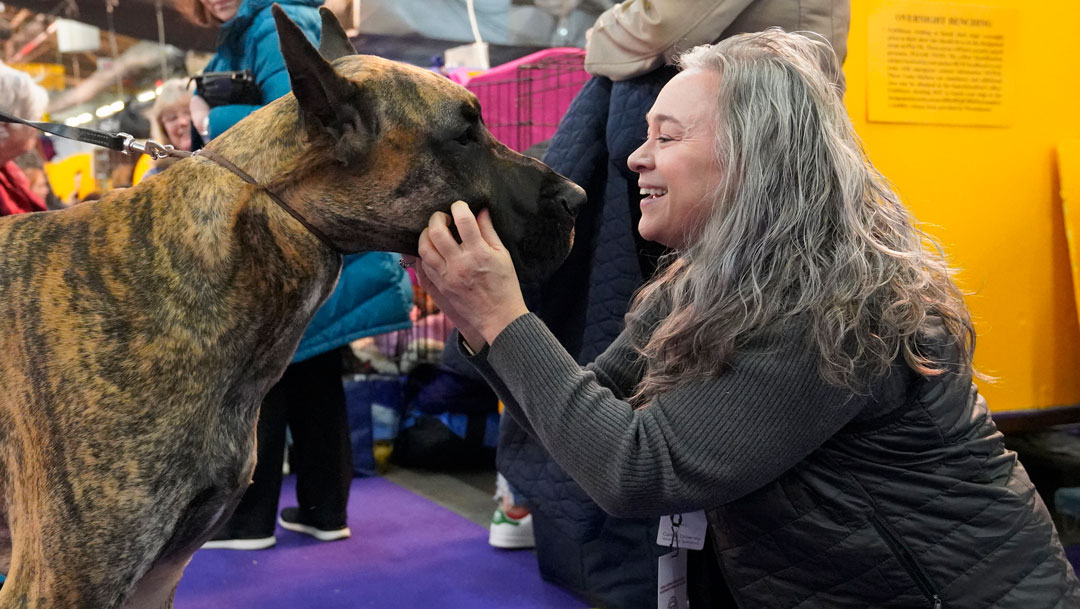 Caring for champions
As the show ring saw parades of dogs come through, so did the veterinary booth, with a steady stream of patients as the days progressed. Most of the cases were standard dog show ailments — nausea from too much travel or treats, sore paws and broken toenails, a skin reaction to unfamiliar hotel sheets.
"We saw acute lameness, vomiting, diarrhea and one giant breed dog with concern for a life-threatening condition called gastric dilatation-volvulus, more commonly known as bloat," said Dr. Elisa Mazzaferro, staff criticalist at CUVS. "Everyone was very appreciative that we were on site to evaluate their dogs and be able to provide minor emergency care, or refer them if we determined a condition to be more serious."
Veterinarians were also a resource for attendees, answering a range of questions: how best to prepare for veterinary school; what diets are best for food allergies; and occasionally a second opinion on a pet's diagnosis.
"I met a lot of nice people over the weekend," Mazzaferro said, "and we all share our love of animals, which is a really special experience."
A long history
The Westminster Kennel Club Dog Show is the longest-running dog show in the world and the second-longest continuously run sporting event, trailing the Kentucky Derby by two years. Since 1877, it has awarded honors to the top dog in the herding, hound, non-sporting, sporting, terrier, toy and working groups. Those winners then compete to earn Best in Show.
This year, a standard poodle named Siba nabbed the prize in the Feb. 11 finale at Madison Square Garden.
"It was wonderful watching the athleticism of the agility dogs, the relationships between the dogs and their owners and handlers and the beauty and nuances of each breed," said Mazzaferro. "For me, watching the pugs line up and show was a check-it-off-the-bucket-list experience."
"As a sports medicine clinician, I have a bias toward the competitiveness in the agility and obedience rings," said Frye. "I love watching dogs move and think to navigate these obstacles. They have such a strong relationship with their handlers to work as a team and they always enjoy the event regardless of outcome."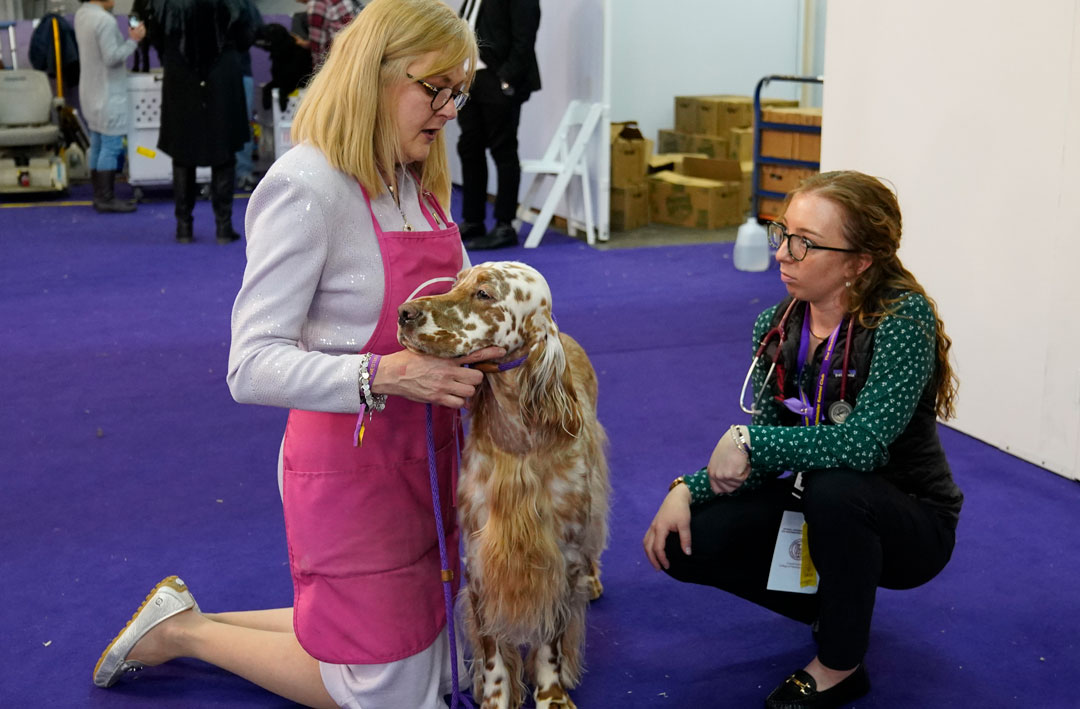 Students on site
In addition to being one of the premiere events in the dog show world, Westminster is also an opportunity for veterinary students to hone key skills. Eight CVM students worked in the medical and information booths alongside Cornell clinicians.
"To prepare, we had to familiarize ourselves with the sorts of issues that can arise with show dogs — upset stomachs and sports injuries, conditions like that," said Mary Beth Hannon '15, a third-year veterinary student. "I loved interacting with the public and talking about all the great things we do. It's an honor to get to represent Cornell."
Hannon worked in both the medical and information booths throughout Westminster Week, including during the agility contest, where she saw a basset hound try to navigate the challenging course against more traditional agility breeds like Australian shepherds and border collies.
"All the dogs have been wonderful," Hannon said. "Madison Square Garden is one of the biggest stages of all sports, so it was awesome to see such great dogs showcased like this."
Thousands of people attended the various events in person during Westminster Week, with many more tuning in on Fox Sports. The New York Times published a story about CVM's involvement with Westminster and what it takes to keep the animals safe and happy in what can be a high-stress environment. Such high-profile coverage didn't faze Frye or the other clinicians, however. Said Frye: "We aim to provide optimal care at all times for our patients. It was wonderful also to be able to provide some outreach regarding Cornell and veterinary medicine to many of the competitors and patrons of the event."
By Melanie Greaver Cordova
A version of this story appeared in the Cornell Chronicle