Spending time in nature reduces stress and anxiety
Tuesday, February 25, 2020 - 1:44pm
New research from an interdisciplinary Cornell team has found that it takes as few as 10 minutes in a natural setting for college students to feel happier and lessen the effects of stress both physically and mentally. The research is part of a larger examination of 'nature therapy' and aims to provide an easily-achievable dosage that physicians can prescribe as a preventative measure against high levels of stress, anxiety, depression and other mental health issues college students face.
"It doesn't take much time for the positive benefits to kick in — we're talking 10 minutes outside in a space with nature," says Gen Meredith, associate director of the Master of Public Health Program and lecturer at the College of Veterinary Medicine. "We firmly believe that every student, no matter what subject or how high their workload, has that much discretionary time each day, or at least a few times per week."
Meredith and her co-authors performed a scoping review of studies that examined the effects of nature on college students aged 15-30 to discover the right amount of time students should be spending outside and what they should be doing while they're there. They found that the range of 10-50 minutes in natural spaces was the most effective to improve mood, focus and physiological markers like blood pressure and heart rate.
"It's not that there's a decline after 50 minutes, but rather that the physiological and self-reported psychological benefits tend to plateau after that," says Dr. Donald Rakow, associate professor in the School of Integrative Plant Science.
While outside, students only need to be sitting or walking to enjoy the positive effects, the two primary activities the researchers examined in an effort to provide accessible recommendations when the results are applied at schools.
"We wanted to keep this access to nature as simple and achievable as possible," says Rakow. "While there is a lot of literature on longer outdoor programs, we wanted to quantify doses in minutes, not days."
Making the healthy choice the easy choice
For Cornell students, there are a multitude of options for escaping into nature, even for 10 minutes. When it comes to more urban universities, research suggests that adding green elements to a built space can produce the same results. It is the time spent in nature, not necessarily nature itself, that's beneficial.
"This is an opportunity to challenge our thinking around what nature can be," says Meredith. "It is really all around us: trees, a planter with flowers, a grassy quad or a wooded area."
The impetus for this work is a movement toward prescribing time in nature as a way to prevent or improve stress and anxiety, while also supporting physical and mental health outcomes. The researchers wanted to consider what 'dose' would need to be prescribed to college-age students to show an effect. They are hoping that when it's applied at universities, it becomes part of the routine and is consumed in regular doses, like a pill.
"Prescribing a dose can legitimize the physician's recommendation and give a tangible goal" says Meredith. "It's different than just saying: Go outside. There is something specific that a student can aim for."
Many students who are managing psychological issues are looking for non-pharmacological ways of improving their well-being, adds Rakow. "This nature dose is an upstream 'prevention' approach to, hopefully, reduce the number of people getting to the point where a pharmacological approach becomes necessary," he says.
In addition to encouraging the community to utilize its rural setting with natural gorges and parks, Cornell has embraced the nature immersion concept through its Nature Rx steering committee, website and student organization, and Cornell Health has engaged its medical and mental health providers in prescribing time in nature to support student health and well-being.
"We know that the number of prescriptions health professionals provide are going up every year," says Rakow, who is on the steering committee with other faculty, staff and students. "This is the first year at Cornell Health that students who were prescribed time in nature as part of their appointment also received an anonymous and confidential survey to determine the degree that prescription influenced the frequency with which they go out in nature and how it affected stress level and ability to concentrate."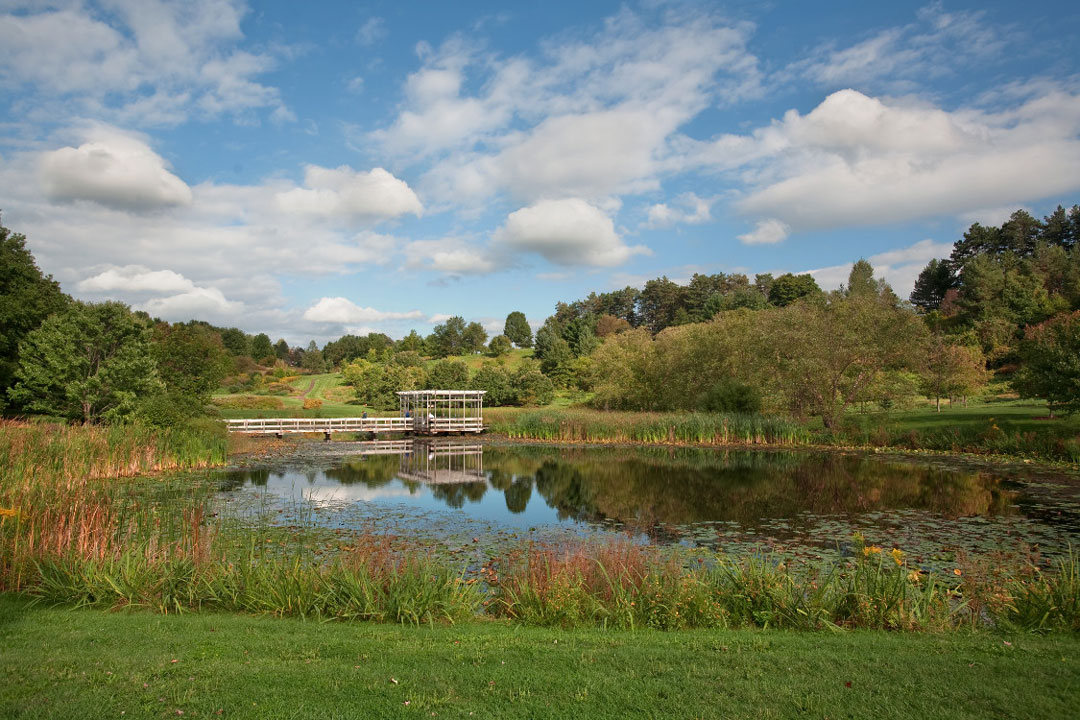 Public health improvement through collaboration
To perform this scoping review, the research team relied on collaborations across Cornell's campus, including the College of Veterinary Medicine, the Master of Public Health Program, the College of Agriculture and Life Sciences and the Cornell Library. The head librarian of the Flower-Sprecher Veterinary Library, Erin Eldermire, in particular led the application of the methodology that the paper used. Additionally, both Meredith and Rakow are faculty fellows at the Cornell Atkinson Center for Sustainability, which has provided funding for a project to further this research with elementary school-aged children.
The interdisciplinary nature of such research is essential, says Meredith. The approach provides not only the background and experience that comes from multiple viewpoints, but also facilitates participation and buy-in across the disciplines.
"To do this research just for the sake of doing it doesn't mean anything, but doing it for the purpose of being able to inform programs and policies on university campuses — that makes it worth the investment," says Meredith. "That's how public health improvement happens."
Meredith and Rakow's co-authors include Erin Eldermire; Cecelia Madsen '12, M.P.H. '19; Steven Shelley, M.P.H. '19; and Dr. Naomi Sachs.
By Melanie Greaver Cordova
An abridged version of this story appears in the Cornell Chronicle.