Cornell's Master of Public Health program receives full accreditation
Monday, March 30, 2020 - 3:38pm
On March 24, the Cornell University Master of Public Health (M.P.H.) program received full accreditation from the Council on Education for Public Health. The recognition comes as a result of five years of work, including planning, hiring faculty, designing and delivering the curriculum to build a Cornell-based program from the ground up.
"It's a demonstration that we've met the highest bar for our curriculum, faculty, students, facilities and resources — and that the education we're providing is meeting the needs of the public health workforce," says M.P.H. Director Dr. Alexander Travis. "It's an important recognition and milestone for our Program's growth."
"I want to congratulate all members of the M.P.H. team for this great accomplishment and thank them for all their work that made it possible," says Lorin Warnick, D.V.M., Ph.D. '94, Austin O. Hooey Dean of Veterinary Medicine. "The university, college and most importantly, our graduates and the communities they serve, will benefit from this recognition." 
"We're thrilled that the Cornell M.P.H. program has received this recognition," says Dr. Barbara Knuth, Dean of the Cornell Graduate School. "It opens up even more possibilities for our graduates, and promises to attract the best and brightest of the world's future public health professionals."
The program, now in its third year, is "uniquely founded on the recognition that the most pressing health challenges of our time stem from the related issues of sustainability and equity," Travis explains. The program boasts 17 new courses and 23 faculty and staff members, and has graduated 12 students who have gone on to work in a variety of public health positions at places such as the World Health Organization, the National Milk Producers Federation, Beth Israel Deaconess Medical Center and Pfizer. Administered by the Cornell University College of Veterinary Medicine, and run through the Cornell University Graduate School, the M.P.H.'s two concentration areas, infectious disease epidemiology and food systems and health, each now matriculate 20 students every year.
With the program accredited, "it allows us to be even more explicitly a part of a national group of schools who are really working to transform and advance public health in the U.S. and globally," says Gen Meredith, associate director of the program. Graduates of accredited M.P.H. programs also have access to more scholarships, fellowships, and employment opportunities, meaning Cornell's M.P.H. grads now have more doors open to them as public health professionals.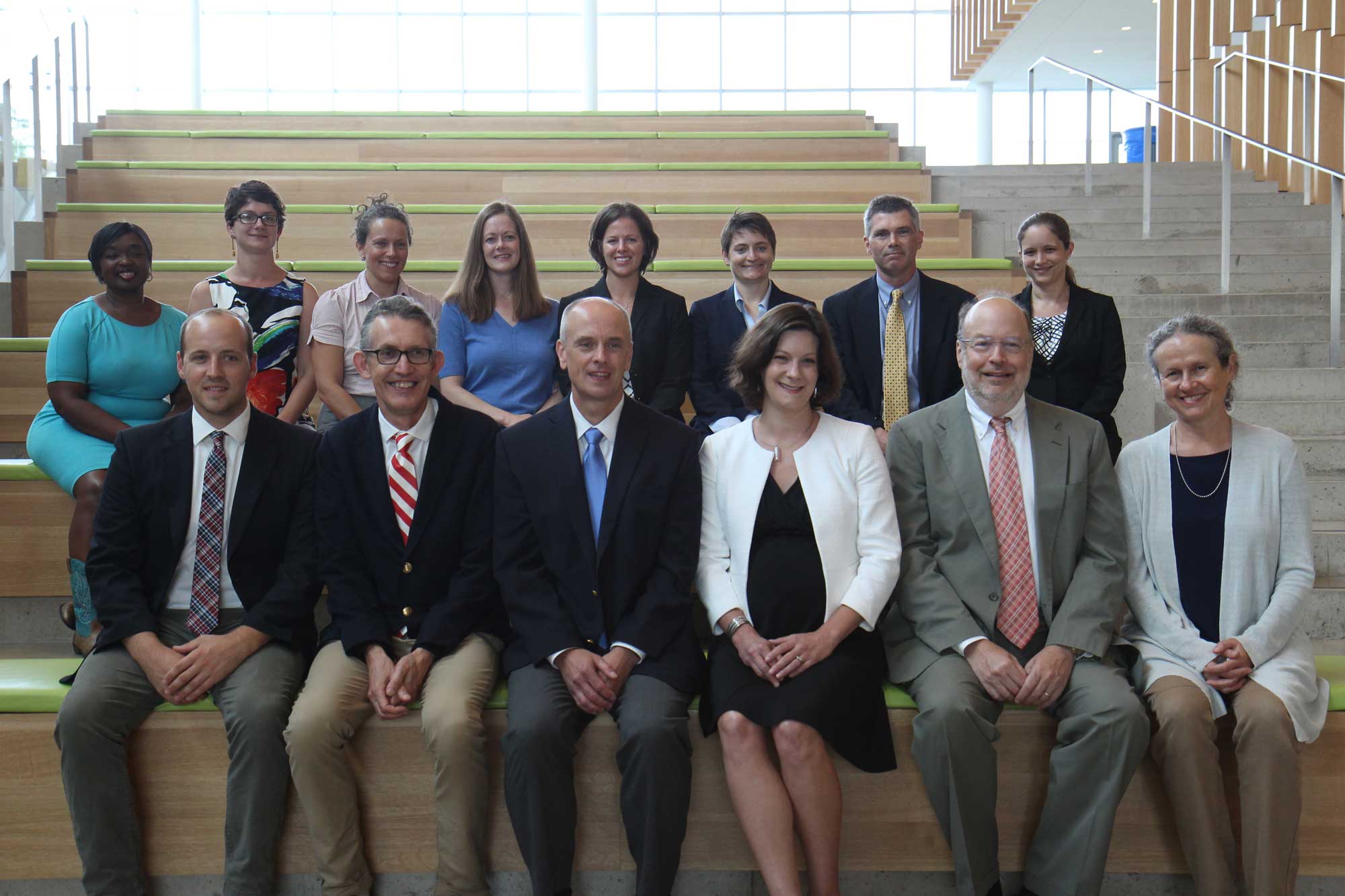 Building from scratch
Getting to this point took "a heck of a lot of work," Travis says. The evaluation itself required a 300-page self-study document and 600-page resource documentation, on top of building curriculum, faculty and support staff from scratch.
Travis notes that at the outset of planning the new program, the Council on Education for Public Health made the most sweeping changes in accreditation requirements in decades as they shifted from course-based training to competency-based education. This presented both opportunities and challenges for the team as they developed a comprehensive, hands-on curriculum.
"We were able to do this in lockstep with the new standards that were explicitly designed to develop graduates that will fill the existing, current and emergent needs and skill-gaps in the workforce," says Meredith.
Leveraging Cornell's strengths
Meredith and Travis were aware that Cornell was entering a well-established field and that any new M.P.H. program needed to both fill an underserved niche in the public health field and specifically leverage Cornell's strengths. "We looked at what could we add to the very broad array of public health training already done in the U.S.," says Meredith, "and what we as Cornell would be able to bring to this field."
Cornell has leveraged its unique strengths into its formal concentration areas: food systems and their link to health, and epidemiologic practice related to infectious disease, two areas that have global, timely importance; the current COVID-19 pandemic  is believed to have originated from unregulated wet markets where multiple wildlife species were housed and then sold for food.
"This pandemic is shining a spotlight on the enormous public health and economic impacts of the intersection of food systems and infectious disease — the need for having good systems in place that provide safe, sustainable, and affordable nutrition, the need for listening to the advice of public health professionals and scientists, the need for being able to do proper surveillance and then being able to respond," says Travis. "The times we're living in dramatically underscore the importance of this program."
Looking forward
With accreditation in place, starting with the first students in 2017 until July 1, 2025, Cornell's M.P.H. team is looking to iteratively improve their program through actively gathering input from students, community partners, employers, faculty and staff, and they will be doubling down on their commitment to their core pillars of sustainability, equity, and engagement. Additionally, the team aims to dovetail their program with other constituencies and disciplines at Cornell, so that students from a diversity of backgrounds and degree programs can collaborate with M.P.H. programs, students and faculty.
As they look to the future, Travis and his M.P.H. colleagues are grateful for support the program has received from the College of Veterinary Medicine, the Graduate School and the university. "We are grateful that the veterinary college, Dean Warnick, [Graduate School] Dean [Barbara] Knuth and [former dean] Provost Kotlikoff really enabled this to happen," says Travis. "We went from a mere idea to a team of 23. We've seen amazing growth, and through our students working with faculty and community partners throughout New York State and around the globe, we're already starting to see concrete impacts. Everyone involved bought into the single mission of getting this program going to meet a critical need in public health workforce training, and try to change the world."
-By Lauren Cahoon Roberts