Cornell Maddie's Shelter Medicine Program helps local cats and community through spay/neuter clinics
Thursday, January 14, 2021 - 3:05pm
Spaying and neutering are cornerstones of shelter medicine. However, sometimes the animals that need services most are least likely to get them. This is where the CornellVetCARES Community Cat Spay/Neuter Clinic comes in. The program has sterilized  hundreds of local cats — most of them feral or free-roaming — at no charge to the Cornell community members who bring them in. The program not only improves the lives and welfare of cats, but also yields meaningful experience for the staff, students and veterinarians who make the program a success.
"There is definitely an ongoing need for this type of care for community cats, not only in our Cornell community, but in the greater Ithaca area and beyond," said Vicki Weber, licensed veterinary technician (LVT) with Maddie's® Shelter Medicine Program (MSMP) at Cornell. "In turn, the program also provides unique training opportunities for Cornell's veterinary students and staff." Weber manages clinic set-up and patient induction.
The program was established in late 2018 when retired Cornell professor Dr. Hollis Erb provided MSMP with funding to serve cats. The program quickly got to work, and in April of 2019, it offered the first CornellVetCARES Community Cat Spay/Neuter Clinic at Cornell's Small Animal Community Practice building. Since that time, MSMP faculty and staff organized and performed 15 free spay and neuter clinics for cats cared for by Cornell faculty, staff and students.
Over the past two years, the program has already had huge impact: sterilization of 240 outdoor and community cats — 139 females and 101 males — from Tompkins and surrounding counties. Services included physical examinations, anti-parasitic treatments and optional vaccination, resulting in 215 of the 240 cats getting vaccinated against rabies and 220 vaccinated against Feline Viral Rhinotracheitis, Calicivirus and Panleukopenia.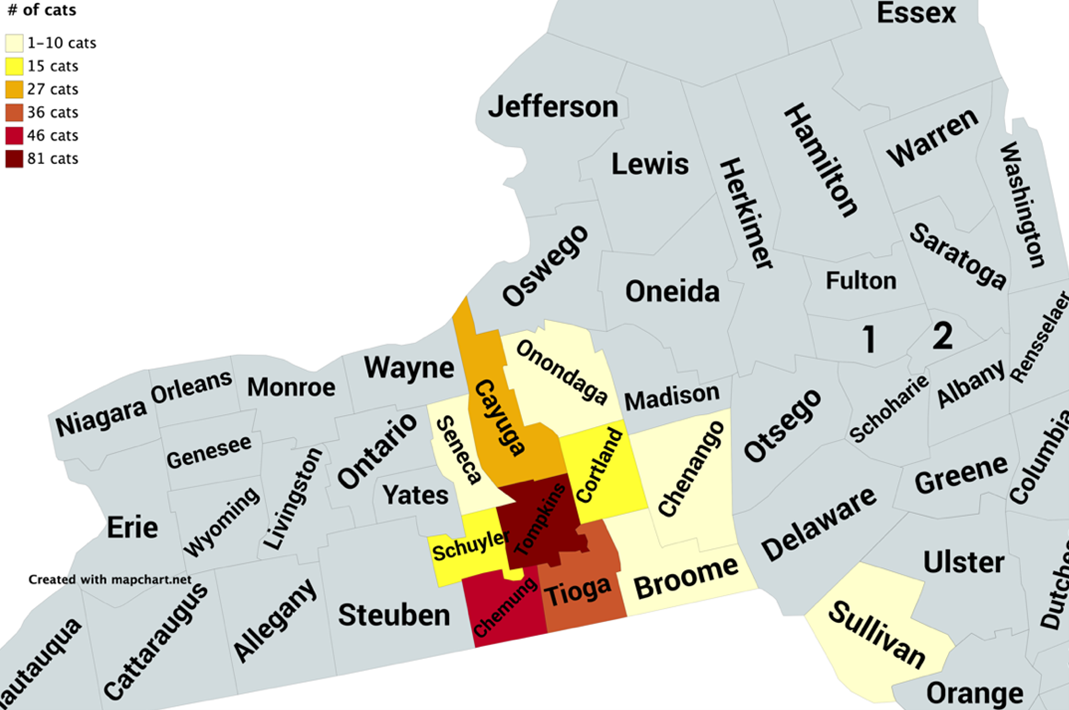 Beyond improving the health of individual cats, spay/neuter clinics have an impact in managing a region's cat population. "Trap, neuter and return (TNR) of community cats back to their location of origin is an effective and humane method for managing free-roaming cat populations," said Dr. Erin Henry, Maddie's instructor of shelter medicine. "MSMP's CornellVetCARES clinics reduce the number of unowned kittens born each year, which improves the overall health of cat colonies and the communities in which they live." Additionally, Henry noted that sterilizing cats reduces the undesirable behaviors (fighting, mating, etc.) that intact cats may exhibit, and altered cats are healthier and less likely to spread disease. Meanwhile, rodent control is maintained by the cats' continued presence.
Team effort
These clinics are an all-hands-on-deck affair. Shelter medicine interns or veterinary students under direct supervision of MSMP faculty perform the majority of procedures. In addition to surgery, Cornell students help with intake, recovery, anesthesia and discharges, giving these students the opportunity to learn about high-volume, high-quality, spay/neuter techniques and protocols.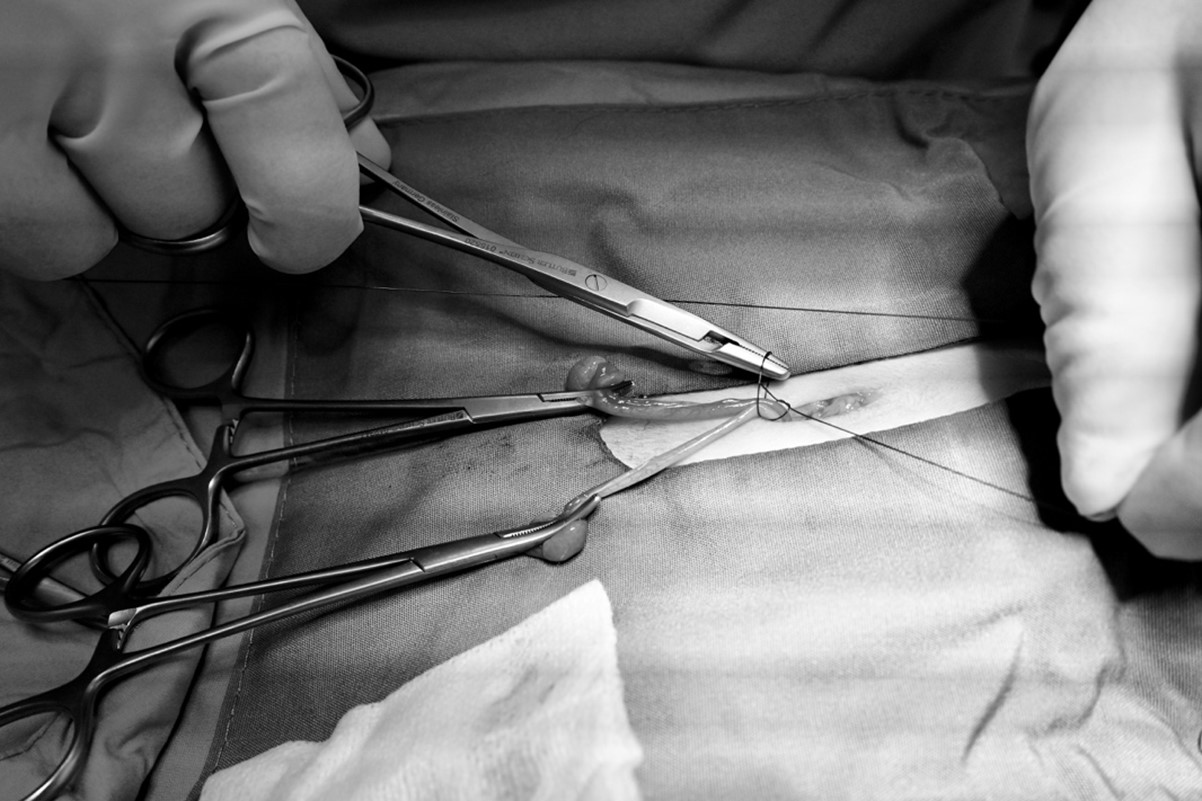 "During the clinic, I helped facilitate the flow of cats through the clinic, from intake to anesthesia, and during surgery to discharge. I was also able to perform some surgeries," said Lauren Johnson, D.V.M. '20, who noted how the collaborative and service-minded atmosphere enhanced the experience. "The caretakers were very appreciative of the services and the supervising veterinarians were great. I liked working with a great team of other students and vets, and I enjoyed getting to practice my surgical skills."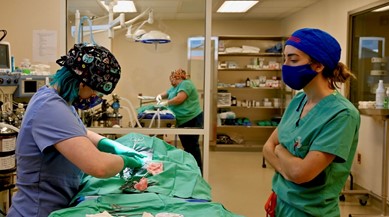 The clinics also provide new training experiences for Cornell staff. Suzette Moschetti, academic support coordinator for the College of Veterinary Medicine Clinical Programs Center, and Julia Yurco, medical technologist, joined MSMP's team as clinical assistants through Cornell's Gig Experiential Learning Program. The program provides short-term, defined projects or on-the-job experiences that match an employee's skills or interests. Moschetti and Yurco learned quickly in this fast-paced clinic setting. "I thoroughly enjoyed the gig experience of helping with MSMP's community cat spay/neuter program," said Moschetti. "I really appreciate all the time MSMP faculty and staff took to help teach me to learn the different skills needed to assist them. And I really loved helping MSMP and helping the cats!" MSMP hopes to continue to offer gig development opportunities through their clinics in 2021.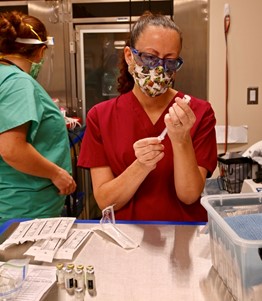 Small but mighty
The clinics themselves are a full-day event. On a clinic day, cats start arriving for intake at 7:45 a.m. The team aims to finish all surgeries by noon so cats have ample time to recover before being returned to their caretakers at 4 p.m. that same day. MSMP faculty oversee all medical care and clinic flow from intake exams to recovery.
"When it comes to a cat clinic day, it's like 'Game Day.' It's intense!" said Weber. "It's a non-stop day, and even when procedures are done there is still lots of work to do — recovering patients, cleaning instruments, restocking supplies, completing paperwork and discharging cats to grateful caretakers.  
There's a strong sense of accomplishment at the end of these clinics. "We are small, but mighty," Weber said.
Clinic dates will open in March of 2021, thanks to new funding through the Cornell Feline Health Center. Clinics will be limited to 25 cats per clinic and will only be open to clients with a Cornell Net ID. This clinic is for community cats — which includes primarily outdoor, free-roaming and feral cats — as a means of reducing cat overpopulation. All cats must come in carriers or traps that are labeled with both pet and client information. Registration will open a few weeks prior to each clinic date. Specific clinic and registration dates and details are posted on MSMP's website and provided to Cornell staff and faculty through events notifications.
Written by Sarah Nickerson, Maddie's Shelter Medicine Program coordinator
All photos by Nickerson