Years of compassionate veterinary care inspire a scholarship for Cornell students
Tuesday, March 16, 2021 - 10:35am
For so many households, dogs and cats are more than pets — they're members of the family. For Lisa Freeland, that was especially true about her cat Jack, a quirky but lovable ginger and white domestic longhair who lived to be 15.
"He was loving at home, but hell on wheels anywhere else," recalls Freeland, describing his visits to the vet as a particular challenge.
Freeland has depended on the expertise of Cornell alumna Mara DiGrazia '92, D.V.M. '96, to keep her animals healthy and particularly to take care of the irascible Jack, who was diagnosed with epilepsy at one-year old and later irritable bowel disease and diabetes. It was DiGrazia's compassion, dedication and selflessness when caring for Jack and Freeland's other animals that inspired Freeland to create a scholarship in DiGrazia's honor at the Cornell University College of Veterinary Medicine (CVM).
"After 25-plus years of the most compassionate, knowledgeable and honest veterinary care imaginable, I wanted to honor Mara for who she is in a way that would be meaningful to her," explains Freeland.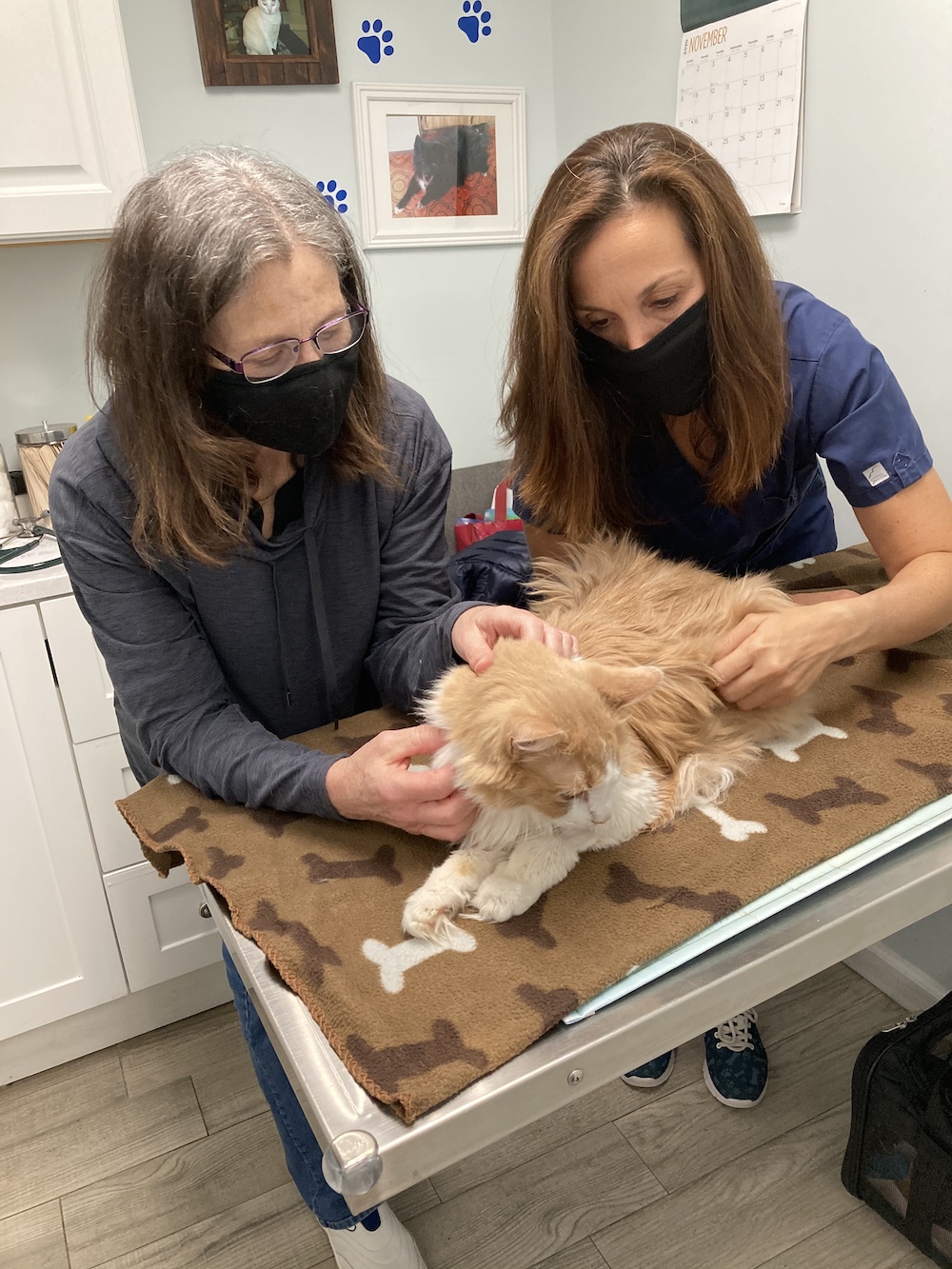 "Shining the light on Mara, and the generous gift donated to the college in her name, was very moving," says Brett Tillou, D.V.M. '04, president of the CVM Alumni Association. "As clinicians, we strive to impact our client base to this effect. The scholarship is just a testament to Mara's continued impact in veterinary medicine."
Each year, the scholarship will be awarded to a CVM student to help reduce the cost of veterinary school. As a retired college registrar, Freeland knows that there are many obstacles to completing one's degree at any level. "My intent is to assist students who will clearly make a difference in the world," she says.
Widescale impact
Veterinarians touch our lives in myriad ways — from caring for our pets, to protecting wildlife, public health, food safety, to making discoveries in infectious disease and even basic biology. However, as Freeland has recognized, the cost of veterinary school presents many aspiring veterinarians with significant barriers in making a difference in one or more of these areas.
The American Veterinary Medical Association reported that the average debt for 2020 graduates nationwide was approximately twice as high as their average starting salary. By contrast, the CVM Veterinary Class of 2020 had a slightly improved ratio, at 1.56 times their starting salary. This improved statistic continues a trend for CVM — it was 1.77 five years ago and 1.84 a decade ago. The college has implemented several measures to achieve this: The financial planning office helps students navigate financial aid as well as budgeting and money management processes; there are numerous scholarships available at CVM, each with unique eligibility requirements and offering different amounts; and there is an increased curriculum focus on business and entrepreneurship training.
Even so, veterinary training is expensive by nature — vets are educated to work with a wide variety of species, which takes many resources, including specimens and surgical labs, which are costly to provide and maintain — and thus debt is often a factor in many graduates' career plans.
 DiGrazia notes that being able to graduate with even a little more financial independence will make a big difference in students' lives. She herself was the first in her family to graduate college, and worked two jobs as a veterinary student to help pay the bills. "Scholarship money helps so much," she says.
A life's calling
Upon graduation in 2020, 51% of Cornell's newly-minted veterinarians entered private practice and 44% entered an internship or residency. Approximately 90% had employment upon graduation, and that percentage has historically reached the full 100% within two months. The DiGrazia scholarship will touch the life of each recipient after they graduate as well — reducing their debt and the emotional toll such a burden creates.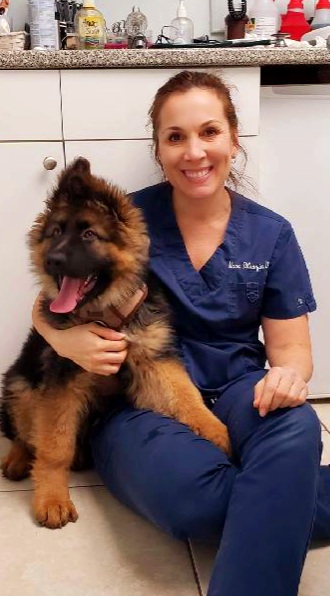 "Our role as veterinarians can be challenging because you want to give your best to these animals and their owners all the time," says DiGrazia. "A lot of vets get very upset."
Indeed, the compassionate care provided by veterinarians like DiGrazia can come at a price. A 2019 study from the Centers for Disease Control published in the Journal of the American Veterinary Medical Association found that male veterinarians were 2.1 times more likely to die by suicide than members of the general U.S. population. Female veterinarians were 3.5 times more likely. The study lists higher levels of anxiety, depression and compassion fatigue as factors.
"You need to take care of yourself first in order to care for others," suggests Freeland. "It's a gut-wrenching profession. I sincerely hope all veterinary colleges begin to address the human and very personal aspects of the profession. We need our veterinarians as much as our animals do."
Even with these challenges, DiGrazia says she can't imagine doing anything else, and advises anyone considering the job to make sure they feel the same way. For Freeland, this unfortunate statistic affirmed her choice to create a scholarship that helps students find their life's calling, and to graduate "with a little less debt hanging over their heads."
Embracing compassion
The full impact of Freeland's gift will be felt when the first recipient is chosen for the 2021-2022 academic year. She hopes that recipients emulate the generous qualities she sees in DiGrazia: commitment to the field, to patients, to clients and community, as well as fully embracing compassion, curiosity, intelligence, knowledge, common sense and honesty.
"Her compassion is beyond compare. She has been totally honest in helping me to decide on treatment or euthanasia. She has cried along with me at the end of each life. And she has provided hours and hours of online assistance, never asking for anything in return," says Freeland. "Her community involvement, both at home and at Cornell, never ends. And her devotion to her family, friends and staff is clear."
Says DiGrazia, "Progressing from treating Lisa's animals, to financially and emotionally helping struggling clients, to then supporting Cornell students with Lisa's help — it's beyond what I ever thought I could achieve in my career and I am forever grateful to Lisa for making this happen."
The relationship between DiGrazia and Freeland is a testament to the crucial role veterinarians play in the lives of pets and their owners — and their lasting impact on the next generation of veterinarians who will carry the torch of compassionate care.
"There are those few special people in our lives who make all the difference in the world," says Freeland. "Mara is at the top of my list."
-Written by Melanie Greaver Cordova