Food systems for thought: Elizabeth Fox '09, Ph.D. '16, brings nutrition expertise to M.P.H. program
Monday, March 29, 2021 - 9:31am
"Feed the world" might be an over-simplified pop-song lyric, but Elizabeth Fox '09, Ph.D. '16,  is working hard to explore the complexities of the concept. The lecturer with the Master of Public Health (MPH) program and Department of Population Medicine and Diagnostic Sciences at Cornell University's College of Veterinary Medicine joined the group in 2019, with a focus in food systems and health. "My over-arching research interests revolve around better understanding how food systems interact with individual stakeholders' lived experiences, with an emphasis on the complexity of nutrition decisions," says Fox.
More specifically, Fox's research tackles the real-world issues of making effective nutrition a reality for everyone: how to best implement effective nutrition policies and interventions; how priorities and preferences affect people's nutrition decisions, and how to support equitable and sustainable food systems that are accessible and appealing to all.
Recently, she served as an editor on a special issue of the Journal of Global Food Security, co-authoring three of the papers appearing in that issue, which stemmed from a UNICEF meeting that focused on the need for global and national food systems for children. Fox had been recommended to help in the effort thanks to her background in maternal and child nutrition and food systems.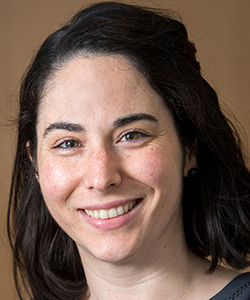 The papers Fox co-authored examined children and adolescents' interactions with the food system based on their different age groups, the conceptual framework of food systems for children and adolescents, and how to reorient food systems towards healthy diets for children and adolescents. The papers took a deep dive into the importance and nuance of nutrition for these age groups. "Good nutrition during these periods supports physical growth, cognitive development, learning outcomes, economic productivity and health throughout life," Fox says. "Good nutrition during these time periods is critical to healthy communities."
Fox has spent her career honing her understanding of maternal and child nutrition. After graduating with a B.S. in Nutritional Sciences and a minor in Global Health from Cornell in 2009, she worked in nutrition programs focusing on supporting pregnant and lactating mothers and young children. She completed a Ph.D. in International Nutrition at Cornell, and a post-doc at Johns Hopkins' Berman Institute of Bioethics where she studied the broader social and environmental factors across the food system that impact individuals' nutrition decisions, while also completing a dietetic internship through Iowa State University to receive an RDN in 2020.
She was drawn to Cornell's M.P.H. program because of its focus on equity, sustainability and engagement. "The program's values align with my own values and experiences, and I think supports the ability to develop thoughtful public health leaders who can leverage systems-thinking to address current and future public health needs," says Fox.  Sustainability is prime within these values, as Fox notes how human diets and the environment are inextricably linked, each one impacting the other.
Fox notes that her past experiences have demonstrated that a food systems lens is integral to answering the world's toughest problems around safe, sustainable nutrition for all communities. "For both mothers in California and in Haiti, decisions about what to feed their children were often not exclusive to nutrition," she says. "Despite engaging with services in very different contexts, the influences of social support, access to resources, access to healthy foods, decision-making power and time, all played important roles in what foods were provided to children. At their base, these issues can often be linked to food systems, including food environments. Food systems are not only important as far as dietary outcomes, but also because of their social, economic and environmental impacts as well."
Moving forward in her role with the M.P.H. program, Fox will be collaborating with a colleague at Rutgers University to develop a toolbox to measure food environments in low- and middle-income settings to enable comparisons across countries, examination of relationships of food environments to nutrition and health outcomes, and how food environments are changing over time. She is also interested in doing similar work on improving food environments in Upstate New York. "I'm looking forward to expanding and deepening my work in supporting healthy and sustainable food systems," says Fox. "And Cornell is a great place to do that."
-Written by Lauren Cahoon Roberts