PetSmart Charities® grant supports access to veterinary care
Thursday, May 20, 2021 - 10:31am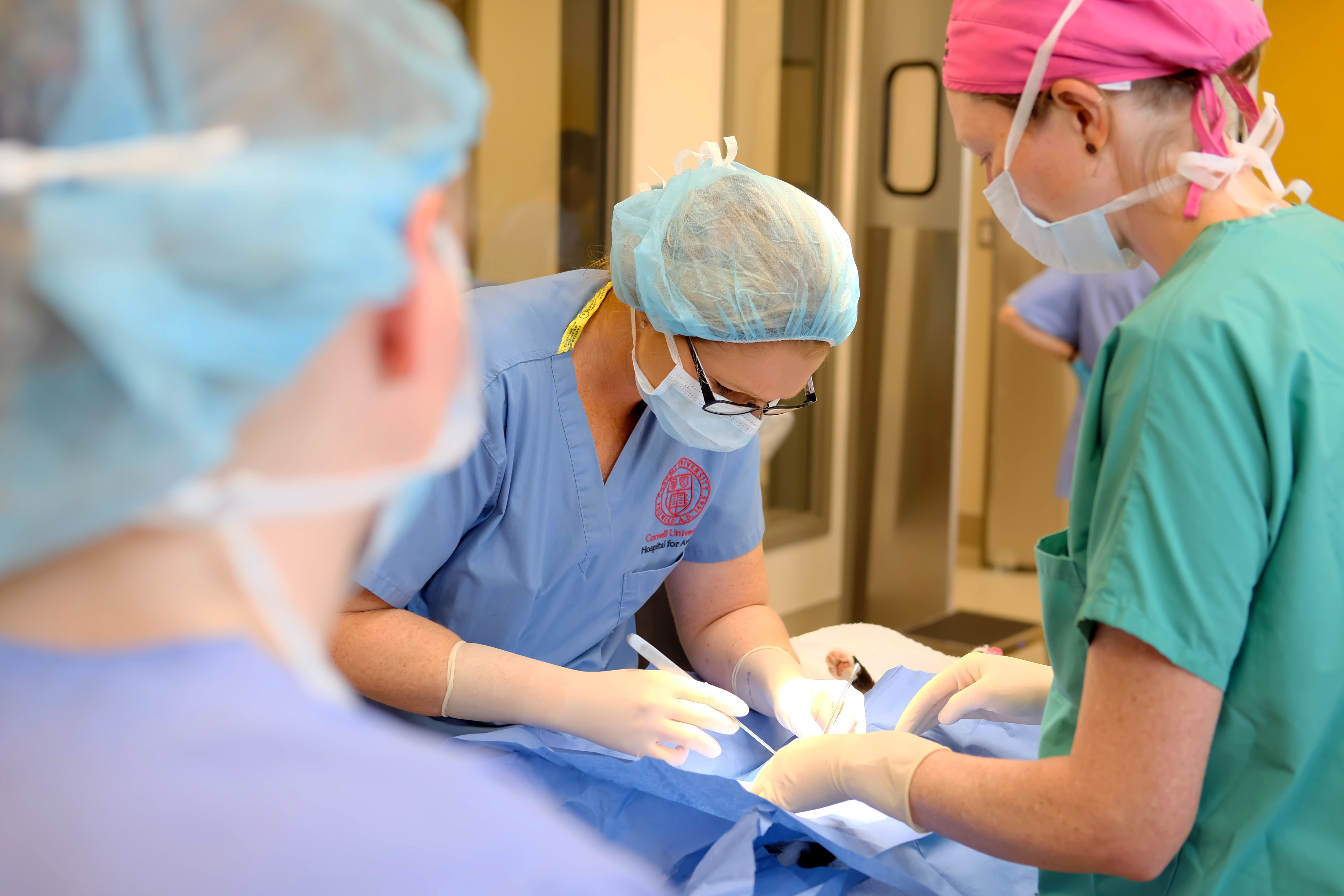 The Small Animal Community Practice (SACP) at Cornell's College of Veterinary Medicine has received a two-year, $200,000 grant from PetSmart Charities to support several initiatives broadening access to basic wellness care, spay and neuter services and urgent medical and surgical procedures for pets in Ithaca and the Finger Lakes. The overall goal of the grant is to help faculty and approximately 350 students provide veterinary care for more than 1500 animals through the program.  
"We all feel strongly about helping the community and are aware that there are pet owners who would benefit from support," said Brian Collins, D.V.M. '94, senior lecturer and section chief of SACP. Whether barriers stem from language, socioeconomic status, access to transportation or other factors, "we want to consider that life circumstances may make it hard for people to have access to the care their pet may need."
"The grant saved my dog's life"
Qualifying pet owners may turn to three separate programs that offer valuable hands-on learning opportunities to students and are facilitated by Alison Klafehn, a licensed veterinary technician in the SACP. While funds began to flow last year, the incipient spread of COVID-19 forced students into remote learning at the end of March and compelled the programs to meet their clients' ongoing needs with creative adaptations. "Even when students couldn't be directly involved, we wanted to continue to support clients and their pets," Collins said.
Among them is Jo, a 12-year-old Chihuahua. The rescue dog is one of 30 animals that have benefited from Future Vets Helping Pets, the newest grant initiative. Relying on referrals by word of mouth and through urgent care and other programs, it launched amid the pandemic, once SACP reopened in May for primary and urgent care, though at first the fourth-year students who assist with medical and surgical procedures were still off campus.
When Jo's owners, Ithaca residents Donnie Crispell and his mother Marsha Ayers, first brought him in for an evaluation, most of his teeth were rotten and he was eating very little. "It sounded like exactly the kind of case the PetSmart Charities grant was intended to help," said Patrick Carney, D.V.M. '06, assistant professor in the section of community practice service, who treated Jo. "An otherwise healthy dog with a readily treatable condition that was significantly impacting his quality of life and that could be fixed in one or two visits, with finances being the barrier to getting him back on track."
One surgery later, the Chihuahua had 32 fewer teeth but a much better appetite, an excellent prognosis for his general and oral health, and a very grateful owner. "If we didn't have the grant, we probably wouldn't have gone through with it," Crispell said of the procedure, which was out of financial reach. "His teeth probably would have gotten worse, and we would have had to put him down. The grant saved my dog's life, and it means a lot to me to know that there are people out there who really care about animals as much as I do."
Carney, too, is pleased with the outcome and grateful for the learning opportunities cases like Jo's present. "The focus of the grant is, as much as anything, teaching accessibility to care," he said. "My hope is that the students involved in Jo's case took away the message that it is possible, and indeed preferable, to offer care that matches the needs and resources of their clients, rather than an all-or-nothing approach centered around a gold standard."
"Perspective is essential"
Julie Watiker, D.V.M. '22, for one, has heard this message loud and clear. She is one of eight students who during the fall 2019 and spring 2020 served as directors of the Southside Community Center's Healthy Pet Clinic in Ithaca. Operating for over 20 years, the wellness clinic is the longest-running of these programs and allows veterinary students from all classes — under the supervision of Cornell and community veterinarians — to practice their medical skills by serving the community, while learning to do so more effectively. In real-world interactions, preconceived notions about who may need help in taking care of their pets and why — and whether they "deserve" to be pet owners — are regularly put to test. "I watched time and time again as students shifted their opinions," Watiker said. "Giving them this perspective is essential if veterinary care is to become more accessible for clients."
Because of the pandemic, Southside's in-person program was suspended for five months in 2020. While the future veterinarians could no longer visit twice a month to give physical examinations, vaccinations, nail trims, annual blood screenings for infectious diseases and a supply of preventive medications to as many as 60 cats and dogs (whose owners pay only a nominal fee), the grant made it possible for more than 40 clients to receive preventives through curbside pickup or by mail. Since students have returned in August, clinics have continued intermittently, so far serving 61 clients who have brought in 82 cats and dogs between them.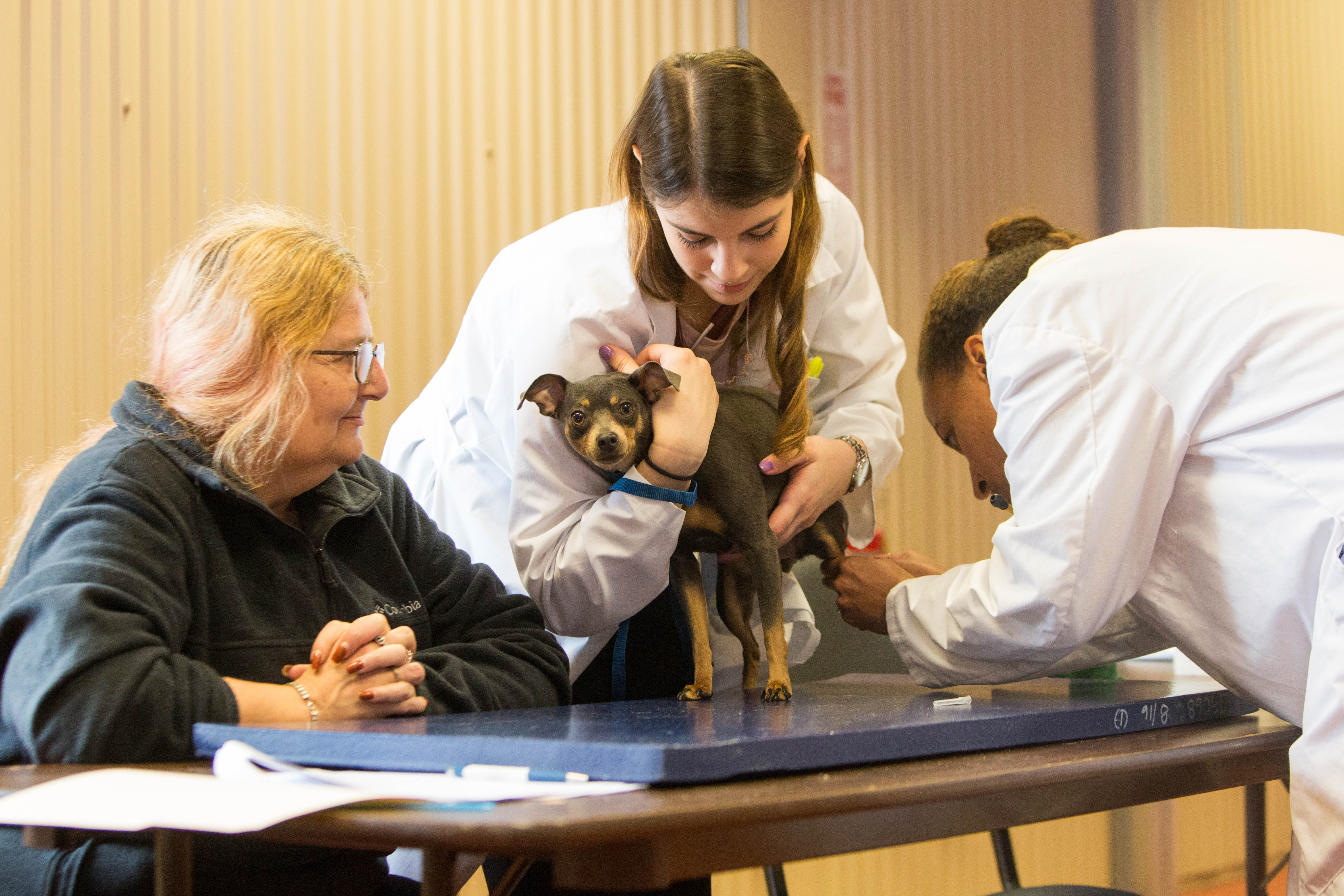 The third initiative, a collaboration with Shelter Outreach Services, an Ithaca-based non-profit, similarly paused until the end of August. Now fourth-year veterinary students are back to visiting Finger Lakes animal shelters twice a week to provide high-quality, high-volume spay and neuter services for some 500 cats annually. Under strict COVID protocols, the animals also receive physical exams, vaccines, flea treatments and other basic care.
"We're proud to be partnering with Cornell University's College of Veterinary Medicine to support these three essential initiatives," said Aimee Gilbreath, president of PetSmart Charities. "We know that access to vet care is one of the many factors that determine whether pets remain with their families. Grants like this one help ensure that all pet owners — regardless of their socioeconomic background — can access veterinary care and ultimately, helps keep pets and people together."
Written by Olivia Hall