Win-win at Westminster for Cornell veterinarians, elite dogs
Wednesday, June 16, 2021 - 1:37pm
For the third year in a row, veterinarians from the College of Veterinary Medicine (CVM) provided on-site care for the most elite dogs in the world, at the Westminster Kennel Club Dog Show, June 12-13. The veterinarians were the show's official veterinary care providers, offering wellness exams and medical care to the purebred dogs, coordinating medical supply preparation, shift logistics and training at the world's longest running dog show.
For the owners of contestants that have received top-notch care from Cornell, it was especially comforting to have these veterinarians at the show. "I consider Cornell to be the best in the country," says Ashley Fischer, who lives in Wilton, Connecticut, and uses the Cornell University Veterinary Specialists located there. This year, she showed her pug Rider, also known as Ch. Cado Midnight Ticket to Ride, at Westminster. Due to the COVID-19 pandemic, the show was moved from its traditional place in Manhattan to the Lyndhurst Mansion in Tarrytown, New York; no spectators were allowed.
Rider, who was the only black dog in a sea of 32 pugs, was "a bit overwhelmed by the whole event as he is just getting started in his career in Best of Breed competition," says Fischer. "Regardless of the results, it was a privilege to be able to show my little dog at the historic Westminster Kennel Club show. What a beautiful event it was. We were just happy to be at the party."
Fischer's relationship with Cornell started when her English cocker spaniel traveled up to Ithaca to have a diaphragmatic hernia repaired. (This was before CUVS was established.) "Basically some of his organs had moved through the hernia up into the area of his heart. So the surgeon put the organs back where they belonged and repaired the hernia."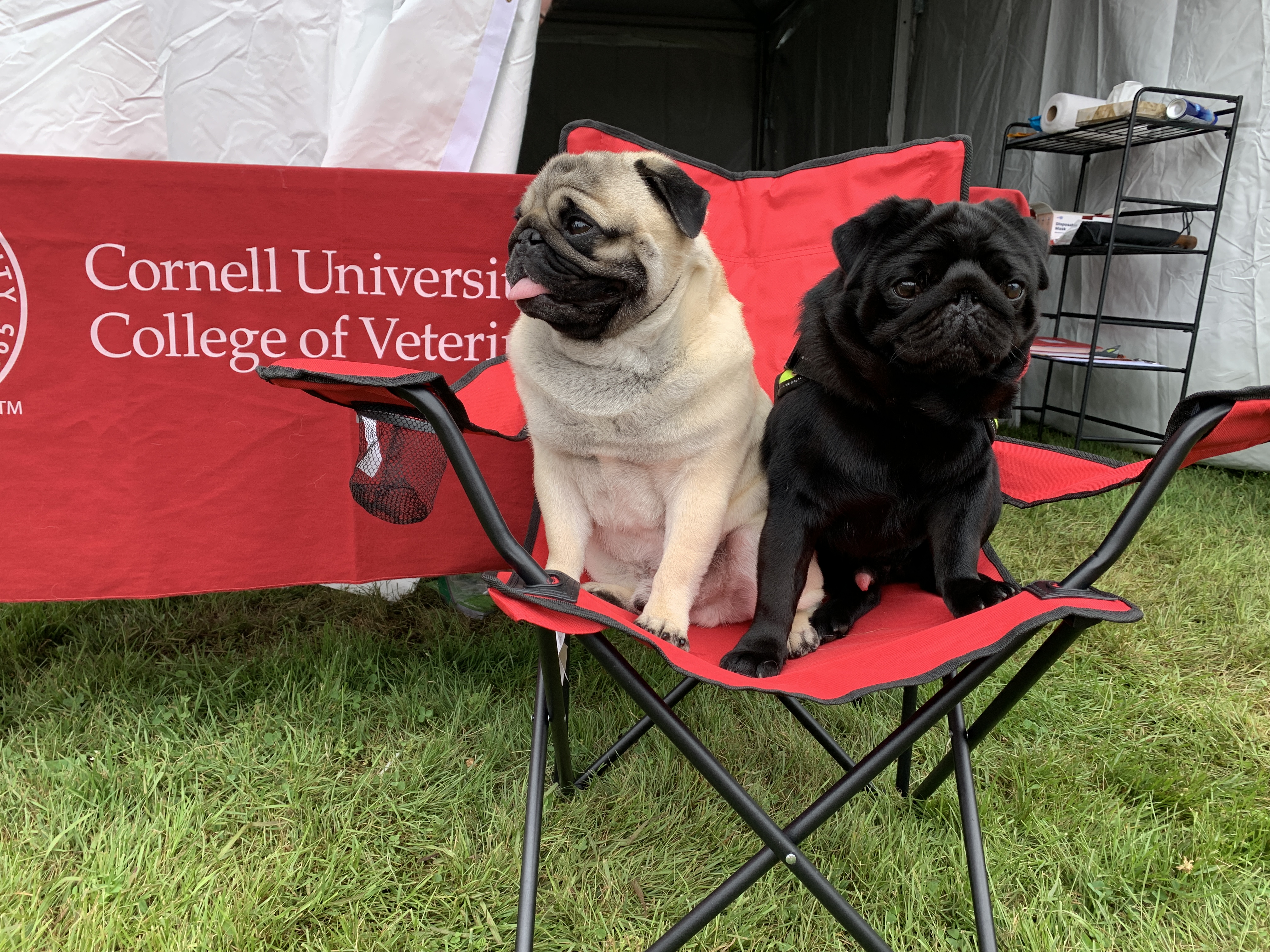 Another time one of her pugs needed extensive surgery at Cornell University Veterinary Specialists, one that required a bowel resection due to cancer. "He was there for probably six days," says Fischer. "They took extraordinary care of him, but they always take extraordinary care of my dogs. I think Dr. [Marnin] Forman is brilliant. Dr. [Oliver] Morgan is a wonderful surgeon. They're all very caring people. I tell everybody who has pugs or any kind of brachycephalic breeds that they should go to Cornell if they need surgery. Dr. [Elisa] Mazzaferro, who is probably one of the top critical care specialists in the country, utilizes specific anesthetic protocols for brachycephalic breeds because they are under much more risk when they're put under anesthesia. She is also a pug owner."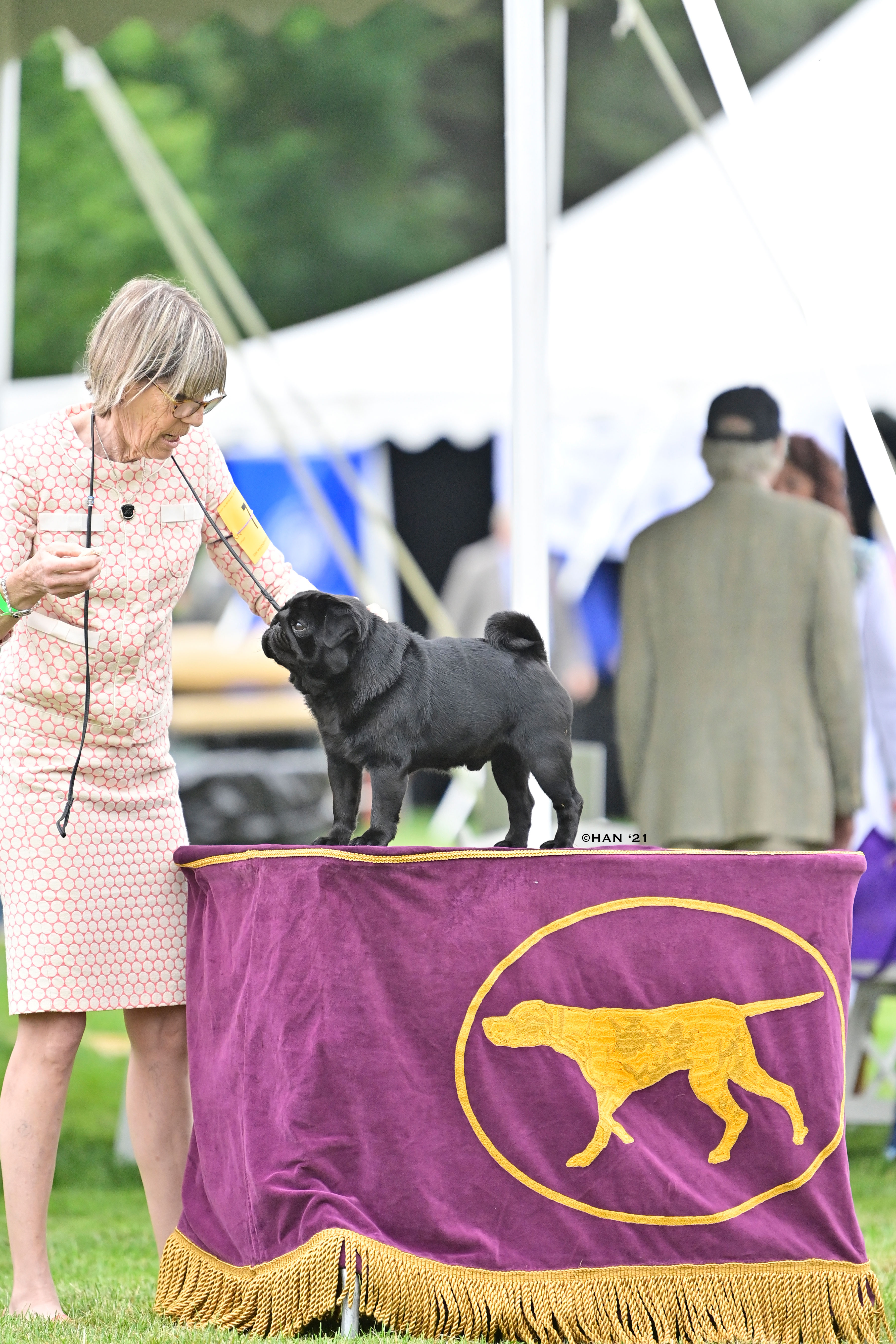 Marg Pough of Ithaca agrees. This year, her border terrier Avery – formally known as Ch. Bandersnatch Defiant ME – was in the ring at the 145th Westminster show.
She routinely brings her terriers to CVM so the students can practice giving vaccines and doing puppy exams and learn about purebred dogs. Her dogs have also participated in hip dysplasia studies and in ultrasound studies for pregnancies.
She recalls how a Cornell veterinarian would take ultrasounds of the pregnant dogs to count the puppies and predict their due dates. "And when the puppies arrived, I would tell her, 'Yes, your count was good.' And yes, they were born a day earlier or a day later."
She also recalls a time in 1996 when she brought her pregnant border terrier, Kachina, to the Cornell University Hospital for Animals (CUHA) for an emergency C-section in the middle of a snowstorm. Right as they were prepping Kachina for surgery, the fire alarm went off. "The vet swept her up, and we went out and sat in the car with the heater on high until the fire emergency — which turned out to be a minor thing — was resolved."
Ultimately, Kachina came home with a litter of healthy puppies, each of whom was given a name in honor of the snowstorm, including Frostie, Cold Snap, and Brreze. (Brreze would go on to become an active member of Cornell Companions, the CVM-sponsored therapy dog group.)
Pough, who lives in Ithaca and has owned border terriers since 1963, has a long, multi-faceted history with Cornell. She is a biologist by training and worked as a laboratory supervisor in the Animal Health Diagnostic Center for 19 years, studying Lyme disease in dogs and horses and doing diagnostic tests for feline infectious peritonitis (FIP) in cats, and infectious bovine rhinotracheitis (IBR) in cattle.
She has also been breeding and showing border terriers for decades. (Brreze's show name was Ch Bandersnatch March Gale.) This year, her dog Avery — formally known as Ch. Bandersnatch Defiant ME — was in the ring at the 145th Westminster Kennel Club Dog Show.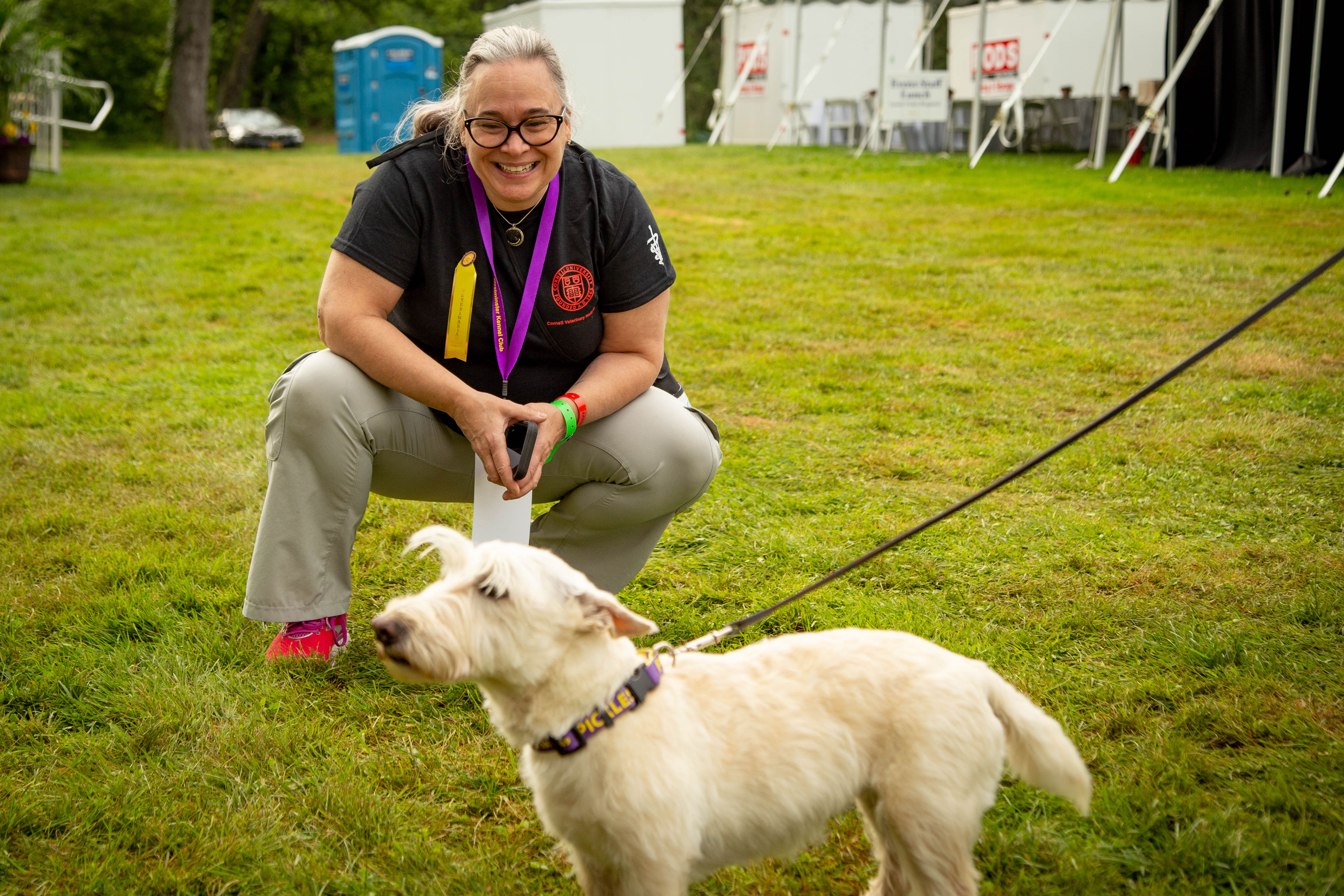 The veterinarians are grateful for the opportunities caring for this population of dogs has afforded them. Dr. Denae Campanale, a resident in diagnostic imaging, especially values the opportunity to see pregnant dogs. "We do ultrasounds and X-rays on them to count puppies. So many companion animals these days are spayed and neutered that we don't often get to do exams on intact or pregnant animals."
Campanale says being at the Westminster show offers a rare chance to see healthy animals and their owners in top form.
"Often as veterinarians, we'll see our clients in really hard moments when their animals are very sick and they're very stressed," says Campanale. "Being at Westminster, we get to see these beautiful, healthy versions of their breeds, truly the best of the best at their best. Also, we don't often get to see the clients showing off their bond [with their dogs] and the result of their hard work. Being at Westminster was incredible because we got to see how close they were with their animals, how much they cared, and the result of all of their efforts too."
As summed up by Best in Show judge Pat Trotter, "Not all pets are show dogs but I can assure you that all show dogs are pets."
Written by Christina Frank
A different version of this story also appears in the Cornell Chronicle