Southside Healthy Pet Clinic perseveres through pandemic
Thursday, July 15, 2021 - 2:21pm
Being a D.V.M. student can be an intense experience at the best of times. Over the past year, in the middle of a global pandemic, it was especially tough for Simone Yen, D.V.M. '23, and many of her colleagues at the Cornell University College of Veterinary Medicine. "Being glued to a screen, alone, watching hours of Zoom lectures made me feel disconnected from my classmates and my excitement for veterinary medicine," Yen said.
Amidst the challenges, she had a regular highlight to look forward to: Every few weeks she ventured out into the community to help run the Southside Healthy Pet Clinic (SHPC), offering affordable preventive pet care to underserved residents of Tompkins County, New York. "It was a reminder for why I wanted to pursue veterinary medicine in the first place," she said.
The monthly clinics ordinarily take place at Ithaca's Southside Community Center, founded in 1927 to serve the surrounding, historically Black Southside neighborhood and celebrate African American culture and pride. During the three-hour events, pet owners at or below twice the federal poverty guidelines (verified by Southside staff) pay a $20 fee to receive a complete physical exam, blood tests, as well as standard preventative medications for their animals. "People love it, the feedback is always great," said Charles Rhody, Southside's recreation and nutrition director, who has been working at the center for 25 years and has been helping to coordinate the clinic events since their inception.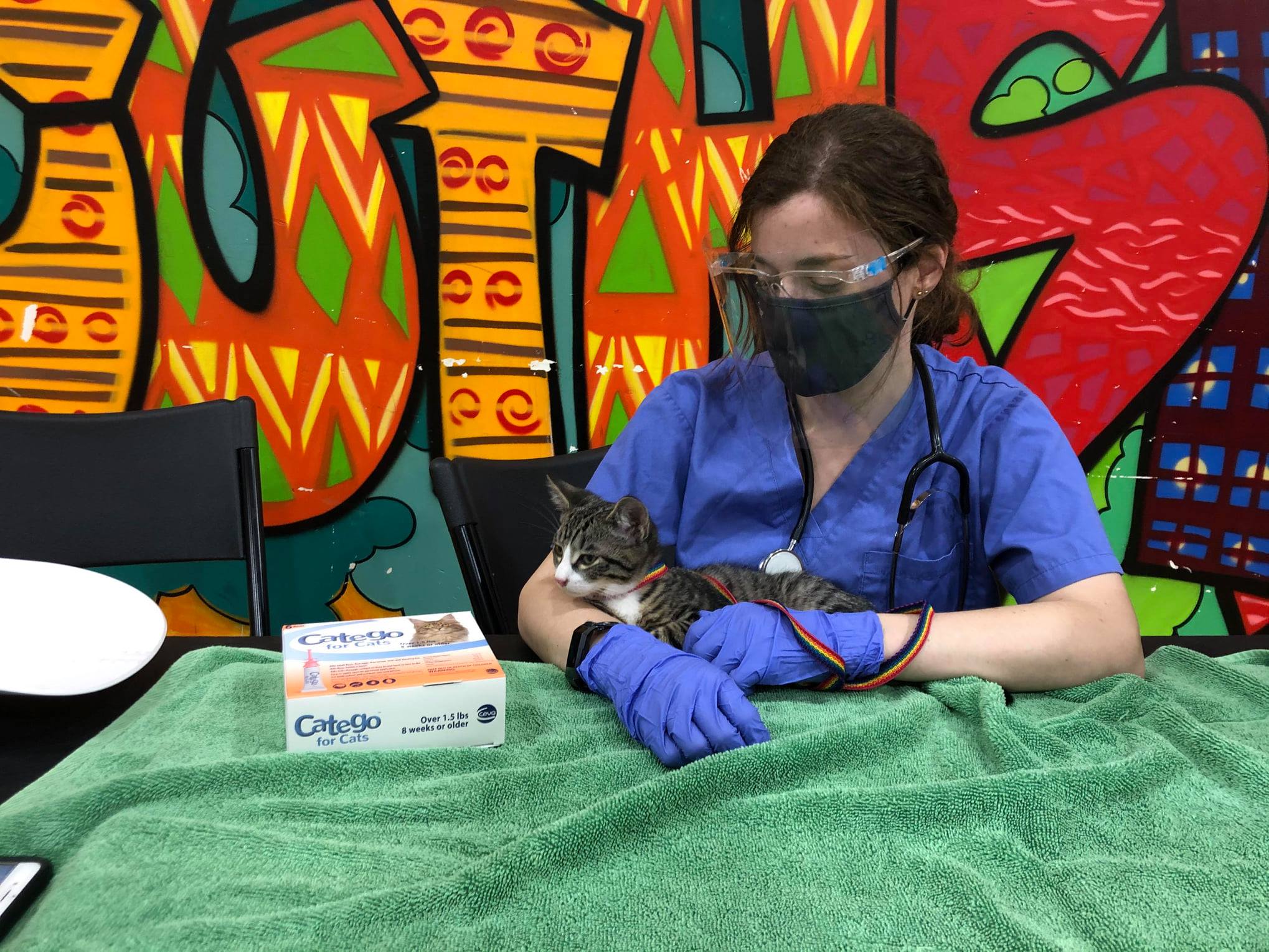 For the first-year veterinary students volunteering as clinicians, the evenings are also coveted opportunities — spots are given out by lottery — to gain hands-on experience under the supervision of the student directors, faculty members and local practitioners donating their time. "In their first and second years, students are mostly in classrooms and labs," said Brian Collins, D.V.M. '94, senior lecturer in the department of clinical sciences and an SHPC faculty advisor. "This is one of their chances to actually get to practice their skills — physical exams, vaccines, communication, medical records, all that — in a very low-stress environment."
When COVID-19 entered the picture, Collins and his colleagues were determined to keep the program going. "No matter what's happening, we show up," said Dr. Dwight Bowman, professor of parasitology in the Department of Microbiology and Immunology, who in 1996 co-founded SHPC with Dr. William Hornbuckle, the Rudolph J. and Katherine L. Steffen Professor Emeritus of Veterinary Medicine, and, as a non-clinician and faculty advisor, supports the events logistically. Bowman's promise held true — the clinics just had to look very different for a while.
In the first months of the pandemic lockdown, the program shifted to offering preventive products by mail or curbside pickup. As services began to reopen, Cornell veterinarians filled in to see pets at Cornell's Small Animal Community Practice by appointment, joined by the second-year student directors once they returned to campus at the end of the summer. Since April, SHPC is back in its original location, albeit with some modifications developed with Southside's Rhody. Now, rather than registering clients as they enter the building, he asks them to wait in their cars while their pets are taken inside.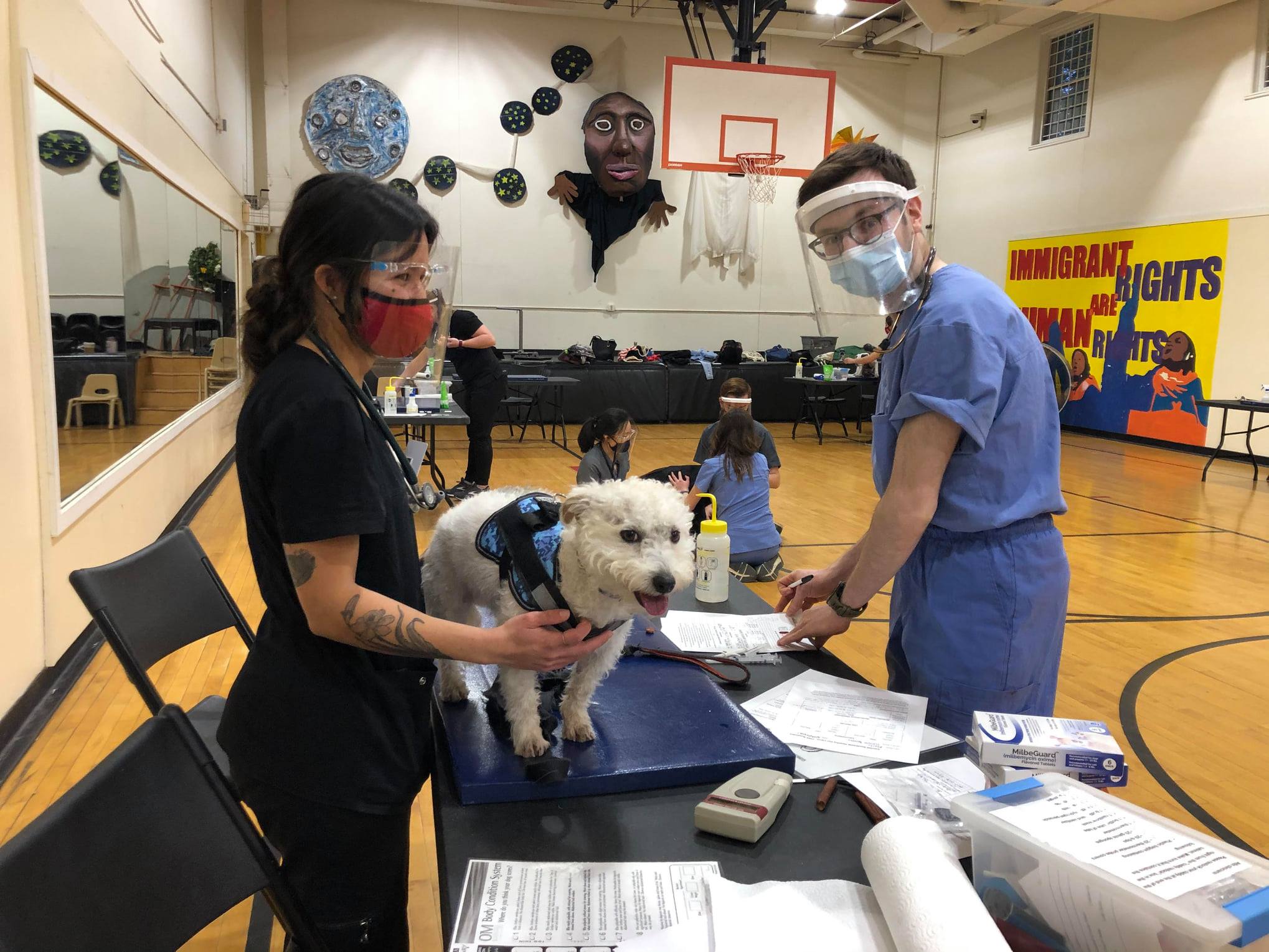 While this meant fewer opportunities for peer mentorship — normally a fundamental part of SHCP — the directors increased their time interacting with the pets, which are also being seen in smaller numbers. (In the meantime, clinics serve about 25 animals per evening, almost reaching the past goal of 30.) "We now have more time to ask questions of the supervising veterinarian," said Marissa Cobuzio, D.V.M. '23. "I feel much more confident in my abilities as a practitioner, especially when it comes to recognizing normal from abnormal during patient examinations."
Cobuzio would have preferred to interact directly with clients rather than by phone, but she got enough of a glimpse at the circumstances and needs of the people she served to find her belief affirmed "that everyone deserves access to veterinary care for their animals."
Co-director Yen shares this conviction. "I have always been a staunch believer that finances should never restrict an individual from having a companion," said Yen, who also assisted during regular, pre-pandemic clinics when she was a first-year student. "To have participated as a Southside director has deepened my passion for veterinary medicine and for the community outreach possibilities within this profession. Veterinarians are trained to save the lives of animals and to keep them healthy, but oftentimes the work they do for the people is underestimated. I learned that veterinarians are not only clinicians, but also educators, advocates and protectors, among the many other hats they wear," she said.
The SHPC's impact goes beyond the Ithaca and surrounding community. In a normal year, the program serves 600 pets and their owners, in addition to the 200 seen during out-of-town clinics in Syracuse, Rochester, Buffalo or other locations across the state. All fees collected from clients flow directly back to the Southside Community Center and the traveling clinics' host organizations as unrestricted donations. SHPC is funded by a mix of private donations, contributions from the College of Veterinary Medicine Alumni Association, as well as contributions from pharmaceutical companies.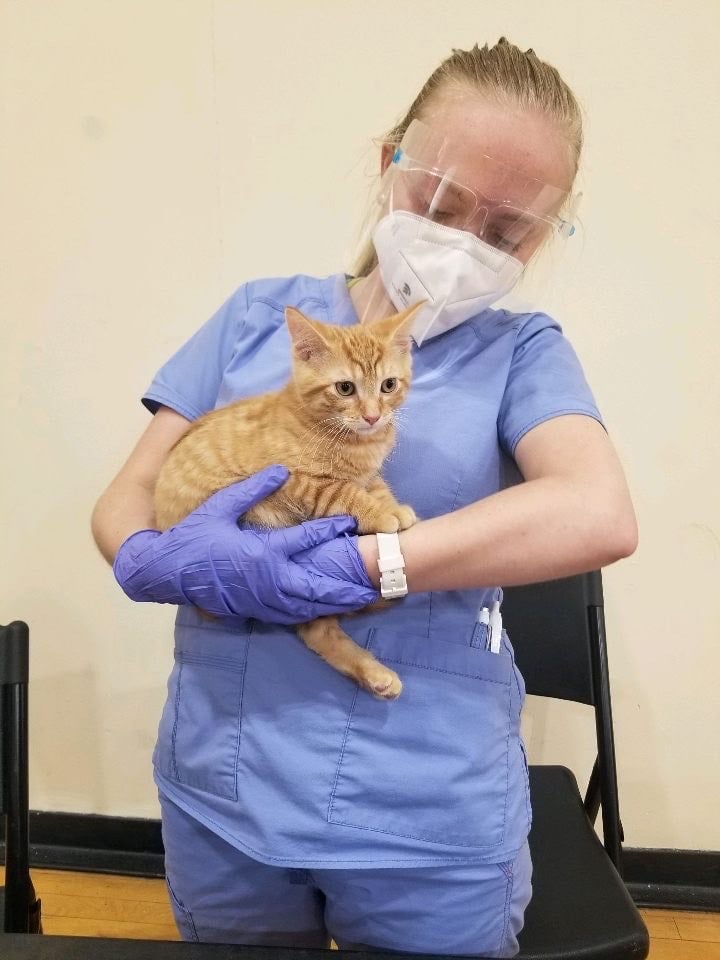 And, with curious neighborhood children frequently poking their heads into the gymnasium to follow the goings-on, SHPC may be helping to draw the next generation into the veterinary profession. "I think the clinics are a great experience," Rhody said. "That's good because there aren't a lot of vets of color." Rhody's 13-year-old daughter, for one, hopes to someday be a veterinarian.
As next year's directors — chosen in a formal application process by the current second-year students — transition into their new roles over the summer, the program's leaders hope the monthly clinics can return to something more closely resembling their pre-pandemic form sooner rather than later. Usually, with clients and more students in the building, "it's taking your pet to the vet in a gymnasium while six to eight other appointments are all happening at the same time," Collins said. "The clients are happy we're helping them, patients are generally healthy and for students it's a nice diversion from the classroom. It's a very fun atmosphere."
Written by Olivia Hall