Donald Schlafer '71, D.V.M. '74, M.S. '75, receives lifetime achievement award in theriogenology
Monday, August 9, 2021 - 10:47am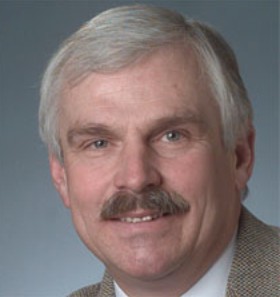 Donald Schlafer '71, D.V.M. '74, M.S.'75, professor emeritus of veterinary pathology, received the Dr. David E. Bartlett Lifetime Achievement Award from the Society for Theriogenology (SFT). Schlafer is known both nationally and internationally as an expert in reproductive pathology of domestic animals, with particular expertise in placental pathology. 
He received his D.V.M. in 1974 from Cornell and continued his academic career by studying the effects of African swine fever on pregnant, fetal and neonatal pigs, receiving his Ph.D. in 1982 from the University of Georgia for this work. He became board certified not only in the American College of Theriogenologists (ACT), but also in the American College of Veterinary Pathologists and the American College of Veterinary Microbiologists. His activities at Cornell in the veterinary pathology service and research in reproductive pathology centered on placental disorders and diseases.
Schlafer has contributed to both ACT and SFT through committee membership and participation in educational programs. He has served as treasurer and on the examination committee of ACT. His dedication to theriogenology and the ACT as been evidenced by his work, while on the exam committee, to reorganize the entire slide database for the practical exam. This cataloging then allowed for the computerization of the database to follow. He organized and was a major contributor to the SFT/ACT International Symposium on Reproductive Pathology presented in Montreal in 1997. He has served as a mentor for both academicians and practitioners seeking to take the ACT certifying exam. Schlafer was named Theriogenologist of the Year in 2004.
This story was originally written and published by the Society for Theriogenology