Helping where it's needed most: CVM alumna runs urgent care clinic for low-income families
Monday, January 31, 2022 - 8:21am
Ada Norris, D.V.M. '16, has always had a drive to help others. From her days volunteering as a veterinary student, to running a low-cost clinic in Sonoma County, California, she's found her calling in giving back. "My story is really one of needing to understand what I could do to help — and also how and why," she says.
Alongside her wife, registered veterinary technician Melina Stambolis, Norris runs the Community Veterinary Clinic (CVC), a public-facing clinic that operates within the Humane Society of Sonoma County (HSSC) and helps low-income owners with urgent and critical veterinary care. 
The work Norris currently does at the HSSC was born from the historic and devastating Tubbs Fire that swept through the county in 2017. At the time, the HSSC decided to offer a one-time, no-cost clinic to the community to help. While they expected to see pets with fire-related injuries or issues, they instead were overwhelmed with mostly low-income families from the community needing both routine and urgent care for their pets. This sparked the creation of the CVC, a service specifically geared to address these problems.
"Because the county already has good options for low-cost wellness and spay and neuter care, the CVC fills a gap for the more serious types of cases that require treatment many people cannot afford," Norris says.
Providing a safety net
This work involves interfacing with social services organizations, providing care for animals of clients who are in homeless shelters or who can't access housing until care is provided for the animal, and collaborating with area emergency clinics to accept referrals for surgery that would have ended in economic euthanasia. "Providing a safety net for the people and animals in our community gives constant positive feedback," says Norris. 
The need for this kind of support immediately exceeded the limited availability of the clinic. Norris says they quickly hired a full-time client service representative (CSR) to manage scheduling and appointments — and learned that team integration across medical departments was the key to success.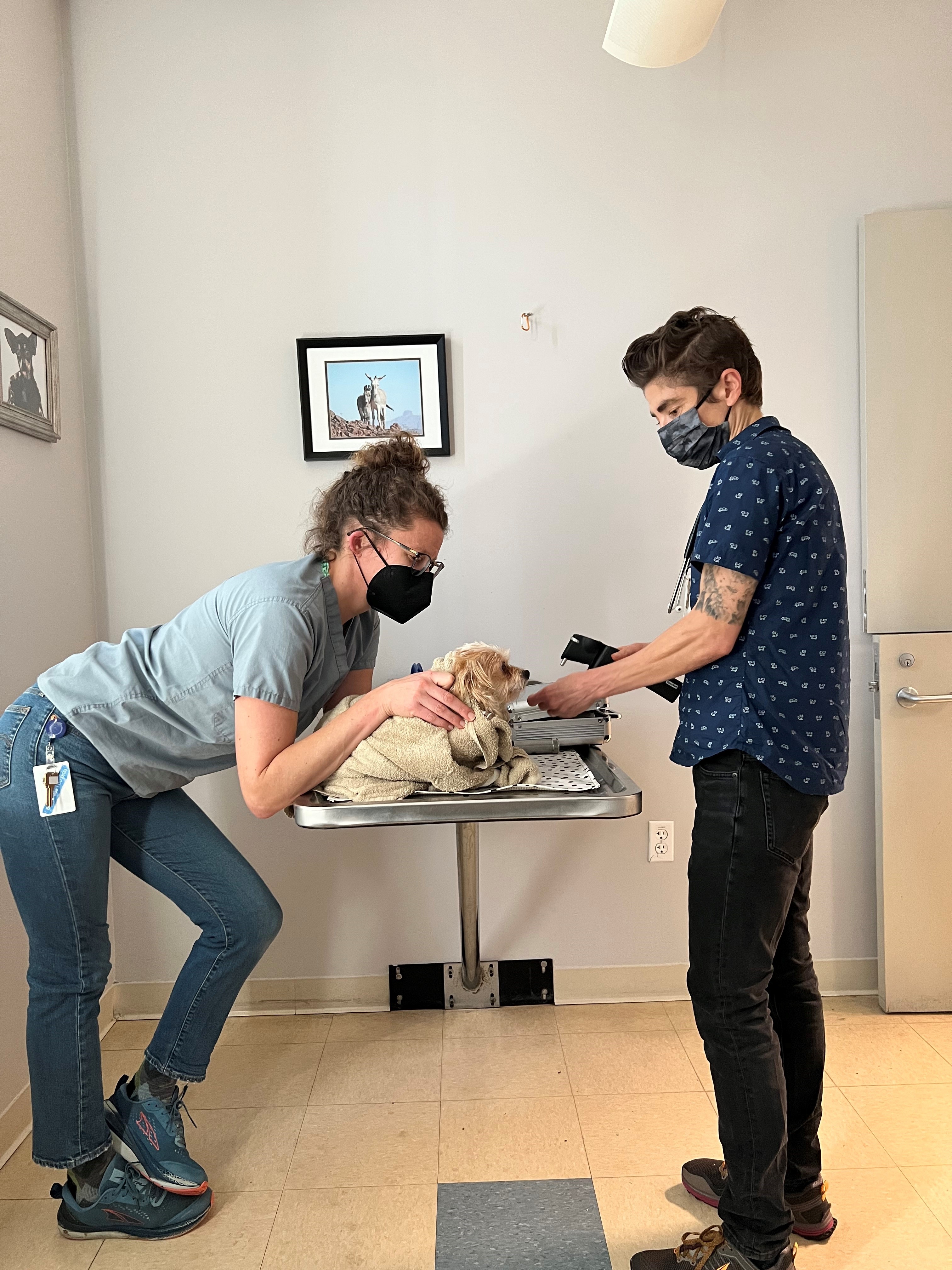 "We have worked hard to integrate the teams more, including cross-training staff so that all of our CSRs, veterinary technicians and veterinary assistants can help out in any area when needed," Norris says. "In order to officially expand, we need substantial additional funding, but until then, utilizing our staff creatively has allowed us to do as much as we possibly can with the staffing we currently have."
The clinic now stands out as a thriving example of the impact these types of services can make on a community. "I visited [the CVC] recently and was so impressed by what they are achieving in their community for loved pets of low-income owners," says Elizabeth Berliner, D.V.M. '03, the Janet L. Swanson Director of Shelter Medicine.
Stories of survival
Before studying at the Cornell University College of Veterinary Medicine, Norris worked on getting a Ph.D. in American literature. "I was obsessed then with narratives of social change, how we write the stories of survival," Norris says. "But while I believe 100% in the critical importance of the humanities and storytelling – indeed, that foundation probably is what makes me such a patient and interested clinician today – I didn't have the constitution for teaching. I found myself drawn to more literal experiences of survival.  I kept seeking out active and hands-on experience to help people and animals, starting with volunteer side-gigs in emergency response (such as a K9 Search and Rescue unit, a wilderness EMT and ambulance driver) until I found myself taking organic chemistry and working as a veterinary assistant in a 24-hour emergency and critical care hospital." 
This path took her to volunteer with Rural Area Veterinary Services (RAVS) clinic in 2008.  "I met Dr. Elizabeth Berliner along with the then director of RAVS, equine surgeon Dr. Eric Davis," says Norris. "I stayed a week in a tent outside a make-shift clinic on the Ute Reservation helping animals who had never seen a veterinarian before. We did spay and neuter, orthopedic surgery, we hospitalized a dog for the week — after that, it was clear I was not going to get away without going all-in with veterinary medicine."
Studying veterinary medicine at Cornell has had a long-standing impact on Norris. "I draw from my training at Cornell every day," she says. "There are little, short memes that run through my head all the time, from Randolph's endocrine guidelines to Barr's common things happening commonly…from Berliner's clinical field decision-making rubrics to Fletcher's evidence-based rigor.  But most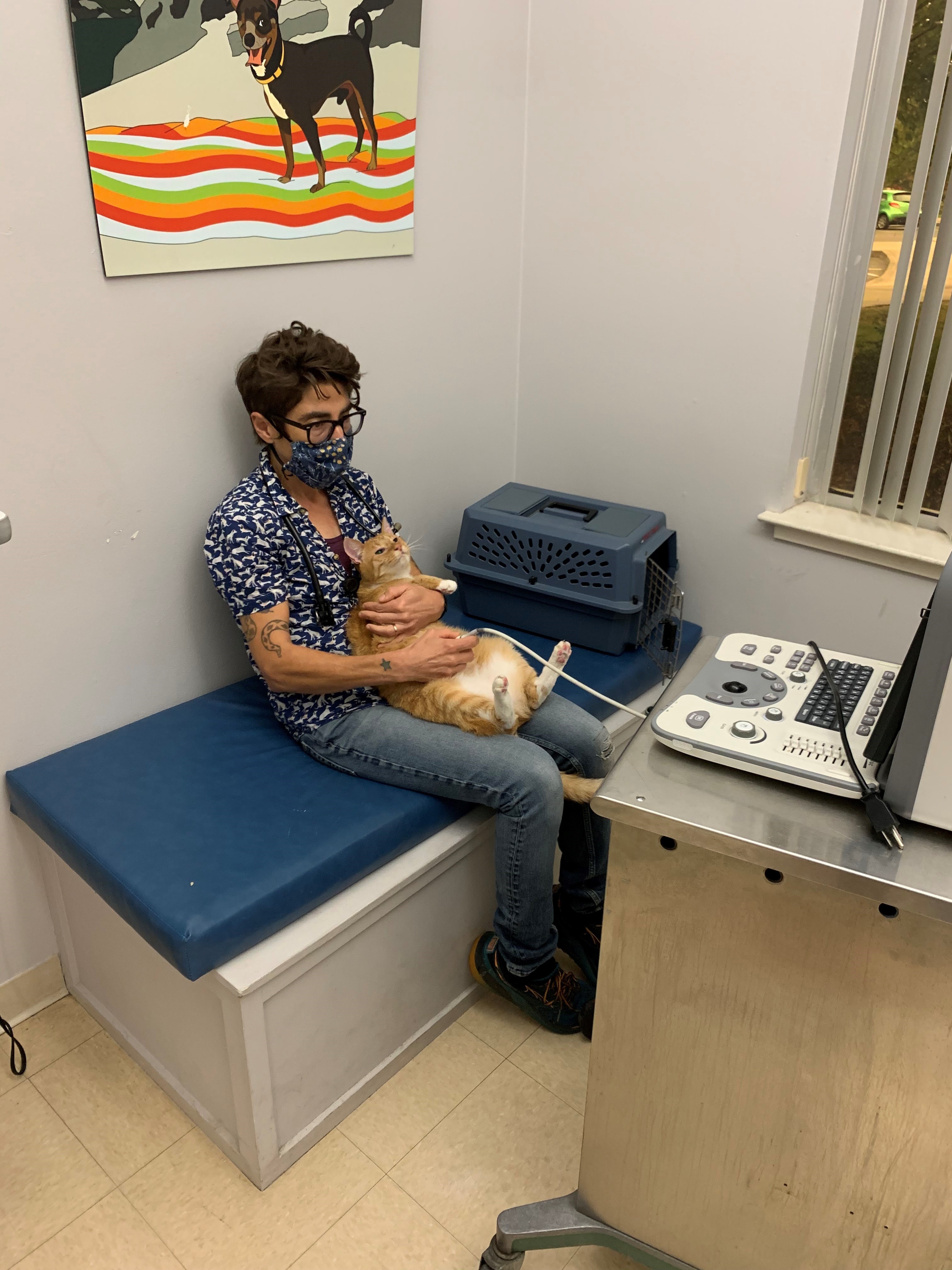 substantially I bring open-minded critical thinking to our clinical practice; I will forever pull learning issues from clinics and case rounds."
Not only did Norris gain invaluable wisdom from her years training as a Cornell veterinary student — she also found a life partner. It was on another RAVS trip as a summer veterinary intern in 2013 that Norris met Stambolis, who was working as one of the staff technicians. "I stayed out in the field all summer, and it's kept going from there!" Norris says. Now, as a spousal team at the CVC, the two have continued the trend. "Our working relationship is great — we are able to get so much done as an efficient autonomous team," she says. "And happily, we have a good time doing it."  
"For a number of weeks running — it seems to happen in waves – we'll get a call late in the week from our local emergency clinicians that they had another blocked cat," Norris says. "This is one of our most gratifying emergency surgeries (a perineal urethrostomy, or PU, creating a wider urethra to allow male cats to urinate normally). This end of the week emergency referral has become so routine we call it our Friday Night PU Date night!"
The bigger picture
For Norris, running the CVC has felt like a dream job, with enough case variety to keep her engaged, and civic-minded responsibility that motivates her to find real ways to help the community. 
"The actual day to day job is so gratifying. Doing urgent care means I get to do complicated, fun stuff — there is nothing routine about any clinic day," she says. "But the bigger picture is just as important. These are families who are quite often living on the edge of society. They are really challenged by lack of access to services and care not just for their animals, but for themselves. We believe that making veterinary care accessible — acknowledging the importance of their relationship with their pets and providing them with the means to relieve their suffering and provide appropriate accessible care with kindness and support — that, for many, this is a step back onto some kind of solid ground."
Written by Lauren Cahoon Roberts