Equine eye docs help horse regain sight
Monday, June 6, 2022 - 9:51am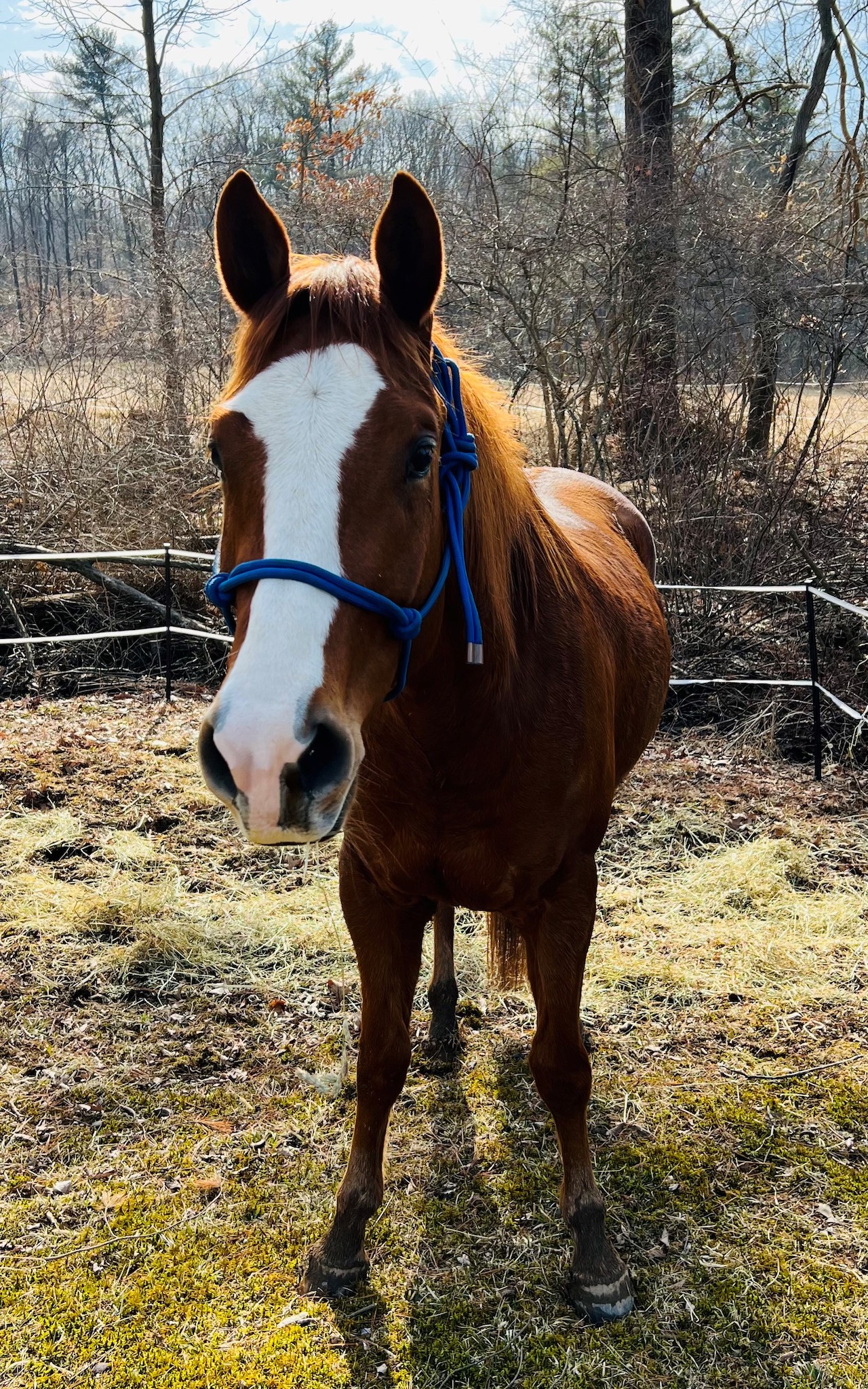 Three-year-old quarter horse Willy has a goofy personality and loves to spend time with his many chicken friends at owner Mariah Kauffman's home in Snyder County, Pennsylvania. Soon after he joined their family, however, Kauffman noticed that every once in a while, Willy's eyes would cloud over, then appear clear the next day.
"He started bumping into things and getting cuts on his face," Kauffman said. "He would run into the fence and spooked easily." That's when she decided to call Willy's veterinarian, Dr. Jacqueline Rapp of Susquehanna Valley Veterinary.
It only took one look into Willy's eyes for Rapp to know that something was seriously wrong. He was quickly referred to the Cornell Equine Hospital for specialty care from Dr. Kelly Knickelbein, assistant clinical professor, alongside ophthalmology residents Drs. Irini Lamkin and Brittany Schlesener.
The Cornell team diagnosed him with equine recurrent uveitis (ERU), a common but harmful complex autoimmune disease among horses, with both genetic and environmental factors.
"This disease is particularly devastating as many horses do not show outward signs of a problem, so it can go unrecognized for long periods and loss of vision may be the first thing that is noticed," Knickelbein said.
"Willy is my daughter's first horse, and we were upset when we heard the news that Willy may lose his sight," Kauffman said. "There were a lot of sleepless nights. We prayed for him to overcome his eye problems and maintain eye function."
Horses suffering from ERU may experience eye pain, swollen eyelids, excessive tearing or a cloudy appearance to one or both eyes. In some cases, uveitis may not lead to obvious outward clinical signs until the disease is more advanced. Veterinarians will look for signs of haziness of the ocular fluids, as well as changes to the iris, lens and retina. ERU often results in loss of vision and may require an eye to be removed. The disease is most common in Appaloosas and warmblood breeds, though it can affect any horse breed as well as mules and donkeys.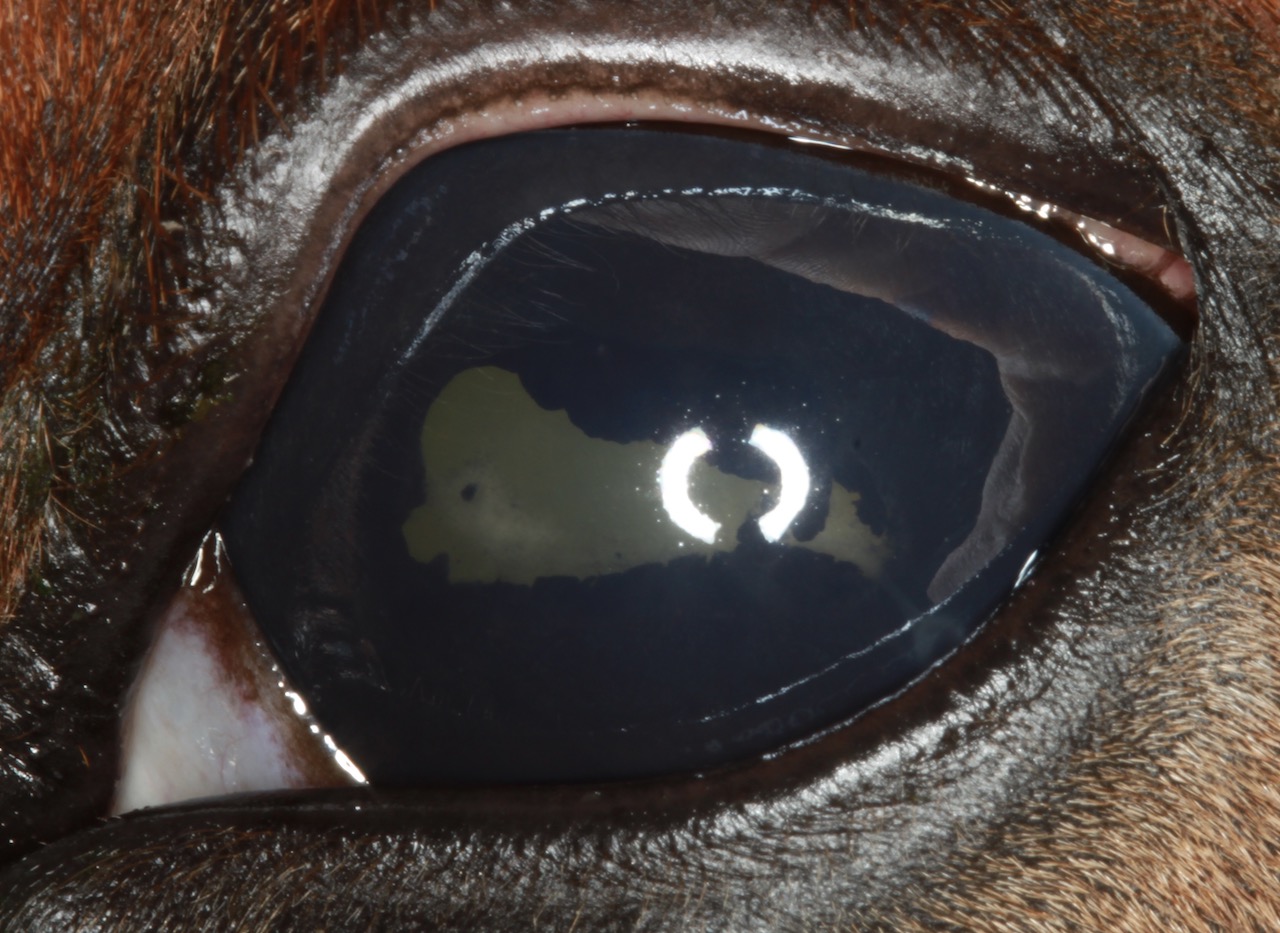 Knickelbein, Lamkin and Schlesener found that Willy was able to see from his right eye but only had light perception in the left. He had severe inflammation in both eyes, in addition to changes to his irises, lenses and retinas. They tested his ocular fluid and blood to look for evidence of infectious agents associated with ERU, and treated him with topical steroids and atropine — a topical pain medication that also dilates the pupil — as well as an oral anti-inflammatory drug. He also received intraocular injections of an antibiotic thought to break the cycle of recurrent or persistent intraocular inflammation.
Fortunately, Willy responded well to his treatment plan. "At his most recent recheck evaluation, he had no active inflammation inside either eye and seemed to be very comfortable. In addition, we were very happy that he regained functional vision in his left eye," Knickelbein said.
Many horses with visual impairment or even complete blindness can have an excellent quality of life, and some may be suitable for continued use as riding horses depending on their discipline, level of training, the level of training of the rider and the duration of the partnership. Veterinary professionals generally recommend that visually impaired or blind horses only be handled and ridden by adults fully informed about the impairment, and who are willing to accept the risks. The safety of both human and horse should be foremost during any handling or ridden activity involving visually impaired horses.
Thus far, Willy has made the journey up to Cornell four times, with another recheck planned this summer. "He has a wonderful experience each time, and he always loves rolling in Cornell's fresh bedding after his check-ups," Kauffman said.
Although Willy is still visually impaired, Kauffman reports he's doing well and is back to his silly self. "He is such a loving and goofy horse. He can chase the chickens, and loves to throw around his ball in the pasture," Kauffman said. "Although he's had his ups and downs, he is such a remarkable horse."
The ophthalmologists at Cornell are hopeful that Willy will retain his sight and that his eyes stay comfortable long-term, but future episodes of uveitis may happen. They plan to recheck his eyes every few months, and in the meantime, he receives a topical medication to limit inflammation and the Kauffmans are diligent about monitoring for changes.
Monitoring is key to helping Willy maintain visual and comfortable eyes, Knickelbein says. "Even minor changes to the eyes should prompt an exam by your veterinarian within a quick timeframe," she said.
"Willy was a champ through it all. We couldn't be any happier with all the care he has received," Kauffman said. "If it wasn't for Cornell, he would most likely be blind in both eyes by now."
Written by Melanie Greaver Cordova