Connecting to queer culture at CVM: Hery Rios-Guzman, D.V.M. '24
Tuesday, June 21, 2022 - 10:32am
As a third-year veterinary student, Hery Ríos-Guzmán, D.V.M. '24, has a lot on his plate. But he is embracing yet another, quite sizeable project: The re-imagining of the College of Veterinary Medicine (CVM)'s drag show, an event formerly held every winter. 
"We are hoping to put on an event that is fun and culturally appropriate," Ríos-Guzmán said. As a member of Broad Spectrum, CVM's student-run LGBTQ+ group, and drag show planning chair, Ríos-Guzmán plans to create a respectful, informed show that celebrates drag culture while fundraising money for a local organization. It is currently scheduled for December 2022.
Broad Spectrum is CVM's chapter of a national organization known as PrideVMC — Veterinary Medical Community — which both provides a network of support for its members and works to expand outreach and education around LGBTQ+ issues, culture, and history.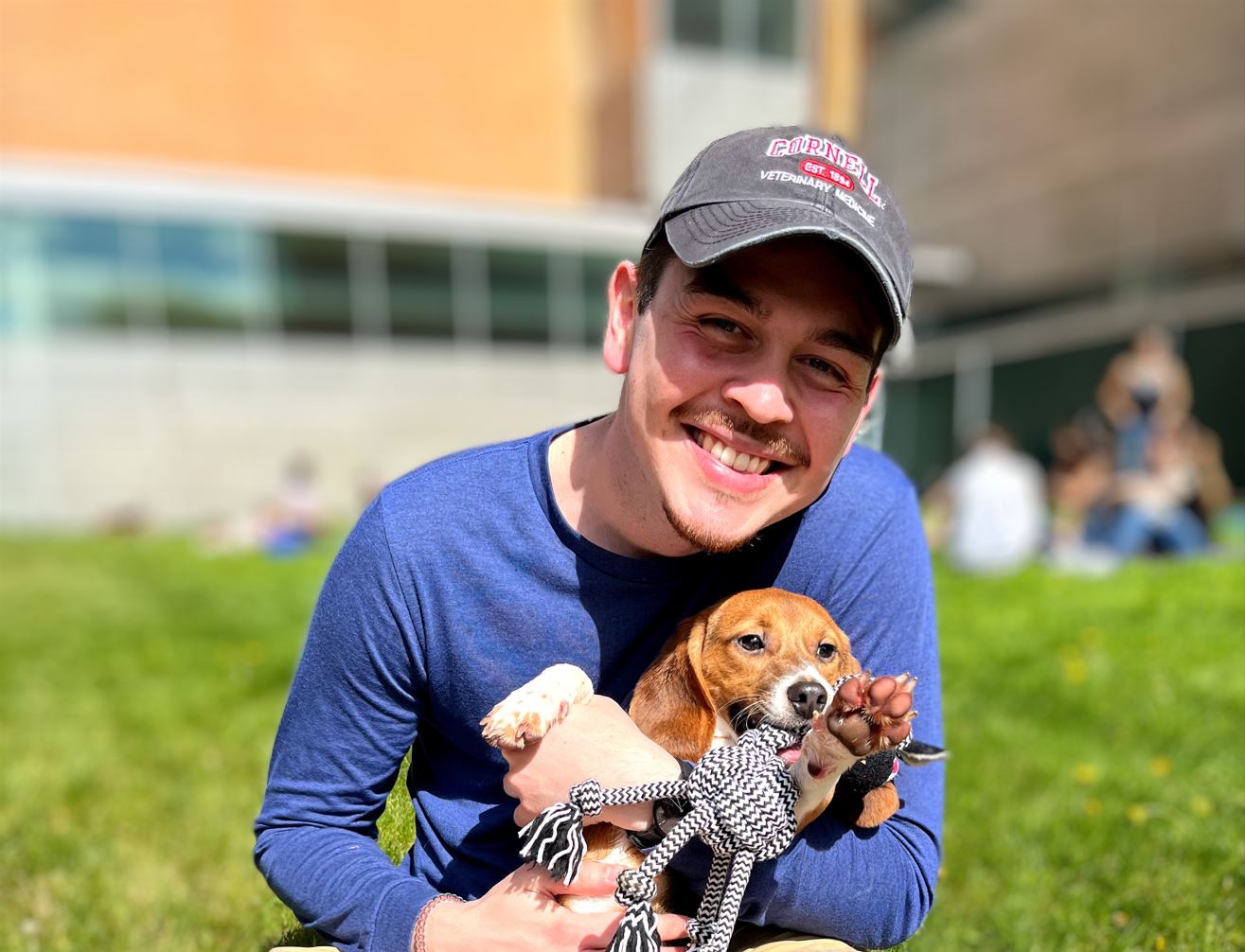 The COVID-19 pandemic took its toll on all student group participation, Broad Spectrum included. However, passionate members, like Ríos-Guzmán, still wanted to get involved. Ríos-Guzmán attended the virtual student club fair during his first year and was excited to participate. "I came to the virtual fair meeting and was really interested in joining," he said. He agreed to serve as vice president of the club after being recruited by the club's former president, Thomas Landes, D.V.M. '23. They then set out to recruit several more members.
However, the group is a small one, and gathering more members is a major goal. "People in veterinary school tend to prioritize academics," Ríos-Guzmán explained. "Everyone has so much going on, they don't always make time for the other parts of their lives." 
He and his colleagues have been taking steps to change that by holding events that have fostered more education on and connection to queer culture, including a joint mixer event at the Big Red Barn with the college's Latinx Veterinary Medical Association; co-hosting a guest speaker, Adam Christman, D.V.M. with the Veterinary Business Management Association, and learning about the power of self-marketing and being authentic in all spaces; and a local drag queen, Tilia Cordata, who came to educate the CVM community on the artform, history and culture of drag.
"We want to get more people learning about and interacting with the LGTBQ+ community," said Ríos-Guzmán. "For those who don't identify as LGTBQ+, it's still important in terms of relating to future clients. You can't do veterinary medicine — which is a people-centered profession — without understanding people."
Ríos-Guzmán, who identifies as gay and Latinx, stresses the point that his perspective is just one facet of a very intersectional community. "I'm white-passing, male and gay, and I recognize that those three identities come with inherent privilege compared to other members of the LGBTQ+ community, such as those who are Black and Trans, who have historically faced racism and transphobia," he said. "I know I haven't struggled as much as other people, and I am aware that there is so much more richness and diversity within the queer community."
Also a student representative on the college's diversity, equity and inclusion (DEI) working group, Ríos-Guzmán is looking for constructive ways to foster more inclusivity and DEI education at CVM. He notes that a current issue they face is outreach to broader audiences. "Often, it is the same people who turn up to DEI events," he said. "We need to figure out how to reach people who've never come before—those are the people who most need that education."
As for what education he'd want to impart, Ríos-Guzmán said that teaching people to state their pronouns is a small act that can have huge positive impact. "It really changes how people perceive you," he said. "When I hear someone state their pronouns, I automatically feel that they are much more likely to be an ally — for LGBTQ+ individuals and probably for other minorities as well."
With Pride Month well underway, Ríos-Guzmán appreciates having this time designated for the recognition and celebration of the LGTBQ+ community. "It's such an important month. The year just wouldn't be the same without Pride," he said. "It's a time where people have the opportunity to learn more about this community, and to just have fun — to be yourself, to be who you are, with the people who enjoy you for who you are."
Written by Lauren Cahoon Roberts