CVM class gets creative for zoonotic disease communication
Friday, July 1, 2022 - 10:24am
To become a veterinarian, students must not only acquire an immense body of knowledge on complex systems and subjects, but also be able to communicate that knowledge — a task easier said than done. This spring, College of Veterinary Medicine students honed such skills by creating materials that communicated about certain zoonotic diseases, thanks to the course "Veterinary Practice: Public Health."
"Veterinarians prevent or treat zoonotic diseases every day," says course instructor Casey Cazer, D.V.M. '16, Ph.D. '20, assistant professor in the Department of Population Medicine and Diagnostic Sciences. "When a veterinarian recommends putting a dog on parasite prevention, or vaccinating cattle against brucellosis, they are preventing a zoonotic disease. Therefore, it is essential that they can explain to animal owners why it is important to pay attention to zoonotic diseases."
Students were more than up for the task, demonstrating their talents for graphic design, communication and in creativity. In pairs, the students took on projects that capitalized on a variety of mediums, from posters to podcasts.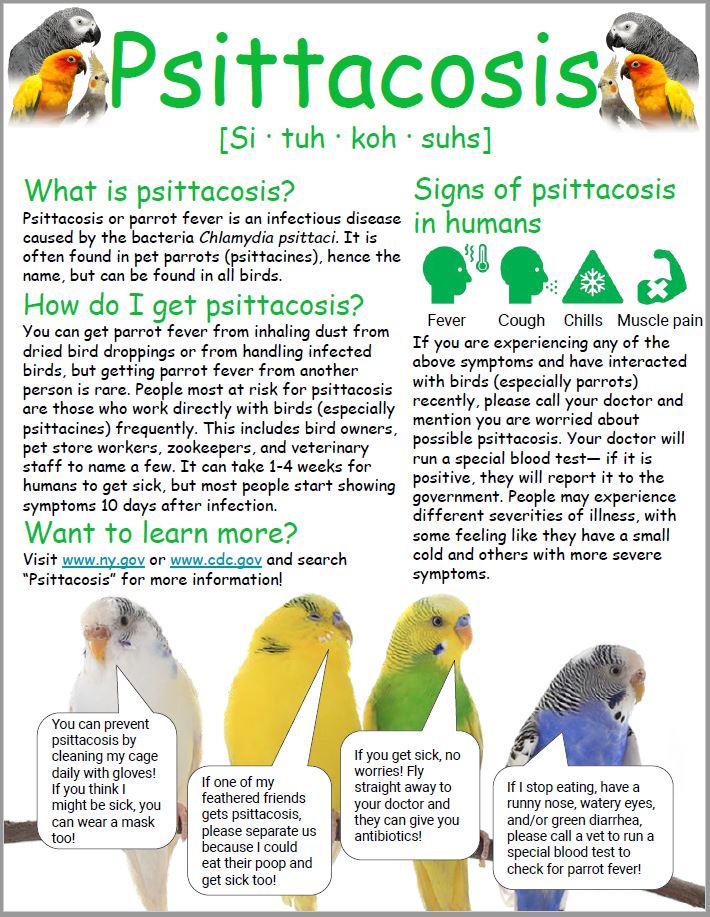 Christe-Remy Kuck, D.V.M. '24, along with partner Ivanka Juran, D.V.M. '24, created a pamphlet explaining psittacosis, a disease found in many pet birds. Both students are on the exotics, zoo and wildlife medicine track, so the topic aligned well with their interests. "The project was also a fun way to apply some of our skills we learned in class," says Kuck. "The course has given us foundational skills that we will be able to practice throughout veterinary school and our careers. Some of the best lessons were on how to tailor your communication to different audiences, which is critical in our profession. While many of us love the animals that we care for, being able to communicate with their owners, our own team and people of varying backgrounds is essential to being a successful veterinarian."
Meanwhile, Colleen Sorge, D.V.M. '24 and partner Vivian Lee, D.V.M. '24, created content to teach Florida pompano farmers about the zoonotic potential of mycobacteriosis in aquaculture settings —capitalizing on Lee's background in aquatic animal medicine. The pair decided to take a truly digital-age approach to their project, choosing Twitter as their medium.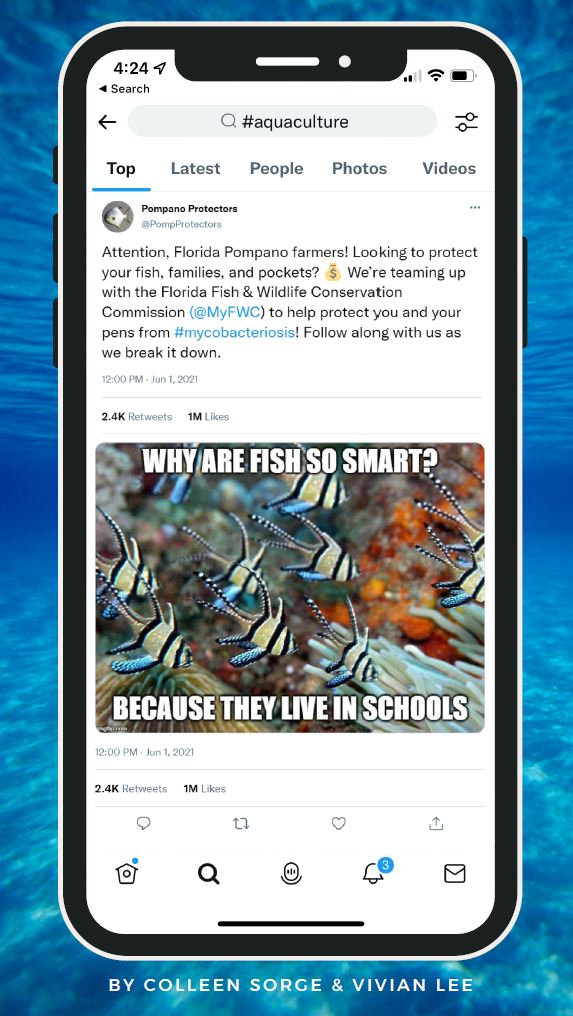 "We chose to write tweets because we felt this was an accessible and engaging medium for our audience," says Sorge. "It was also fun for us to take a break from more formal scientific writing and try to make our points in a more user-friendly way, all while abiding by Twitter's character limit."
The communication angle of the project was an engaging challenge for the students. "It's one thing to grasp the science behind a concept, but it's something else entirely to be able to then communicate that information successfully," Sorge says.
But despite their initial intimidation, they came away armed with new skills and confidence. "I am already putting some of this material into practice," Sorge says. "I'm currently working at the Abilene Zoo as a veterinary intern, and I find myself thinking of this course when I'm communicating with guests at the zoo about resident animals or discussing zoonotic disease potential with the veterinary staff. It's really exciting to know that I can apply this information in so many avenues of my future career."
As these rising third-year students continue their veterinary education, they're now better equipped to educate and communicate on zoonotic disease, and thereby magnifying their ability to positively impact public health.
"I want the students to appreciate the many ways that veterinarians contribute to public health," says Cazer. "Every day, veterinarians keep people safe from foodborne or zoonotic infections, and our actions can also impact environmental health. "The promotion of public health" is even in our veterinarian's oath; I hope that students feel prepared to take on that responsibility after taking this class."
Written by Lauren Cahoon Roberts