Shelter medicine conference dives deep into animal behavior
Wednesday, August 3, 2022 - 9:58am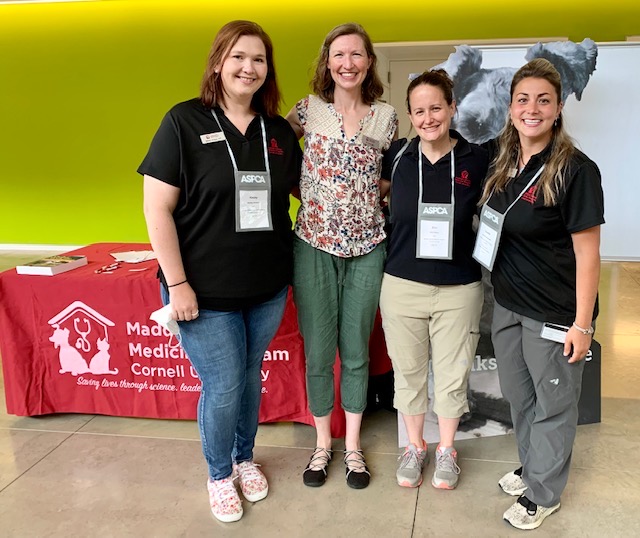 From preventing dog bites to emergency animal fostering and performing cardiology on a budget, this year's ASPCA Cornell Maddie's ® Shelter Medicine Conference covered a range of topics for veterinary professionals to hone their skills from July 15-17 at the College of Veterinary Medicine. Now in its 19th year, the event marked their first in-person shelter medicine conference since the pandemic began, and drew more than 300 veterinarians, technicians, clinic staff and students from across the country.
"I'm proud that we can present a conference that even the leaders in our field find useful and engaging," said Dr. Lena DeTar, assistant clinical professor and interim director of Maddie's ® Shelter Medicine Program at Cornell.
New this year was an entire track devoted to animal behavior, a growing topic in the field of shelter medicine, with sessions on separation anxiety, risk assessment and more. This included cross-track workshops that offered a deep dive on assessing canine welfare and on balancing medical and behavioral well-being in shelter animals — in addition to programming like wet labs, tracks for specific roles in an animal shelter and more.
"We were really pleased to have a new track in this year's program that was solely dedicated to shelter animal behavior," said Stephanie Janeczko, D.V.M. '04, M.S. '09, vice president of shelter medicine services at the ASPCA. "Animal behavior is an integral component of animal health and well-being. As shelters report an increase in frequency and intensity of behavioral challenges, there is tremendous demand in the field for knowledge and support to improve animals' quality of life and reduce the risk of euthanasia."
Also new this year, the program awarded 10 individuals a Maddie's ® Fund Scholarship, covering the conference costs for veterinary practitioners who identify as Black, Indigenous or as a person of color. The event offered continuing education credits for attendees as well.
"Although this is considered a national conference, it is one of the very few in our region that provides continuing education for shelter professionals," DeTar said. She was pleased to see entire teams from local shelters in attendance, as opposed to just one or two people.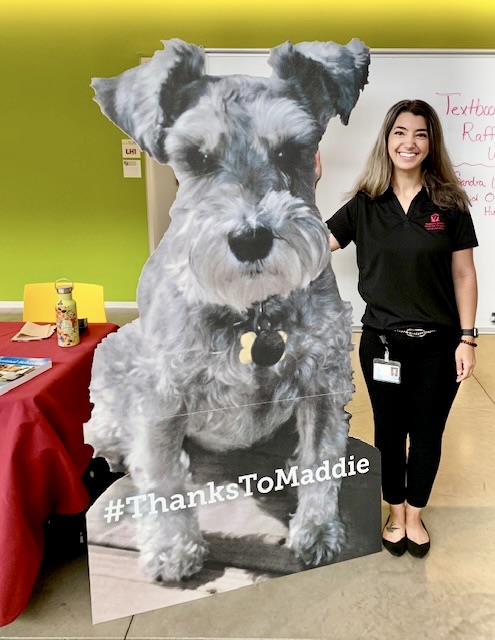 "Moving the bar on sheltering is a slow process that requires a lot of consensus and leadership," DeTar said. "It takes a lot of coordination for an entire team to attend anything, since shelters are so short-staffed these days, like everywhere, and we deeply appreciate our local shelters' commitment to raising that bar."
Dr. Sheila Segurson, veterinary behaviorist and director of research at Maddie's ® Fund, gave this year's keynote speech, "Lessons Learned as a Shelter Veterinary Behaviorist: The Evolution of Behavior in Shelters." Segurson's keynote covered the history of behavior in animal shelters as well as how to help animals while protecting public safety.
"Our speakers excel at connecting with attendees and they bring deep expertise and experience direct from the animal welfare and veterinary fields — providing attendees with current knowledge, key insights and new ways of working that they can immediately act upon once back in their shelters, rescues and practices to positively impact animal lives," Janeczko said.
Program leaders plan to make recordings of over 30 conference sessions available on both the ASPCApro and Cornell websites, so that new viewers can receive continuing education credit.
Cornell has offered shelter medicine instruction and outreach since the late '90s. In 2005, Maddie ® Fund helped launch the comprehensive Maddie's ® Shelter Medicine Program at Cornell, enabling program faculty to teach classes, offer a rotation for veterinary students in their clinical year, train new shelter veterinarians through an intensive one-year internship, engage in consultations with animal shelter and humane organizations, and conduct applied, clinical research in shelters. 
Said Janeczko, "After two years of virtual events necessitated by COVID-19, attendees really appreciated the opportunity to come together in-person to meet with and learn from experts working in the animal welfare field as well as to network with colleagues and friends."
Written by Melanie Greaver Cordova