Department of Public and Ecosystem Health holds first-ever symposium
Monday, November 7, 2022 - 11:09am
On Tuesday, Oct. 25, the Department of Public and Ecosystem Health (PEH) held its first departmental symposium, almost exactly a year since the new department launched. The event featured faculty and staff presentations, a student poster session and a panel discussion.
Lorin D. Warnick, D.V.M., Ph.D. '94, the Austin O. Hooey Dean of Veterinary Medicine, kicked off the day with his opening remarks. "It's been great to see all the progress this department is making," said Warnick, noting how the addition of new faculty has expanded the college's breadth of expertise and its capacity to teach and engage in impactful areas of practice and research. He then pointed out how the new department faces a unique charge — to not only identify solutions to public health issues, but also "convince people to do the right thing. When I first started as a researcher in epidemiology, I did not recognize the huge importance of persuasion, education and communication to get our communities to take the steps to improve health conditions."
Warnick concluded his remarks by wishing the group well and congratulating them on the many accomplishments made by the new department.
Dr. Alexander J. Travis, chair of the department, also welcomed the audience, noting how, due to the pandemic, this was only the third time for the group to get together in person. He joked, "This symposium is sort of like our debutante ball. We're introducing ourselves to the rest of college society." He went on to note, "Each of us in the department is committed to taking a trans-disciplinary, systems approach … because understanding and changing systems is the best way to have the biggest impact."
When PEH was established a year ago, long-time friend, supporter, and volunteer leader for the College, Cynthia Suprenant, was eager to help its launch with a gift to honor the vision of the new department. PEH used the gift to competitively fund projects that bring together faculty across public and environmental health, veterinary medicine, policy and scientific research, called "PEH Impact Awards." Each of these projects have real world impact on one or more of the department's three central challenges: tackling emerging health threats, achieving healthy food systems, and conserving biodiversity. Matt Braun, assistant dean for alumni affairs and development, took the stage as emcee to introduce these three collaborative projects: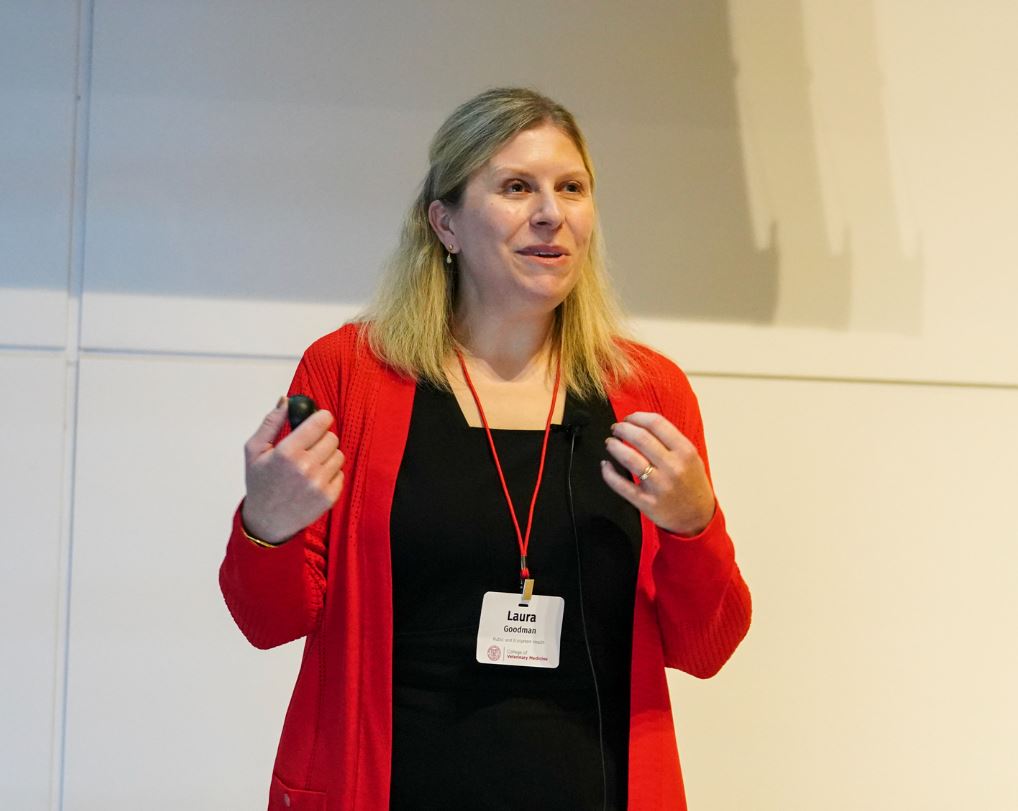 "Breaking Down Barriers to Sustainable Antimicrobial Use in Cats," by Casey Cazer, D.V.M. '16, Ph.D. '20, and Amelia Greiner Safi, M.S. '06
"Aquaculture-Driven Impacts on Public and Ecosystem Health in Lake Victoria, Kenya," by Rod Getchell, Ph.D. '02, and Dr. Kathryn Fiorella
"Survey of Novel Coronaviruses in Wildlife for Risk Assessment Studies," by Laura Goodman, Ph.D. '07; Dr. Elizabeth Bunting; Kevin Cummings, D.V.M.'96, Ph.D.'10; Dr. Krysten Schuler; Dr. Michael Stanhope; and Dr. Gary Whittaker
The afternoon portion of the event featured staff introductions and presentations, including new employee Lisa Freeborn, assistant to the department chair. "I enjoy that Cornell supports and encourages me to collaborate with colleagues about work or projects," Freeborn said. "I love working behind the scenes to connect all the pieces that keep things running smoothly."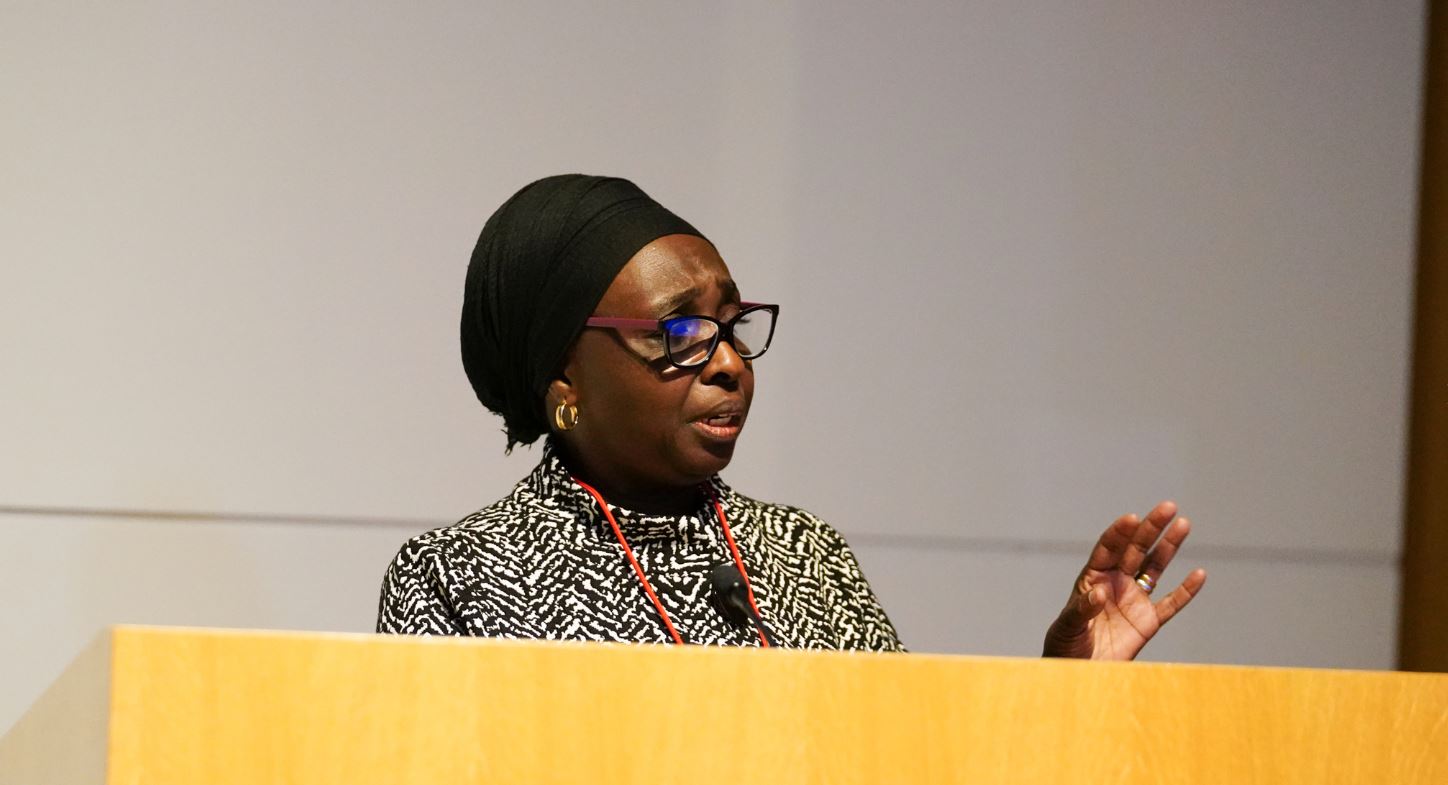 Participants later attended a session highlighting the broad scope of PEH practice and research, which included:
"Chicken Connections: Safeguarding the Environment and Human and Animal Health," by Jarra Jagne, D.V.M. '90
"Equitable Food Systems," by Dr. Karla Hanson
"Local Policy Responses to Homelessness," by Dr. Charley Willison
"Cornell in Uganda: Engagement of Students in an African Swine Fever Project," by Dr. John Ekakoro
These presentations were followed by a panel discussion on engaging communities and partners outside of academia in teaching, research and practice, and featured faculty members: Dr. Krysten Schuler; Dr. Gen Meredith; Dr. Lorraine Francis; Daryl Nydam, D.V.M. '97, Ph.D. '02; Elizabeth Fox '09, Ph.D. '16; and Dr. Caroline Yancey.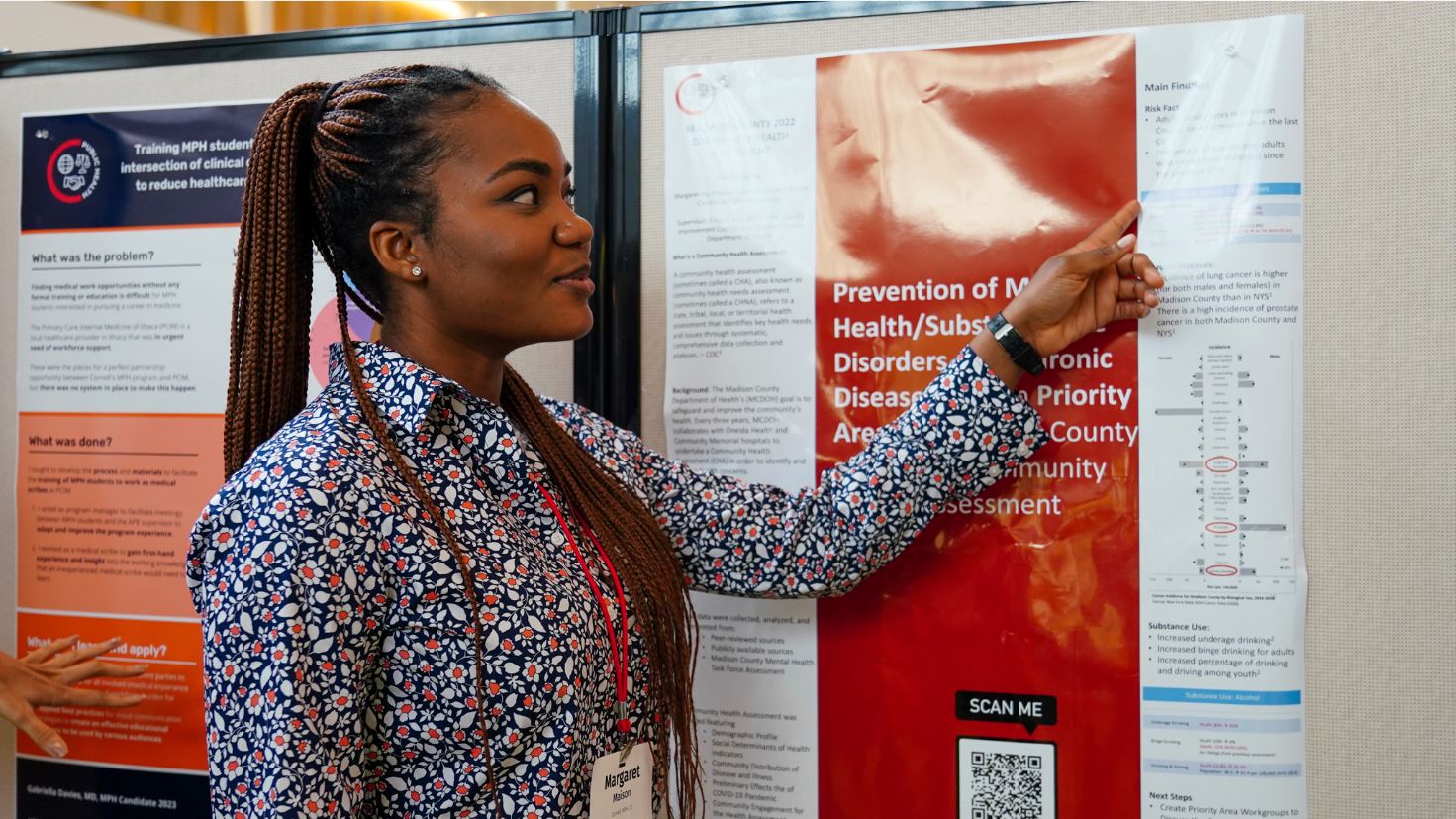 The event concluded with a cocktail hour and poster session, where department members connected and discussed the projects and perspectives that had been showcased throughout the day.
"It was truly inspiring to see all the incredible thought and effort that our new department has put into motion," said Travis. "Our first anniversary symposium could not have gone better, and it has only strengthened my excitement for the future of this department and its impact on the world."
Written by Lauren Cahoon Roberts
Photography by Carol Jennings/CVM