Rare surgery saves Coton de Tulear with canine laryngeal cancer
Friday, November 11, 2022 - 9:03am
The first thing Sue Ritter noticed about her dog Gracie that seemed off was a throaty bark. "She sounded like she had been screaming at a football game for too long," Ritter says.
Their local vet prescribed antibiotics, thinking she must have had an infection, but the symptoms weren't dissipating. At one point, Ritter noticed that Gracie—a 6-year-old Coton de Tulear—was having trouble breathing and immediately took her to an emergency vet. "They did some tests and said they thought she had a cancerous tumor in her throat and recommended we take her to Cornell," says Ritter.
Once she arrived at the Cornell University Hospital for Animals (CUHA), Gracie was put into a special oxygen cage as she awaited surgery to remove the tumor. "She was teetering on being in critical condition, and we were very concerned we were going to need to intubate her," says assistant clinical professor of oncology Skylar Sylvester'14, D.V.M. '18.
Because the tumor in Gracie's larynx was blocking her airway, her prognosis was bleak unless she had surgery right away. "They told us she might have only days to live," says Ritter. "It's like your world just falls apart."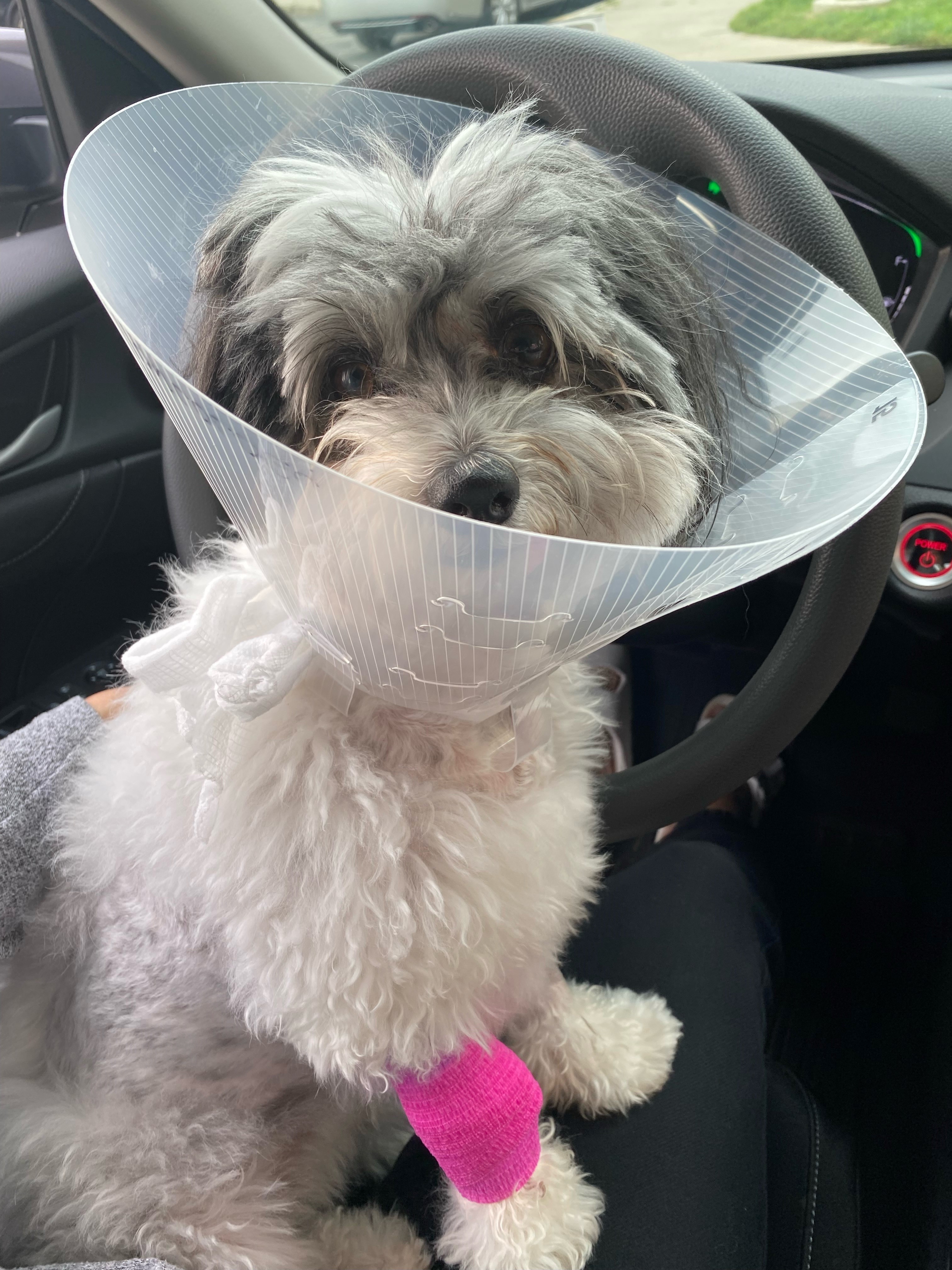 Ritter and her daughter told Gracie they loved her before the surgery, afraid they would have to say goodbye to her. They were in the waiting room when Daniel Lopez'12, D.V.M. '16, assistant clinical professor of small animal surgery, came out of the operating room and told them he would have to approach the surgery in a different way than he'd planned. He also let the Ritters know that he hadn't done that specific type of procedure before.
"The hope was that we would be able take the tumor out through her throat and be able to remove it that way," says Lopez. "Unfortunately, it was behind her vocal folds and actually sitting deep within her larynx, so we had to make an incision into the underside of her neck and cut through her laryngeal cartilage."
The Ritters were scared, but a while later Lopez came out and gave them great news: He thought they'd gotten out 98 or 99 percent of the cancer.
"It was incredible to walk into the ICU a day after Gracie's surgery and see her breathing comfortably with no supplemental oxygen and wagging her tail," says Sylvester. "She looked like a completely new dog."
Her biopsy results were also a pleasant surprise, revealing that Gracie had a plasma cell tumor and not a carcinoma as they'd initially suspected, which further improved her prognosis. After healing from the surgery, she had radiation treatment for several weeks.
The whole thing unfolded so quickly that Ritter didn't have much time to consider the expense involved. "I asked Cornell if they had a payment plan or could help in any way, and they mentioned this grant we could apply for," says Ritter. "I applied, and when we found out we got it, I just bawled."
The financial assistance came from The Petco Love and Blue Buffalo Pet Cancer Treatment Support Fund. The two companies partnered with Cornell in 2016 to help subsidize cancer therapies for owners who otherwise could not afford them. Since then, the foundation has contributed $650,000 to Cornell, enabling around 250 families to pursue treatment for their pets.
"People want to do best for their pets," says Lopez. "It's always a very difficult decision when the cost of treatment potentially jeopardizes their current financial situation. I have worked with many clients who have received these grants and I think the biggest thing that I see is relief and gratefulness that they don't have to make a decision they would feel guilty about."
Gracie's bark is back to normal, and her most recent CT scan showed no sign of recurrence. She will go back in a few months for another scan. "She's doing awesome," says Ritter.
Written by Christina Frank