Cornell Ruffian veterinarians save older horse from severe colic
Wednesday, December 7, 2022 - 3:15pm
Colby Prokop and her horse, Astrid, essentially grew up together. The two are both 25 years old now, but they met when they were 13.
At the time, Prokop had a job exercising Astrid — a retired thoroughbred racehorse — at a farm in Jamesport, New York, near her home in Long Island. Astrid's original owner lived in Manhattan and was finding it difficult to visit her on a regular basis. Eventually, Prokop became her owner. "She's my heart horse," says Prokop. "She's such a special nugget."
In December 2018, Prokop was studying for finals at the University of Richmond in Virginia when she got a call from her mother saying that Astrid was suffering from severe colic (a general term for experiencing abdominal pain). Their local veterinarian felt strongly that Astrid needed to be evaluated by doctors at Cornell Ruffian Equine Specialists (CRES) in Elmont, New York — a two-hour drive from where the family lives.
Prokop flew home immediately. By the time she arrived, Astrid had been admitted and was undergoing surgery; an ultrasound had revealed thickening and distension of her small intestine due to a bowel obstruction.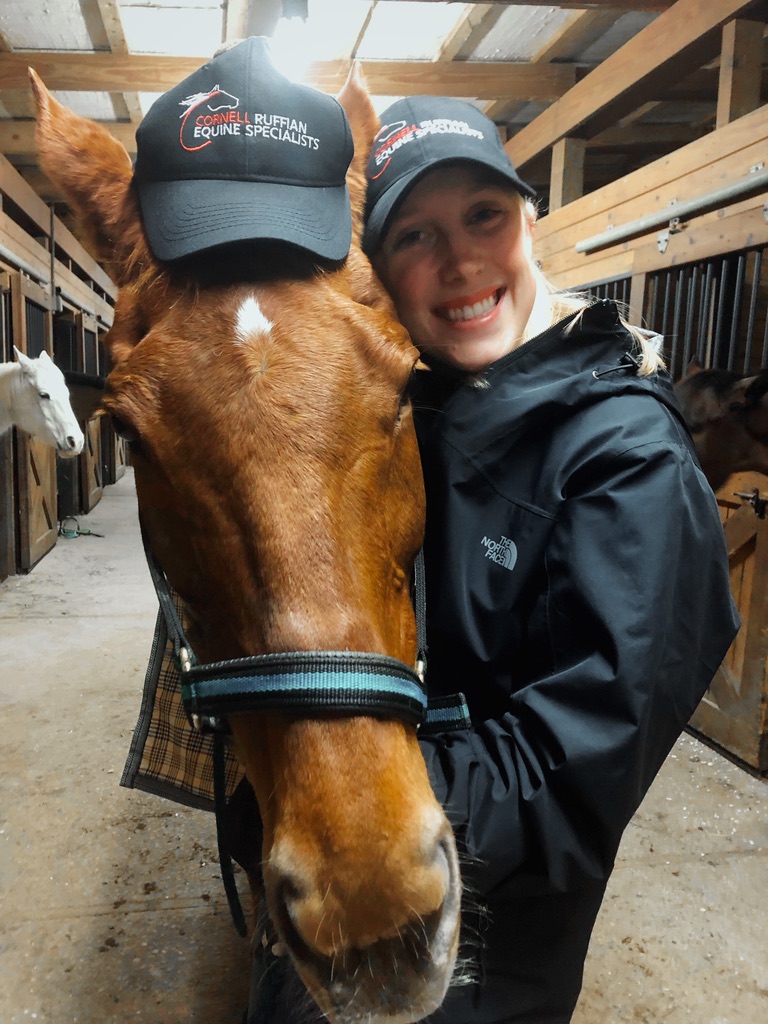 According to John Pigott, D.V.M. '09, hospital director of CRES, many horses with colic are successfully treated with an anti-inflammatory medication and fluids on the farm, with about 30 to 40 percent needing more aggressive treatment in the hospital. Pigott cared for Astrid after the procedure, which was performed by Michelle Delco '98, D.V.M.'02, Ph.D.'16, Harry M. Zweig Research Professor in the Department of Clinical Sciences at the Cornell University College of Veterinary Medicine.
"The surgery went great," says Pigott. "They found an adhesion in the front of her abdomen and the bowel got trapped against that scar tissue. They were able to remove the scar tissue and free up the bowel. Nothing needed to be cut out, which improved the prognosis."
While recovering, however, Astrid experienced some complications. She developed ileus (transient decreased motility in the gut), followed by an aggressive case of pneumonia. "Pneumonia after severe colic can happen in some horses, particularly with cases of small intestinal obstruction."
With aggressive treatment, Astrid recovered completely. "She is a very tough horse. She had a severe colic event and pneumonia and was able to heal with intensive therapy," Pigott said.
In total, Astrid was at CRES for almost a month. She was admitted on December 8th and discharged on January 2nd.
"The worst day was Christmas Eve," says Prokop. "That was when Dr. Pigott told me that if she didn't turn a corner, it was not looking good. It was the pneumonia that almost got her."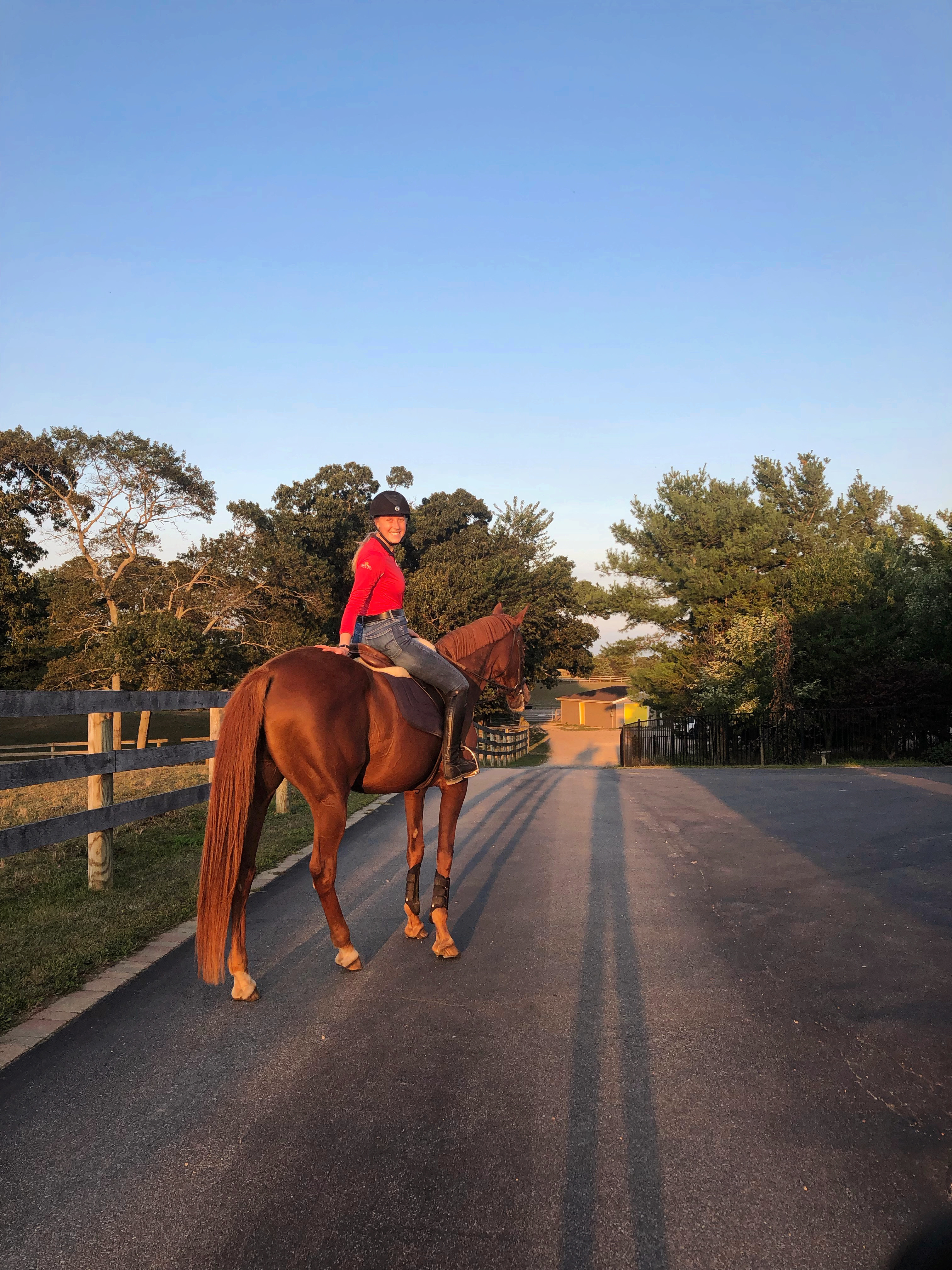 When Astrid did turn a corner, she turned it quickly. Prokop, who drove two hours each way to see Astrid every day during her hospitalization, went to visit her horse on Christmas morning. "She was up at the gate and wanted to eat carrots and looked so great," Prokop says. "She was like our Christmas miracle."
On the day she was discharged, Prokop says, the staff had a little going away party for her. Two of her technicians even gave her handfuls of peppermints, which are her favorite treats.
It took another three months of stall rest, daily hand walking, and overall monitoring of her health before she was fully healed.
"They definitely set us up for success at Cornell Ruffian," says Prokop. "The vets there were just completely out-of-this-world impressive. I never once doubted that she was in the best of hands when she was there."
Almost four years after her ordeal, Astrid is currently living the good life in California. Prokop was offered a dream job as an animal care crew manager at the Marine Mammal Center in Sausalito, and the two picked up and drove across the country.
"I never wanted to put her through something that would potentially be adverse to her health, but at 25 [approximately 75 in human years], she shipped across the country like a well-seasoned traveler," says Prokop. "She's still a handful for me under the saddle. She has so much energy that I can barely hold her back because she wants to gallop everywhere!
"Our family will be forever thankful to Dr. Pigott, Dr. Delco, and the entire team. Without them, I would never have been able to bring Astrid with me."
Written by Christina Frank
All photos provided