Alumna launches DEI hospital certification program
Thursday, December 8, 2022 - 2:07pm
Niccole Bruno, D.V.M. '06, grew up in a diverse neighborhood in Queens, New York, with the dream of becoming a veterinarian. When she graduated from Cornell's College of Veterinary Medicine in 2006, she was part of the most diverse class of veterinary students in Cornell's history. But when Bruno joined a private practice in Long Island, she quickly felt isolated and self-conscious that she was one of the only people of color in her workplace.   
As her career progressed, Bruno wanted to ensure that other minority veterinarians had better experiences. Now, she has turned her passion for diversity and inclusion into a full-time job by creating Blend, the first national organization offering a veterinary hospital certification program in diversity, equity, inclusion and belonging. "I realized I could be the voice I wanted to have," she said.
This year, Bruno left her job as a veterinarian to focus on Blend full-time. The goal is to harness her personal experiences of exclusionary behaviors along with educational training to help veterinary practices and hospitals across the country understand the role they can play in changing the narrative of the veterinary profession. In addition to her personal experiences, she has completed the Purdue Diversity and Inclusion Certificate and the American Veterinary Medical Association Brave Space Program.
"We have a lot of work to do, and it starts with training and education," she said. "It's about learning from and with others, talking about our struggles, and growing from them. We only know what we know. To make a difference, we need to be willing to have conversations with each other."
A foundation of diversity and inclusion at Cornell
Bruno arrived at Cornell after completing her undergraduate degree at Tuskegee University, a private, historically black college in Alabama. "I felt like I belonged there," she said. "My teachers and my classmates looked like me. When I was accepted to Cornell, I hesitated because I didn't want to lose my support system, but I was lucky to develop an amazing support system at Cornell as well."
For decades, the College of Veterinary Medicine has focused on diversity and inclusion – and that was especially true during the years Bruno spent at Cornell, explained Dr. Jai Sweet, the college's assistant dean for veterinary student services and admissions.
Bruno and fellow student Joya Griffin, D.V.M. '06, served as executive board members of the college's multicultural student association and re-named it VOICE, for Veterinary Students as One In Culture and Ethnicity. (Since then, it's changed to Veterinary Students as One Inclusive Community for Empowerment.)
Although student focused, VOICE encouraged the entire Cornell veterinary community to become involved in diversity and inclusion through potluck dinners featuring different types of ethnic cuisine, regular talks, and salsa nights at the Red Barn.
A couple of years later, Julio Lopez D.V.M. '08, who served as the student president of VOICE, elevated VOICE to a national organization with 10 veterinary schools from across the United States signing on as original members. Today, VOICE has chapters on 25 different campuses.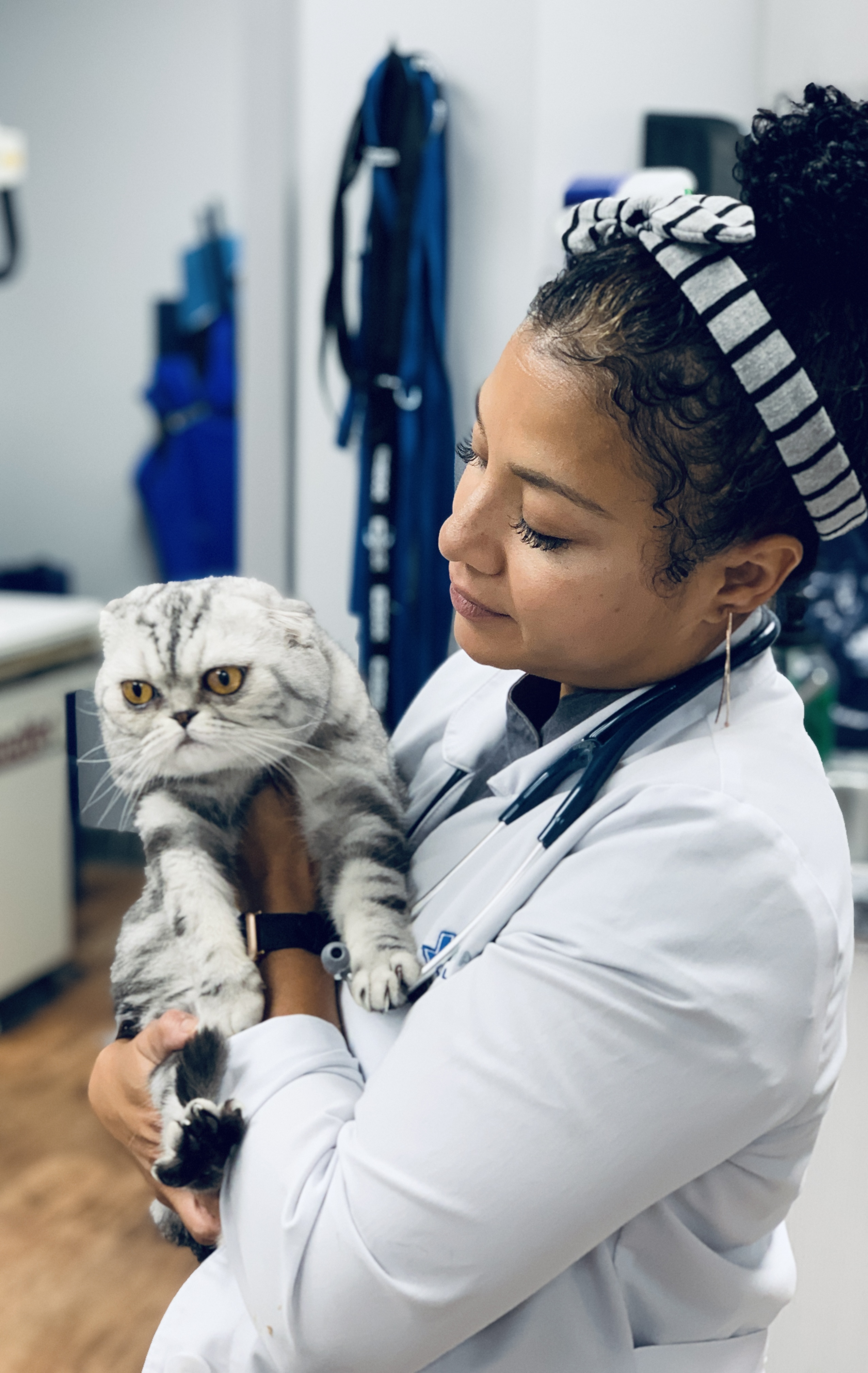 "I loved that VOICE served not only as a support group for minority students but also allowed the veterinary community to learn about and participate in celebrating our diverse backgrounds," he said.
"We wanted other vet school communities to share in this experience and with the generous support of Pfizer Animal Health, now Zoetis, we were able to launch nationally. The rapid growth of VOICE chapters revealed that such a group was needed and its success as a thriving national organization today stems from all the hard work of the students that came after me."
Today, the VOICE Cornell chapter is still going strong. This fall, the group unveiled a multicultural mosaic wall in the main atrium of the Veterinary Hospital.
"Students each painted tiles representing their backgrounds and things that were important to them," explained Christel Remy-Kuck, D.V.M. '24, a third-year veterinary student who is currently the co-president of the national VOICE chapter. There are tiles with Chinese characters, representations of indigenous people, and the LGBTQ flag, she said.
Remy-Kuck says that VOICE helps students from diverse backgrounds find their place at Cornell. "I grew up in a community full of minority students, so coming to Cornell was a lot different from that upbringing and definitely a bit of a shell shock," she said. "I really wanted to find a community of people with similar backgrounds to me, and VOICE provided that."
Having students focused on inclusion doesn't solve the problem of the lack of diversity in veterinary medicine, but it does make an important difference, explained Sweet, who has been the advisor for VOICE since its inception almost two decades ago.
"Of course, it's still a battle because when you look around, it's still a largely white profession," she said. "But there is more dialogue and awareness than there ever has been, and that's a step in the right direction."
From VOICE to Blend
In 2020, Bruno reconnected with her VOICE roots by giving a Zoom talk to the VOICE National Chapter – an experience that ultimately inspired her to begin working on Blend.
"There were 750 students on that call from across the country, and I told them stories from my career," she said. "It made me realize that we could do better. I wanted to make an impact, and I wanted it to be sustainable. Because if my kids turn to me and say, 'I want to be a veterinarian,' I want it to be better for them than it has been for me."
Today, Blend is focused on raising issues of diversity, equity, and inclusion within the field of veterinary medicine. Bruno gives lectures at national conference and is working with universities – including North Carolina State, Oregon State, and Lincoln Memorial University's master's program in veterinary clinical care – to teach diversity and inclusion to veterinary students.
One of Bruno's goals is to find welcoming places for new veterinary students to land. "If a student finds a Blend-certified hospital, they know that staff has taken a step toward making their hospital inclusive, and that they will belong there," she said.
Diversity is important for veterinary clients as well, Bruno said. She cites a survey from the Human Animal Bond Research Institute that found 61 percent of pet owners of color feel that veterinary hospitals do an unacceptable job at servicing minority their racial and ethnic groups. The study also showed that pet owners of color wanted to feel respected, listened to, and be treated with empathy. "If a person of color doesn't feel comfortable working in our profession, how do you think our clients of diverse backgrounds feel bringing us their pets?"
Ultimately, Bruno would like to welcome more diverse doctors into the field of veterinary medicine. "It's about working better, doing a better job of hiring, and better supporting our communities," she said. "It's about diversity of thought, perspective, and opinions."
Blend is currently partnering with veterinary organizations such as the American Animal Hospital Association and North Atlantic Veterinary Community to host pipeline development programs. 
"Everything I've learned has been on the job, watching others, and seeking that knowledge myself," Bruno said. "Now I want to teach and inspire the next generation of leaders in veterinary medicine."
Written by Sheri Hall
All photos provided