Student show "Doctor Drag: The Resuscitation" a success
Monday, December 19, 2022 - 10:25am
On Dec. 3, the Pride Student Veterinary Medical Community (SVMC) at Cornell University's College of Veterinary Medicine (CVM) held "Doctor Drag: The Resuscitation." This was the first time the event has taken place since the pandemic, and debuted a fresh, educational and culturally informed approach to the show.
Gathering in lecture halls 4 and 5, over 200 people including students, staff, hospital residents, interns and faculty came to cheer on the show, which was emceed by Jamie Morrisey, D.V.M. '92.
"This event was a reinvention of Misster Drag, which was previously put on by [the veterinary fraternity] OTS and what was then known as Broad Spectrum (now Pride SVMC)," says group member and drag show organizer Hery Ríos-Guzmán, D.V.M. '24. "My understanding is that the previous drag shows were not culturally appropriate, as it would not feature drag queens or kings."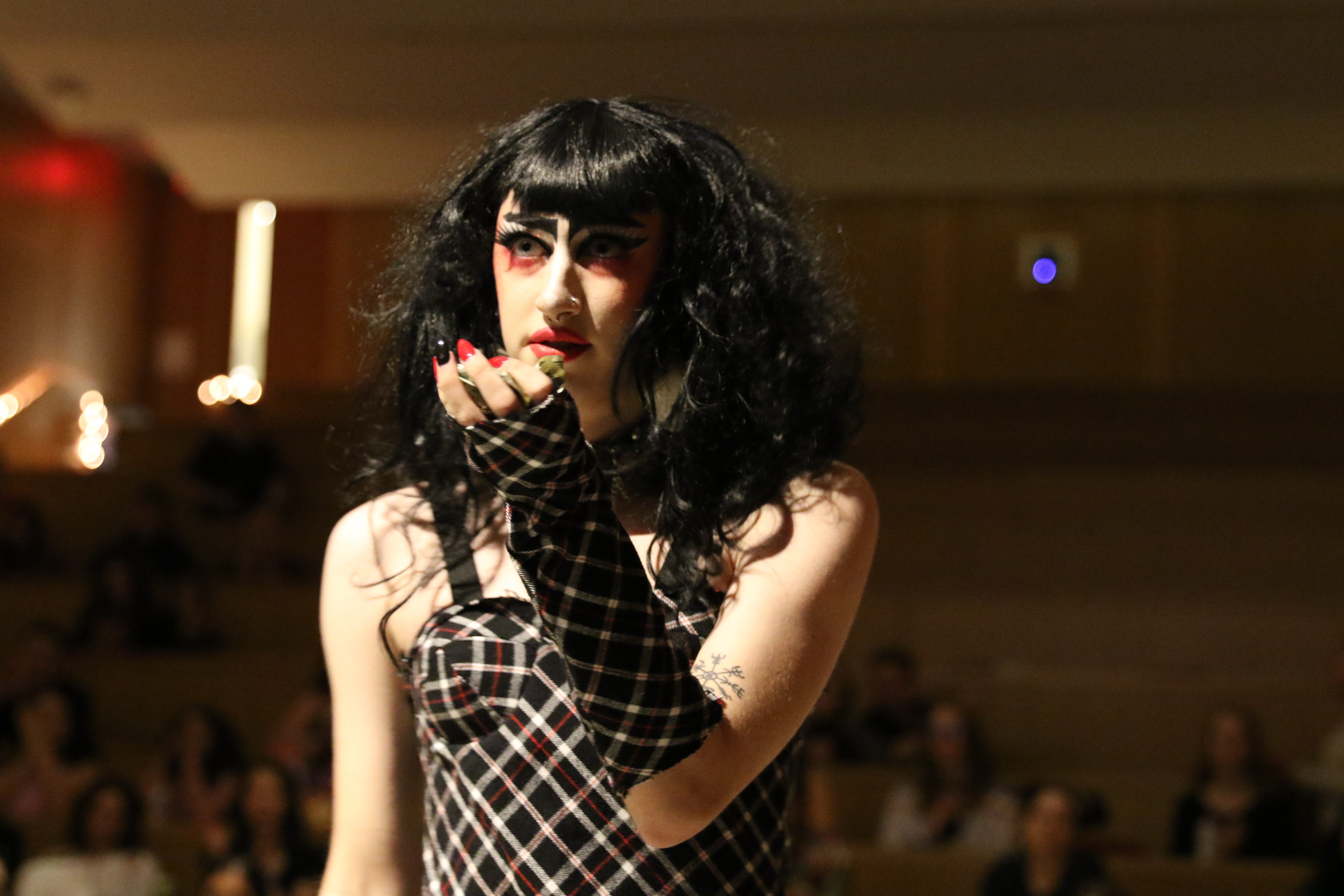 Thus, Ríos-Guzmán and the entire Pride SVMC executive board (drag show co-chair Benjamin Specht, D.V.M. '25; president Amanda Flanagan, D.V.M. '25; vice-president Sabrina Graham, D.V.M. '25; secretary Emma Fralin, D.V.M. '25; treasurer Collin Gier, D.V.M. '24; social chair Adam Frosolone, D.V.M. '25; and historian Maggie Whittington, D.V.M. '25) developed a program that would be respectful, informative and inclusive.
"The event was designed to be an educational opportunity and also a way to build a stronger sense of community for our LGBTQIA+ students and allies," says Fralin. "The pandemic isolated so many students and faculty — I think Doctor Drag did a great job of bringing people together."
Gier, who performed as one of the drag queens in the show, agrees. "I know for me, going to my first drag show in undergrad really felt right, like I had a whole community, and it was such a safe space vibe," he says. "We aimed to recreate that vibe at our show and invited the whole CVM to join us."
Along with Gier, the event featured six performers. Three were students, including Thomas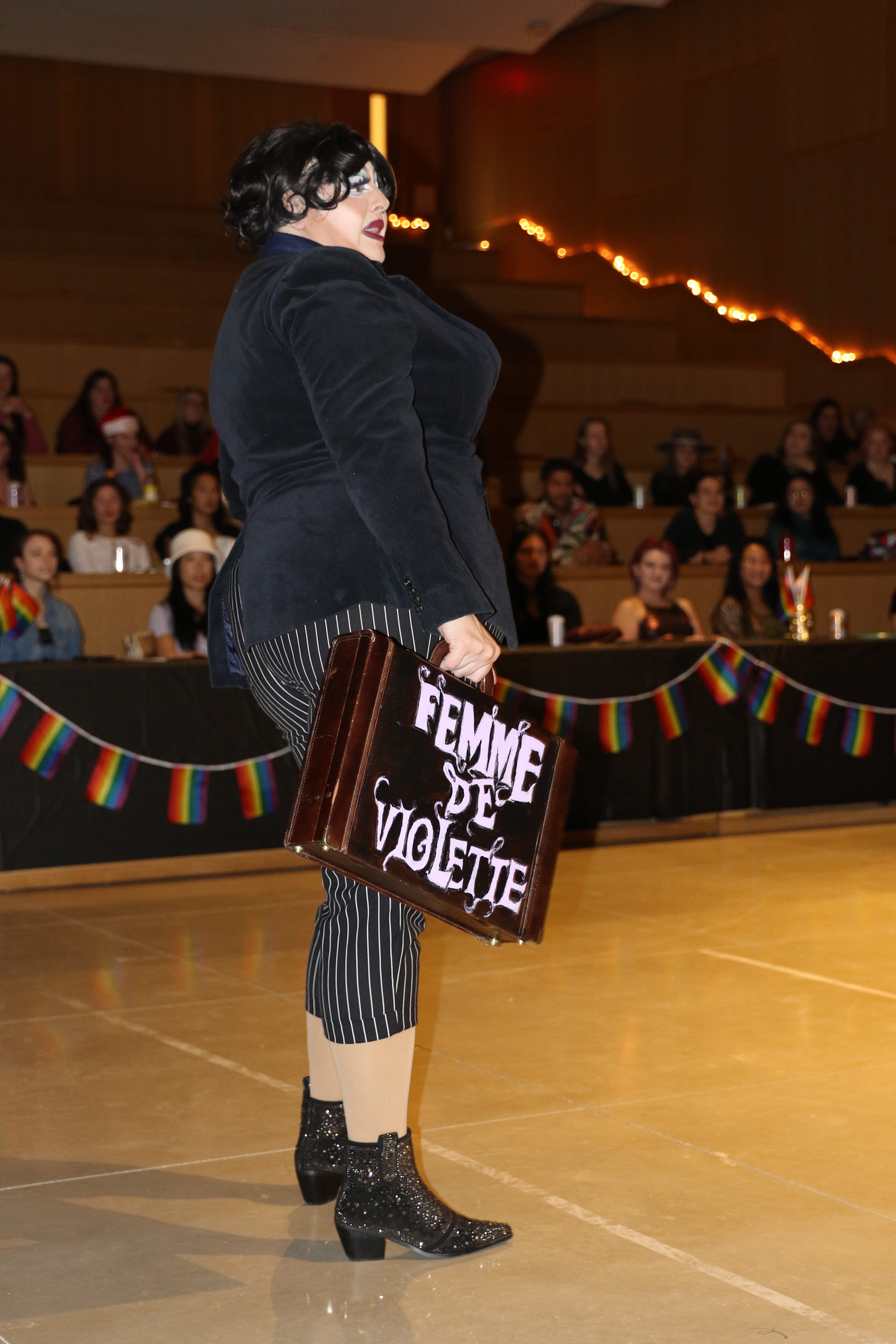 Landes, D.V.M. '23 (Bulbus Landes), Gier, D.V.M. '24 (Linda Rekum), and Specht, D.V.M. '25 (Miss Carriage), one of the Pride SVMC Drag Show co-chairs. The other performers were Maya Perez (Scarlet Killz), Julia Dreitzer (Femme de Violette), and Ian Smith (Mother Pamplemousse). 
"A varied cast of performers inevitably resulted in a diversity of performances, all of which were fabulous, earth-shaking, and undeniably beautiful," says Ríos-Guzmán. "Some were inspired by artists like Shakira, while others were more lip-synch focused or floor-work focused."
Flanagan and Graham created a script that provided information about the history of drag, ballroom and AIDS and its relation to the LGBTQIA+ community. 
"Drag has been an important tool for minorities for decades — especially Black and Trans folx — to fight against oppression and obtain freedom, even if for a bit of time," says Ríos-Guzmán. "It truly represents the liberation of those who have been deemed unacceptable by harmful stereotypes, racism, and homophobic ideas."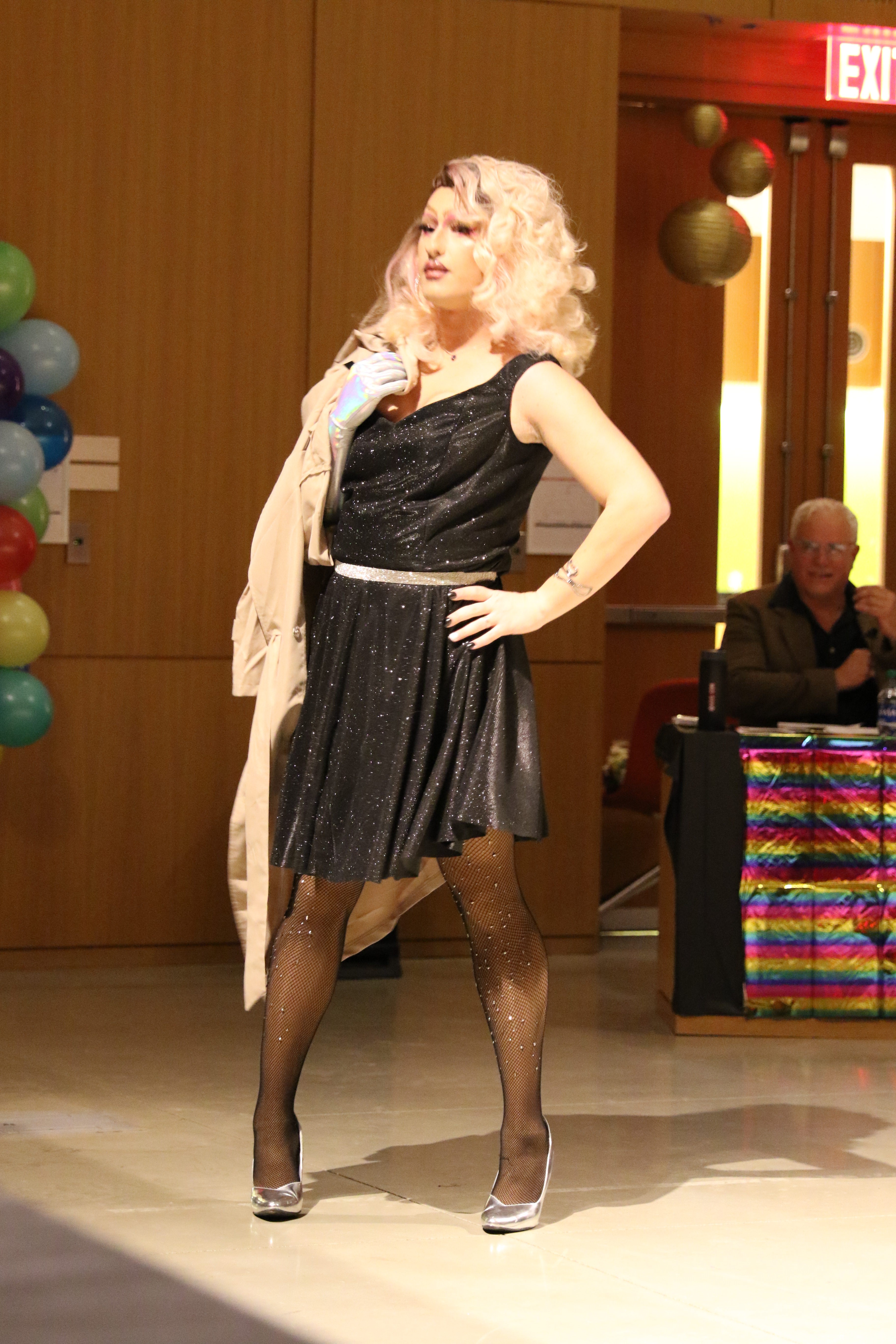 Additionally, they made sure to include why knowledge on the LGBTQIA+ community is an important tool that can improve client communication and ultimately lead to better patient outcomes. Thanks to this educational component to the event, every SAVMA member that participated was awarded DEI credit, a necessary component of good standing within the organization.
While the event was meant to educate, connect and entertain, it was also a fundraiser for the Southern Tier AIDS foundation, with an initial goal of raising $800-1,000. However, by the end of the night, it had raised $2,095. "My favorite part of the night was definitely when Dr. Morrisey announced the total raised and the whole crowd cheered," says Gier.
After such a resounding success, student organizers are looking to continue spreading awareness, inclusion and celebration of drag and ballroom in the future. "I once took a vogueing dance class and the words of the instructor made a profound impression on me," says Fralin. "They said that 'this art form and others like it have saved lives'. Just think about that for a minute. I hope Dr. Drag has helped to spread respect for such uplifting art forms."
Written by Lauren Cahoon Roberts
All photos provided