New immunity insights in quest against deadly amphibian fungus
Monday, February 6, 2023 - 9:03am
Chytridiomycosis, caused by the fungus Batrachochytrium dendrobatidis (Bd), has wreaked havoc on amphibians, causing significant declines and extinctions of dozens of species. In a paper published February 1 in the journal Royal Society Open Science, scientists at the Cornell University College of Veterinary Medicine have found that an oral vaccine can stimulate an immune response in amphibians and may help some species fight the deadly disease.
"This is the first study to comprehensively explore the function of host, pathogen and skin microbiome during vaccination and infection in chytridiomycosis, enabling us to assess the relative roles of each component in disease outcomes," says Alyssa Kaganer '13, Ph.D. '21, post-doctoral associate in the Cornell Wildlife Health Lab and first author on the study. Kaganer collaborated with Dr. Matthew Hare in the Cornell College of Agriculture and Life Sciences and Dr. Brian Gratwicke at the Smithsonian Conservation Biology Institute.
A challenging disease
Chytridiomycosis is a disease that disrupts critical amphibian skin functions and often leads to sickening and death. However, infection outcomes vary depending on the Bd strain, environmental factors, the host's susceptibility — and the composition of the amphibian's skin microbiome. All amphibians have colonies of harmless bacteria in their skin, which are directly affected by the host's skin defenses and by Bd infection. Many microbes themselves have antifungal properties that inhibit Bd and may also help the amphibian by acting as an extra immunity system. 
When infected with Bd, different amphibian species may fight the pathogen by way of their skin microbes' antifungal properties or their own, slippery skin's natural mucosal barriers. They may also develop antibodies to specifically fight Bd. Each individual animal responds uniquely to a Bd infection depending on the community of bacteria that live on their skin, their genetic makeup, and the characteristics of the environment that they live in.
All these moving pieces can make for a complex and multivariate system to study. "Chytridiomycosis is a challenging disease to study, because there is extremely high variation both between species and between individual animals of the same species," says Kaganer.
Studying hellbenders as hosts
To better understand the interaction between an amphibian host, pathogen and microbiome, the team examined the relative roles of all three components simultaneously at several points during an infection cycle in the eastern hellbender salamander. These animals are a unique and important species for study of Bd infections, because wild hellbenders have been found with small quantities of Bd on their skin, without evidence of disease — but under specific conditions they can develop severe disease and die.
"If we can understand the mechanisms underlying these drastically different infection outcomes, it may point towards better ways to protect global amphibian populations," says Kaganer.
To study these mechanisms, co-authors Robert Ossiboff, D.V.M.'10 and Dr. Elizabeth Bunting, associate professor of practice in the Department of Public and Ecosystem Health, designed an experiment to vaccinate and infect hellbenders with Bd. The scientists vaccinated their study group of hellbenders, then monitored this and the control group (which received no vaccination) for 135 days after being infected with Bd fungus. During the experiment, they collected skin swabs and biopsies to measure presence of Bd, skin bacterial community composition, skin health and function of hellbender skin, Bd and microbiomes.
During this timeline, they compared each test group's skin microbiomes, and monitored the gene expression of the hellbenders, the Bd, and the skin microbes. These variables were checked at four time points: pre-vaccination and pre-infection; post-vaccination and pre-infection; early infection; and late infection.
A possible vaccine for other species
Unfortunately for hellbenders, the vaccine did not trigger enough of an immune response to alter disease outcomes — however, it did stimulate immune system activation in their skin. The research also found that Bd fungus increased disease-causing functions in later-stage infections.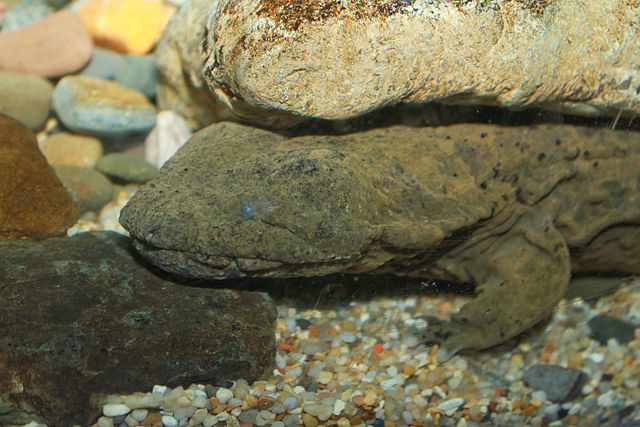 Finally, the team found that, while the hellbenders' skin microbiome was affected by their host and the Bd fungus, bacteria themselves did not seem to impact their host hellbenders' ability to fight infection.
Kaganer and her colleagues believe that, while it was not protective for hellbenders, the vaccine could still hold promise for other amphibian species that rely more heavily on adaptive immunity. "While we think that hellbenders do mount an adaptive immune response to Bd, it's not really helping them fight infections—they're more likely surviving thanks to other protective defenses," says Kaganer. "However, we do think that this vaccination administration strategy may help species that do rely more on adaptive immunity, like antibodies, to survive Bd infections," says Kaganer.
Thus, what might be lackluster results for hellbenders could be lifesaving for other amphibians. With luck, scientists like Kaganer and her team may be on their way to making sure it is.
Written by Lauren Cahoon Roberts