Great Dane puppy's precision procedure opens new cardio frontier
Thursday, March 2, 2023 - 9:53am
Nittany was only seven months old when she suffered her first collapse. The blue fawn Great Dane puppy was suffering from a ventricular arrhythmia, a condition that causes the heart to beat abnormally. It's a common and often deadly condition in dogs, but curative treatment — cardiac ablation — is so specialized that few veterinary hospitals have the training and expertise to perform it.
"Cornell is one of only two places in the country that is regularly prepared to offer this procedure," says Dr. Weihow Hsue, assistant professor in the Section of Cardiology at the Cornell University Hospital for Animals, who co-led Nittany's care team with adjunct professor Dr. Roberto Santilli and resident Robert Ciardullo, D.V.M. '21. Hsue received specialized training in utilizing new technologies for cardiac ablation prior to arriving at Cornell, while Santilli has 20-plus years of successful experience in performing cardiac ablation in dogs and is one of the few veterinarians in the world with this expertise.
When owners Brandi and Michael Gwin of DuBois, Pennsylvania learned that Cornell could help Nittany's heart, they brought her in for treatment.
"Nittany is a big, goofy, loving dog that doesn't know her own size," says Brandi Gwin. "After Nittany was diagnosed, she spent a lot of time sleeping. She still went to doggie daycare, but would tire out easily."
Electroanatomical mapping
Ventricular arrhythmias are one of the most common abnormal heart rhythms in dogs. Instead of beating steadily, hearts with this condition operate in one of two extremes: either a faltering stutter or a persistent, overwhelming string of heartbeats. Both forms wear on the heart and cause lethargy, but the latter can also lead to collapse and even sudden death.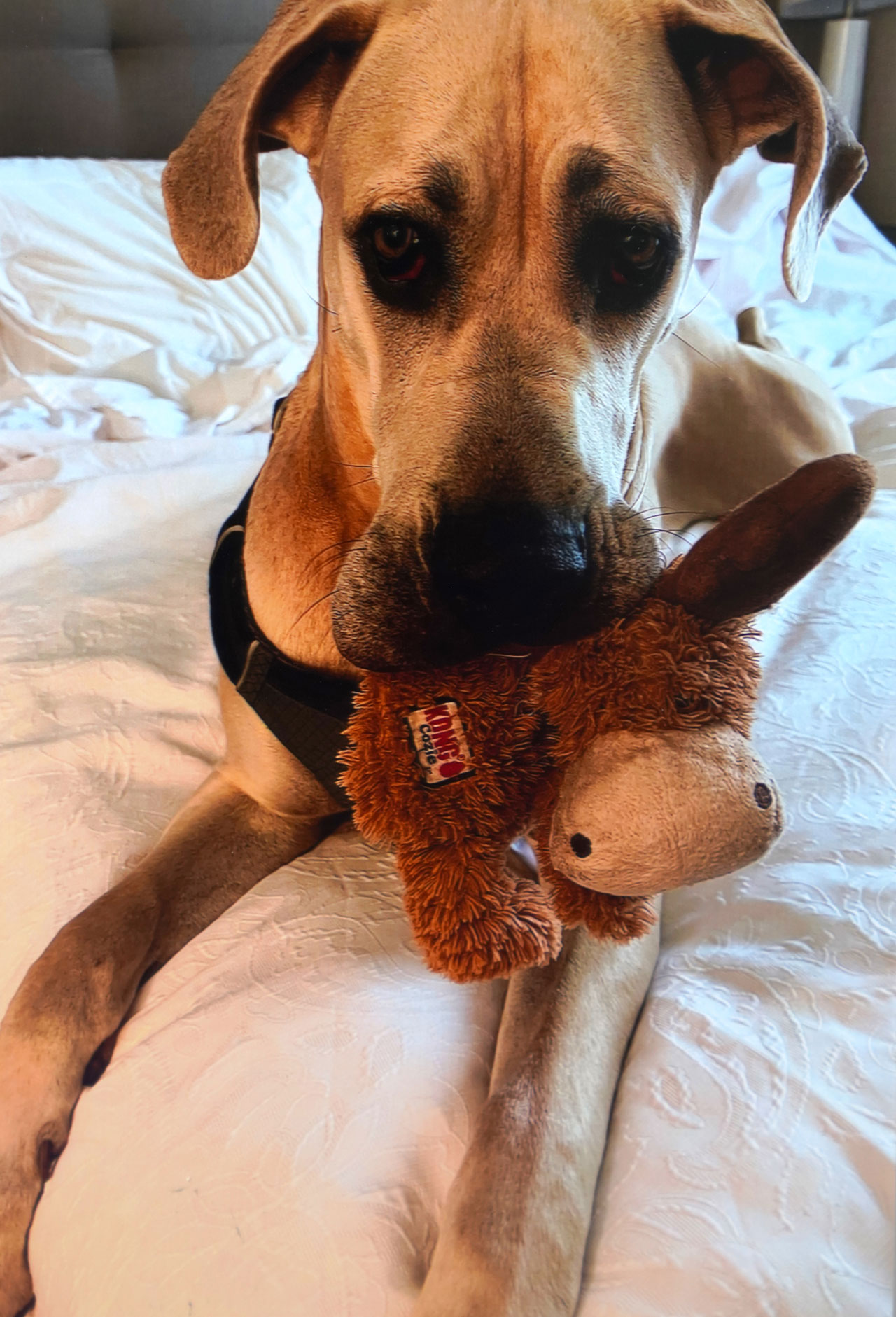 "In healthy hearts, a normal rhythm begins in the sinus node, progresses through the upper chambers and then activates the lower chambers, called ventricles," Hsue says.
For hearts suffering from ventricular arrhythmias, that rhythm begins in the lower chambers instead. This is often due to structural heart disease — but for some animals, including Nittany, the cause is unknown.
Treatment usually starts with medication. Even on medication, however, between 30-40% of Nittany's heartbeats were still abnormal. Given that she was only a year old and would likely need lifelong therapy, Hsue saw an opportunity to leverage new technology and create a digital map of her heart to increase her odds of successful treatment.
"The use of electroanatomical mapping was key to this whole process," Hsue says. "It's a technology that is relatively new to the veterinary field, and Cornell is one of the few places in the world that is pioneering it as a treatment for pets."
Electroanatomical mapping allows veterinarians to create three-dimensional (3D) reconstructions of a heart. A catheter that collects information on electrical conduction — i.e. heartbeats — is inserted in either the thigh or neck, sent through a blood vessel into the heart, and tags the electrical information onto the 3D reconstruction. Nittany's ventricular arrhythmia in particular arose from a difficult spot in the heart for catheters to reach, so having a 3D map to work with eased the challenges of the procedure.
Above: Nittany the Great Dane's heart activation as seen through her 3D electroanatomical map. Video provided.
"Unlike antiarrhythmic medications, we are addressing the disease at its source," Hsue says. From start to finish, it's a high-tech but minimally invasive procedure. "No open-chest surgeries needed."
"We used a combination of the standard technique — locating the problem area with an electrocardiogram — and translated that information into a 3D, color-coded map of Nittany's heart," Santilli says. "Thanks to this new system, we're now getting the information that was so difficult to pinpoint before much more easily."
Having completed the map of Nittany's heart, her cardiology team could then take another catheter to target the cells at the root of the problem and destroy them with heat. Santilli's expertise and experience were instrumental in ensuring proper clinical use of the technology.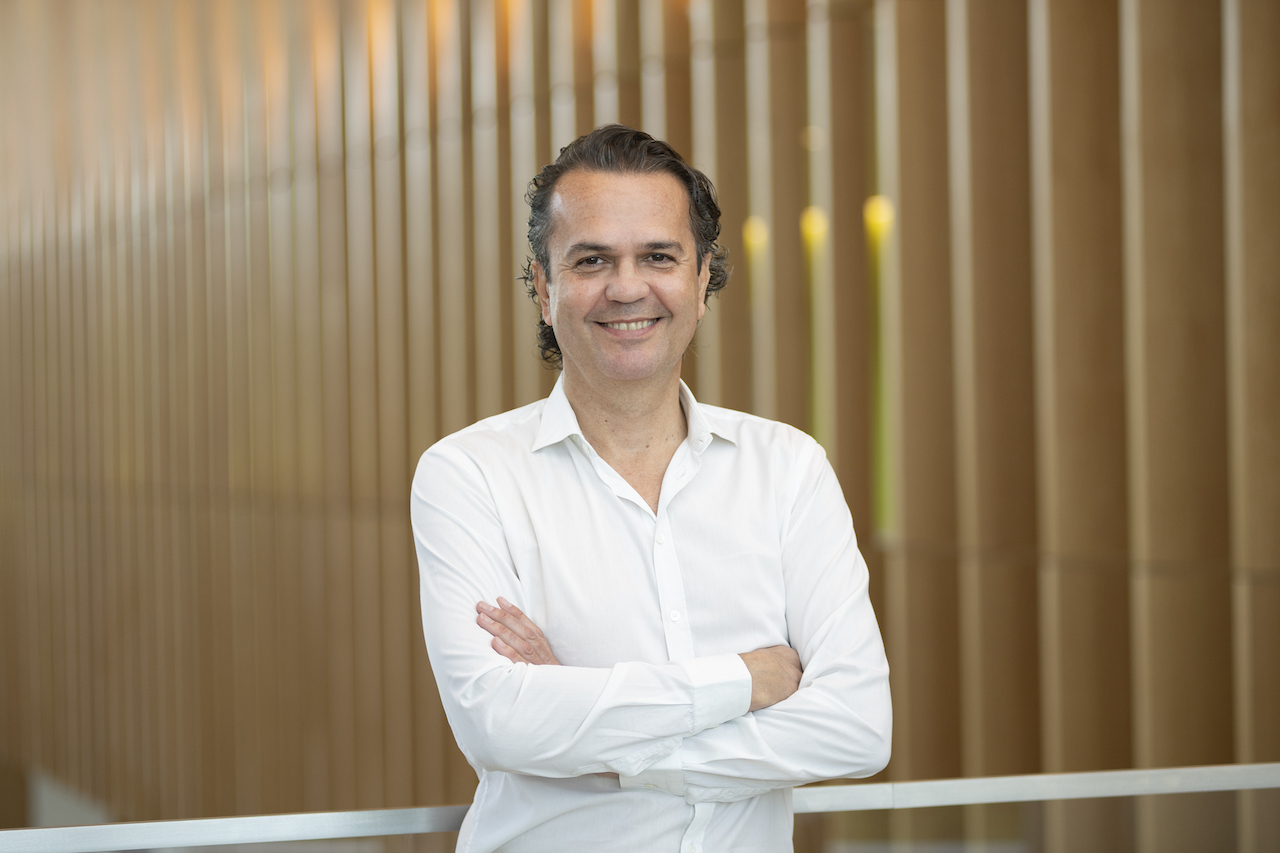 "After seven and a half hours, we got the call that the surgery was successful," Gwin says. "Drs. Ciardullo, Hsue and Santilli were wonderful. They took the time to sit and explain Nittany's diagnosis, the procedure and everything we should expect throughout the whole process."
Hsue attributes the surgical success to the wealth of experience among Nittany's care team, combined with a deep understanding of this new technology. "In addition to our cardiology team, the anesthesia and critical care services, with their exceptional dedication and skills, ensured that Nittany remained safe and stable despite her abnormal heart rhythm."
Overnight, Nittany's heart was beating normally again. She was able to stop taking heart medication and return home the following day.
"One month later, we rechecked her heart rhythm over a 24-hour period," Hsue says. "We found that her ventricular arrhythmia disappeared. That's terrific — and extremely uncommon for it to disappear entirely."
"Nittany is doing amazing," Gwin adds. "Her energy level has returned, and she is just as loving and goofy as ever."
While Nittany will continue to have her heart evaluated periodically, for now she doesn't require active treatment and can live a normal Great Dane life.
"Nittany was beloved by all of us here because she had such a sweet demeanor," Hsue says. "We are glad she's back to her normal self."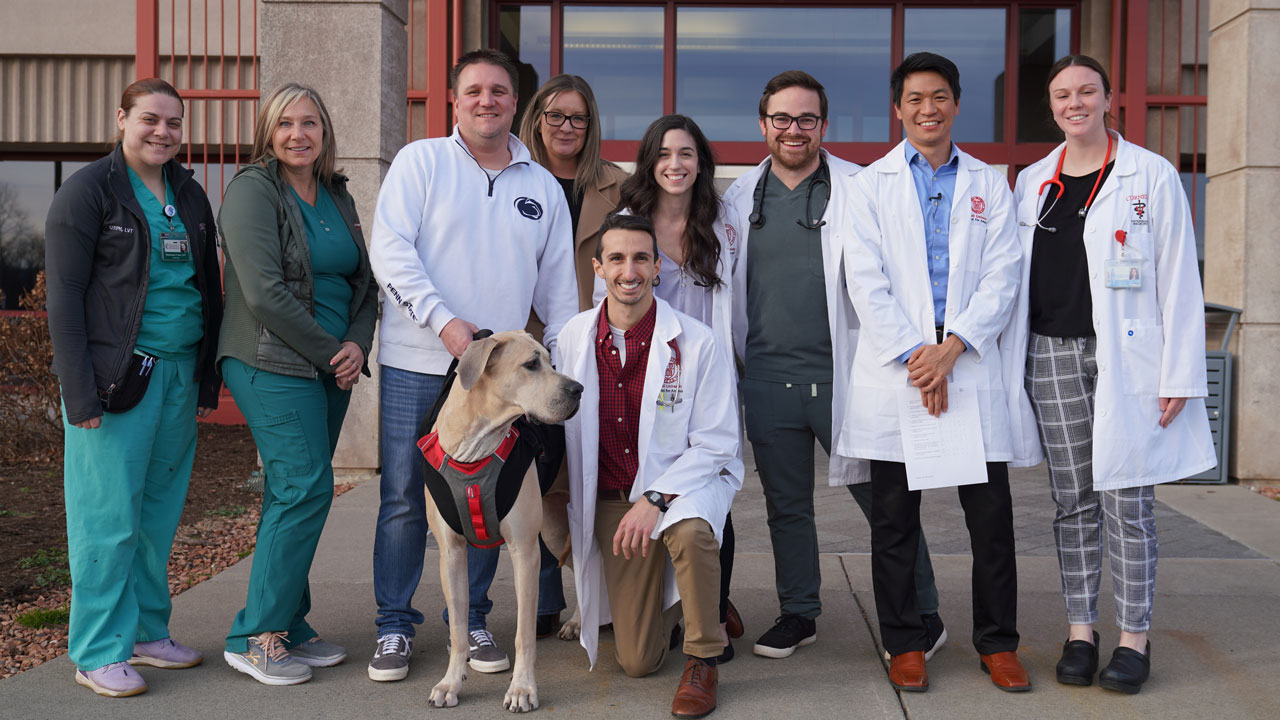 New treatment frontier
Electroanatomical mapping is opening a new treatment frontier for conditions like ventricular arrhythmias in animals. With Santilli's expertise, the team is using this technology to better understand arrhythmias, which will translate to improved strategies for treatment.
"Nittany had the best-case outcome," Hsue says. "The procedure eliminated both the arrhythmia and the need for lifelong medications."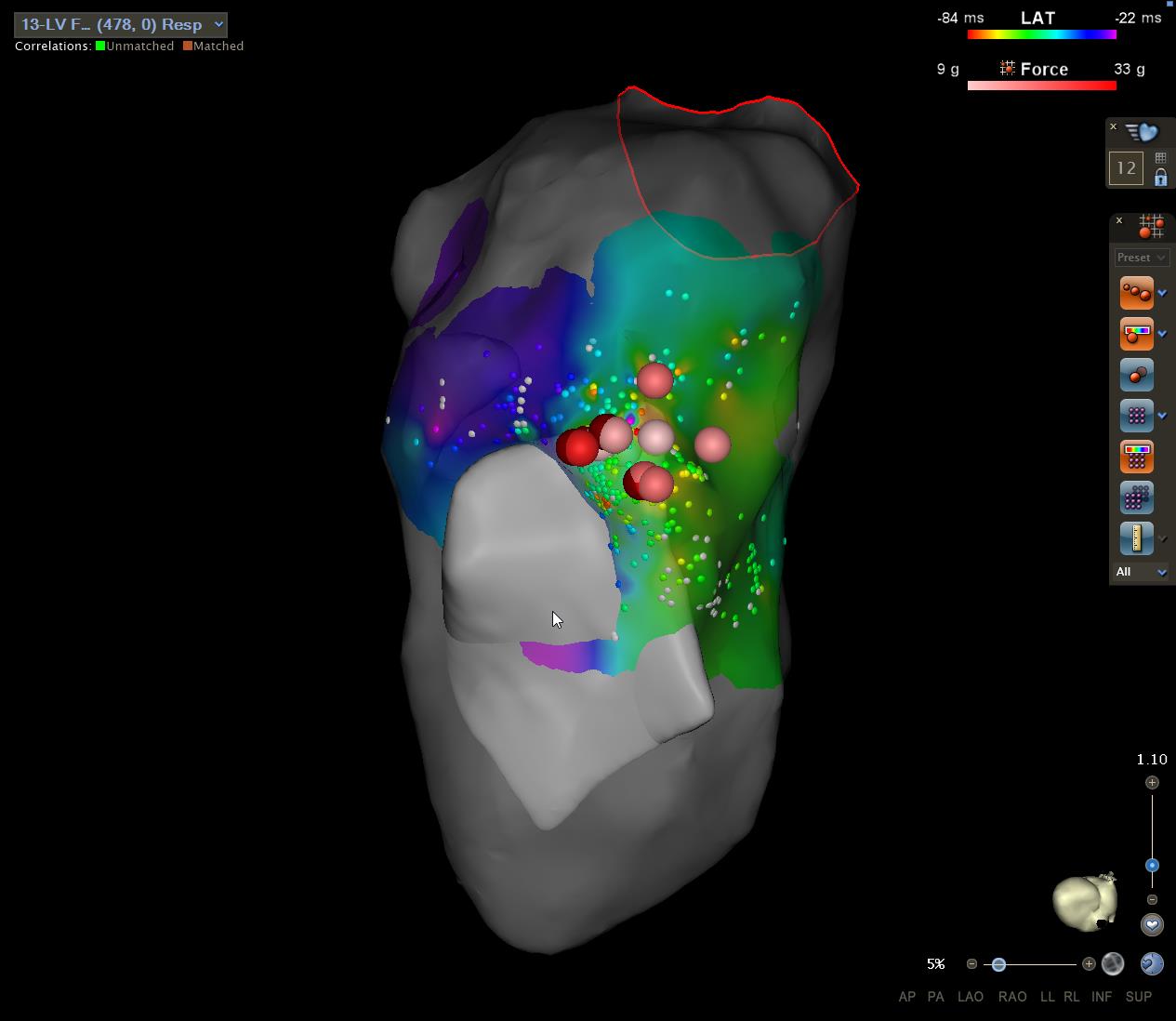 At Cornell, the procedure costs are reduced for eligible families thanks to the Henry and Karen Silverman Initiative to Advance Treatment of Canine Arrhythmias. This initiative furthers the study, diagnosis and treatment of arrhythmias in dogs, and aims to educate pet owners and veterinarians about additional treatments for heart rhythm disorders. The Silvermans' own dog Rex successfully recovered from a dangerous arrhythmia in 2018 thanks to Santilli, Dr. Romain Pariaut and other members of the cardiology team at Cornell. "After five years, Rex is still doing great," Santilli says. "The Silvermans have set up a wonderful initiative that gives us the opportunity to constantly improve our knowledge and help a lot of dogs."
"We would like to thank the Silverman family for their generous donations," Hsue notes. "We are also grateful to the staff from Biosense Webster, who ensured that the equipment and advanced technology were running smoothly."
If you are interested in contributing to the advancement of this cutting-edge equipment and procedure, and to increase access for more families through the Silverman Initiative, please visit the Cornell University Hospital for Animals giving page. If you and your veterinarian think that your pet might be a good candidate for this procedure, please reach out to us.
Written by Melanie Greaver Cordova
Video by Carol Jennings