Open House returns to veterinary college
Friday, April 21, 2023 - 2:43pm
A beloved tradition returned to Cornell University's College of Veterinary Medicine (CVM) this past week. After a three-year, pandemic-induced hiatus, the college invited the community to its 54th annual Open House.
"We want to open the doors to share what we are about and our love for what we do, so that people of all ages and walks of life can come in behind the scenes and learn something while having a fun and special experience," said Kacie Vasicek, a licensed veterinary technician at Cornell's Companion Animal Hospital and a member of the Open House planning committee. "This year, it's a very special Open House for us, because – as the first large event at the vet college post-COVID – it's a celebration, not only of veterinary medicine but of resilience in the face of adversity. And our student chairs have done a fantastic job."
On a warm Saturday, Schurman Hall showed off its bright interior in the spring sun as the building and the rest of the veterinary complex teemed with visitors. An estimated 5,000 members of the community – many of them with young children – had followed the invitation to explore the facilities, equipment, and everyday work of veterinarians. "I think I speak for everyone when I say we are thrilled with this year's turnout," said Madeline Stolow, D.V.M. '24, one of five students on the planning committee, whose nine members spent nearly half a year putting together a packed schedule of events. "It was a truly collaborative effort, and I think it showed."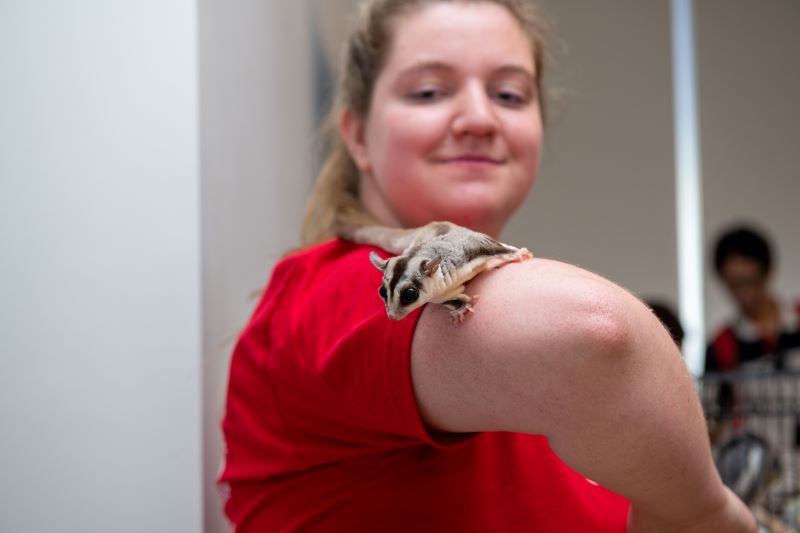 More than 150 student volunteers, as well as many members of the CVM faculty and staff, hosted the activities. They ranged from demonstrations of the Cornell University Police Department's K9 unit, dogs in water treadmill therapy, and a farrier at work — to educational lectures in small animal CPR, games such as wildlife bingo, a chance to touch a giant elephant heart, and tours of the Teaching Dairy Barn a short drive away.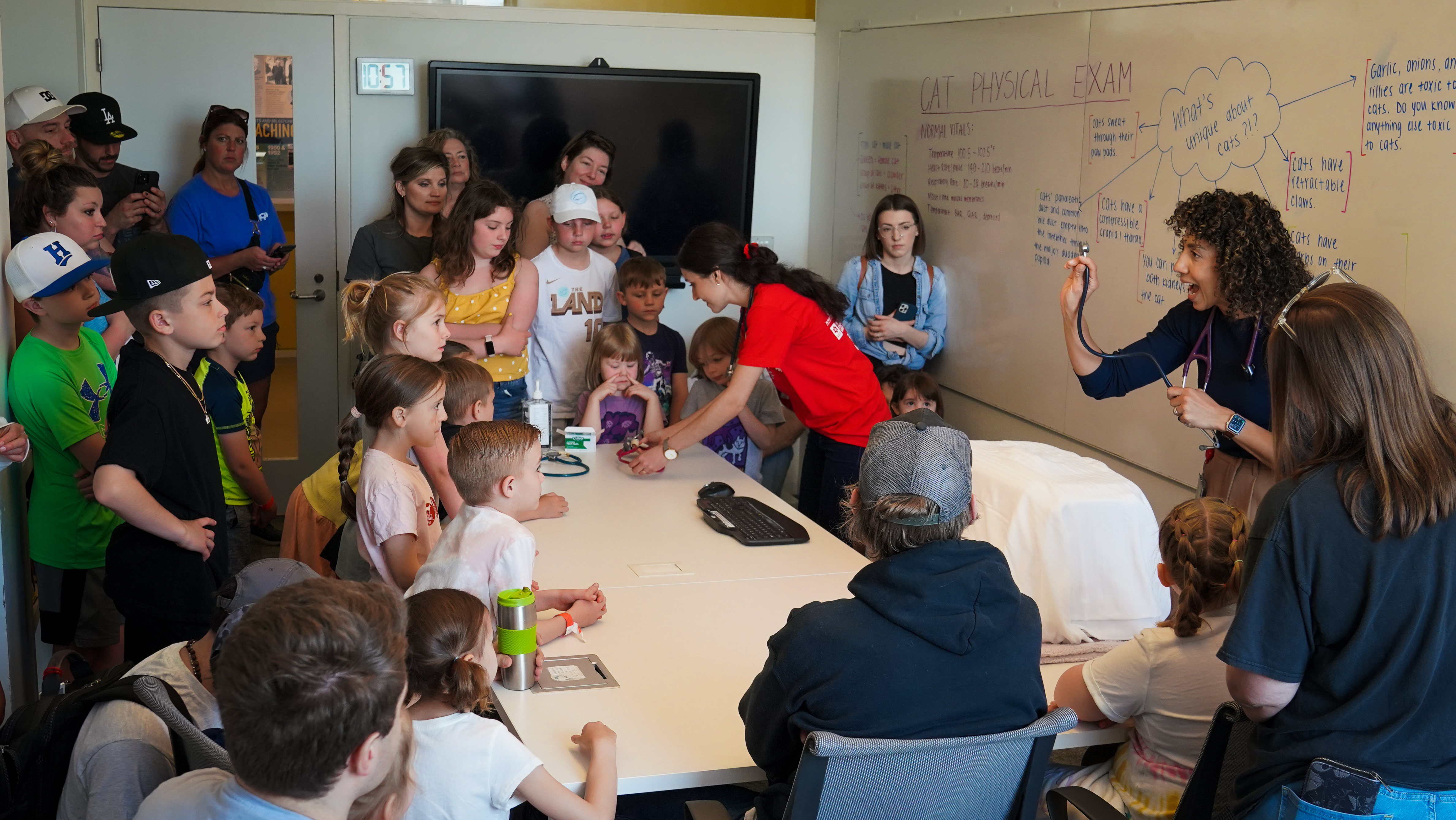 More than a dozen different live animal species were present, including resident miniature horse Minnie, piglets, chicks, goat kids, a red-tailed hawk, a horse painted to show the location and size of its internal organs, lizards, ball pythons, guinea pigs, dogs, cats and more. In the large animal breezeway, guests could say hello to Blossom, a cow fitted with a permanent opening to her digestive system, and inspect her rumen fluid through a microscope. Visual magnification also made it possible to watch tick races twice an hour.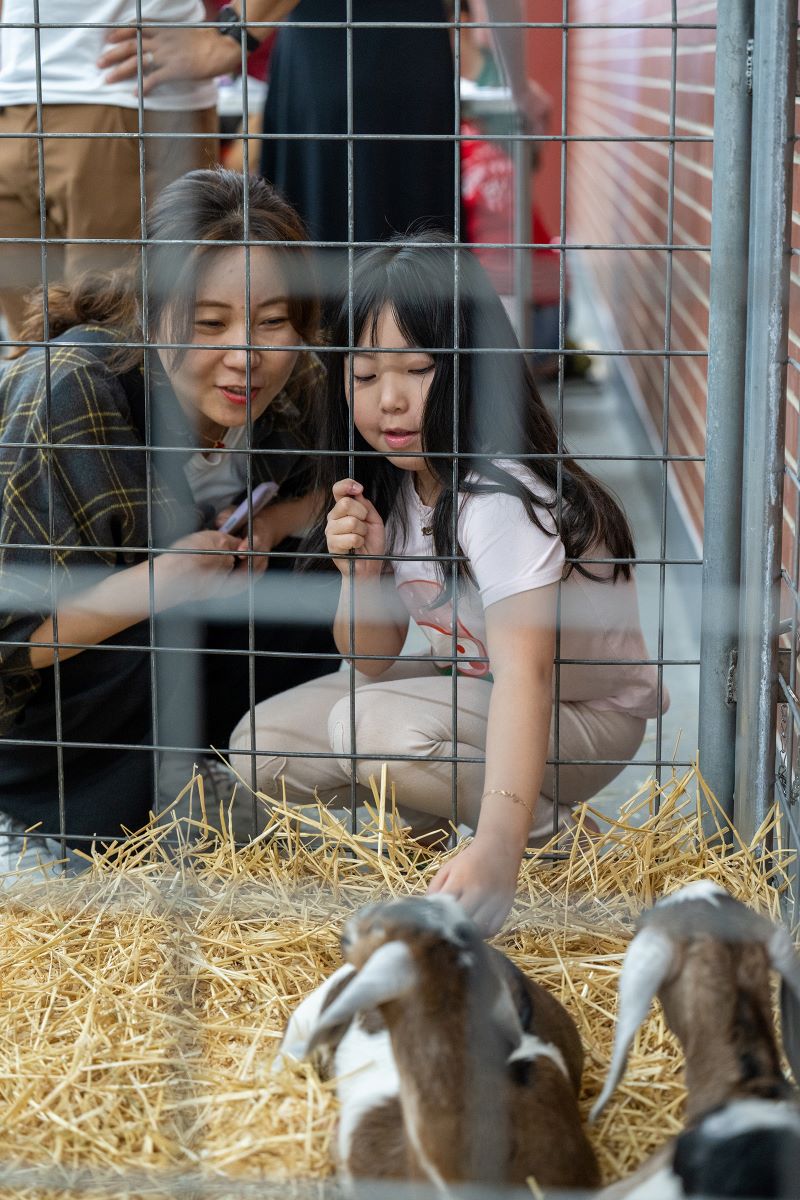 Ilana Brito, an associate professor in Cornell's Meinig School of Biomedical Engineering, was attending her fourth open house and had brought her kids – two four-year-olds and a nine-year-old – to join the fun. "Every year you find something new to learn," she said while watching a veterinary student treat one of her children's stuffed animals in the Teddy ER. "What I like about this event and others that Cornell puts on is that they're very good at hitting different levels. There are activities that are great for little kids, like the petting zoo, but I could also come here alone and have a really good time with more science-y things that my kids might not understand as much but that I think are really interesting."
For anyone considering a veterinary career, students, faculty members, staff, and exhibitors from community and educational organizations were happy to answer questions about different options in the rapidly growing field, including opportunities in the animal health industry, government, armed forces, and with more exotic species in zoos, wildlife refuges and developing countries. An admissions presentation and student panel gave details on CVM's application process.
One eighth-grade student who had traveled to Cornell from Genesee County with two friends to gain a better understanding of what it takes to become a veterinarian, was grateful for the insights she gained from the open house. "It really opens your eyes to how much work and schooling you have to put in to get to that point," she said. She hopes to be back in the future.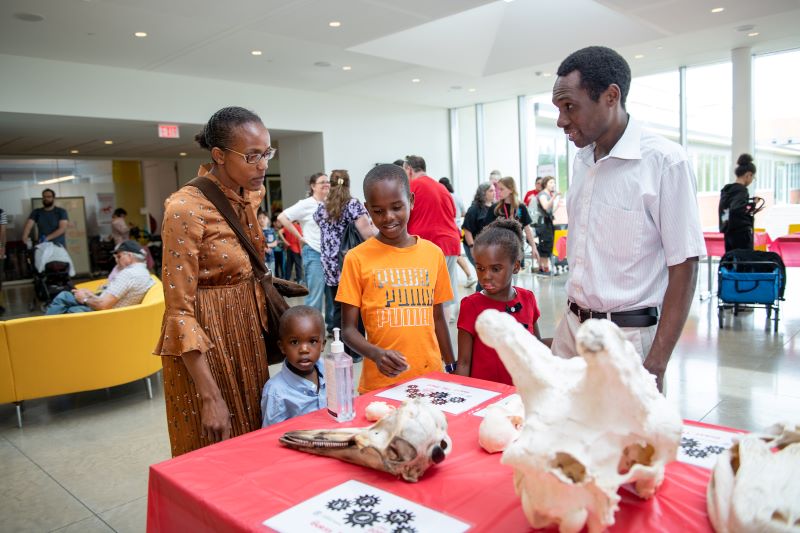 The open house organizers plan to be ready with even more ideas – especially after having put together this year's event without the benefit of having attended any previous CVM open houses themselves. "There was a bit of a learning curve, but planning went smoothly, as did the event itself," Stolow said. "We're already taking suggestions for next year."
Written by Olivia Hall
Video by Carol Jennings