Cardiopulmonary Bootcamp offers hands-on training for residents
Wednesday, May 3, 2023 - 11:38am
Cornell University's College of Veterinary Medicine hosted the fifth annual Cardiopulmonary Bootcamp from April 20-24, 2023, welcoming 55 residents in emergency and critical care (ECC) medicine from veterinary schools and private practices in the United States, Canada, Europe and Australia.
Over three-and-a-half days, participants engaged in intensive, hands-on training with leading specialists in their field. They practiced skills in key areas, including cardiac physiology, cardiac output monitoring, respiratory physiology, mechanical ventilation and cardiopulmonary resuscitation. Most attendees are completing their final year of residency, leading up to board exams this fall.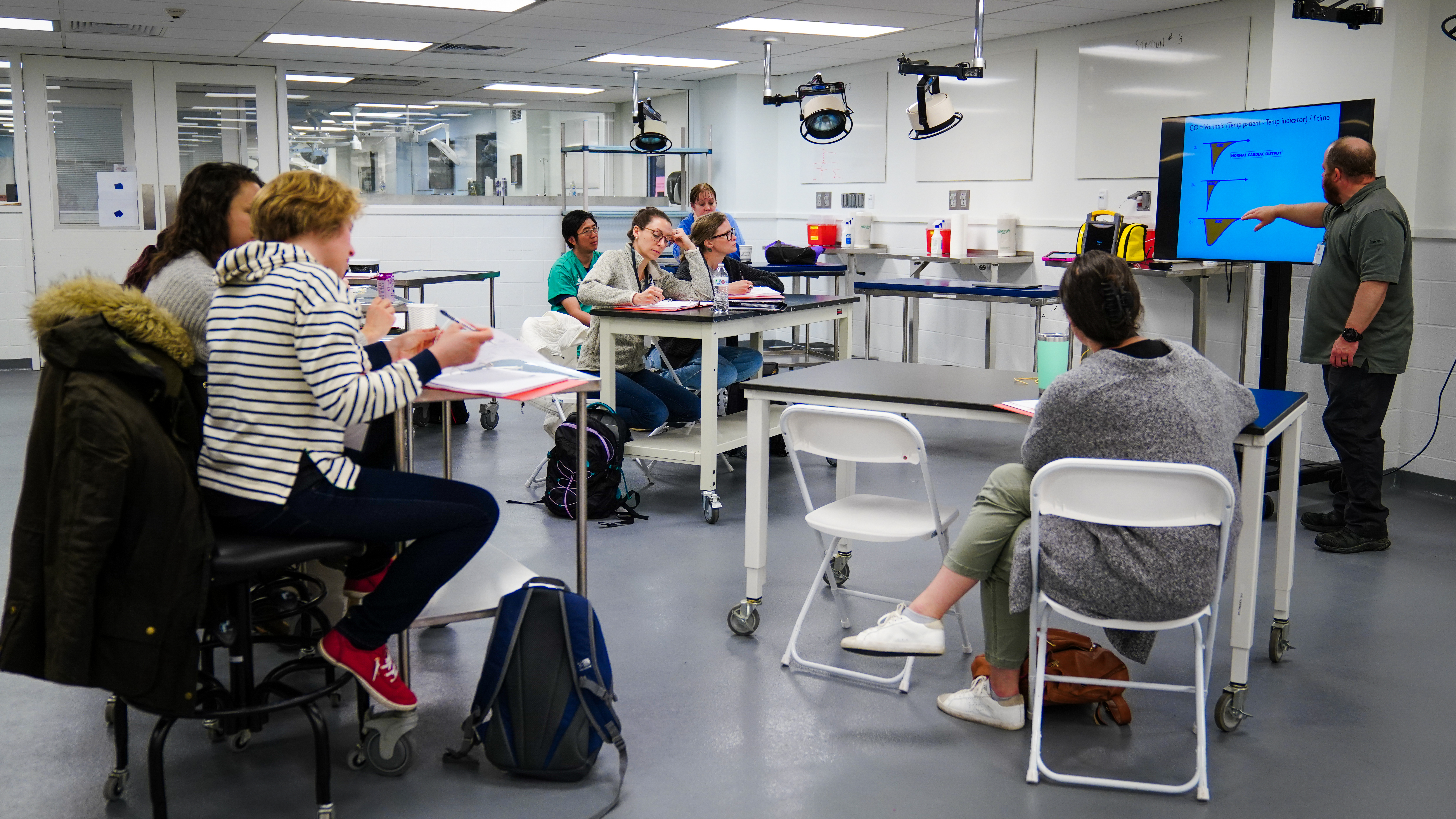 "This event is about providing dedicated, protected time for these residents, who have worked so hard for the last three years, to learn more things that will be beneficial for them as they move on to the next stages of their careers," said Dr. Daniel Fletcher, associate professor in the section of emergency and critical care of the Department of Clinical Sciences and one of the bootcamp's organizers, along with other ECC faculty and several administrative assistants. "We are in a really fast-paced specialty, so being able to sit down in very small groups with faculty who are dedicated just to teaching them and helping them work through cases step by step is really powerful."
The instructors – 16 board-certified ECC specialists from Cornell and institutions across the United States and Canada – led participants in discussions and two days of hands-on simulations reinforcing the concepts they had learned.
Saturday centered around mechanical ventilation. Two respiratory therapists explained the more subtle aspects of this core area of competency for critical care specialists with the help of two ASL 5000 devices by IngMar Medical. The computer-controlled lung simulators can be programmed to have different disease states and hooked up to mechanical ventilators. "They're human products that are used in human ventilation training, but as far as I know, no one else has them in veterinary medicine," Fletcher explained.
This training is just what Dr. Rachel Soh – who had flown in from Sydney, Australia – needed. "It was amazing," she said. "Where I am, we don't ventilate a lot, and I'd never had much formal training, so I don't think I ever grasped certain concepts until bootcamp."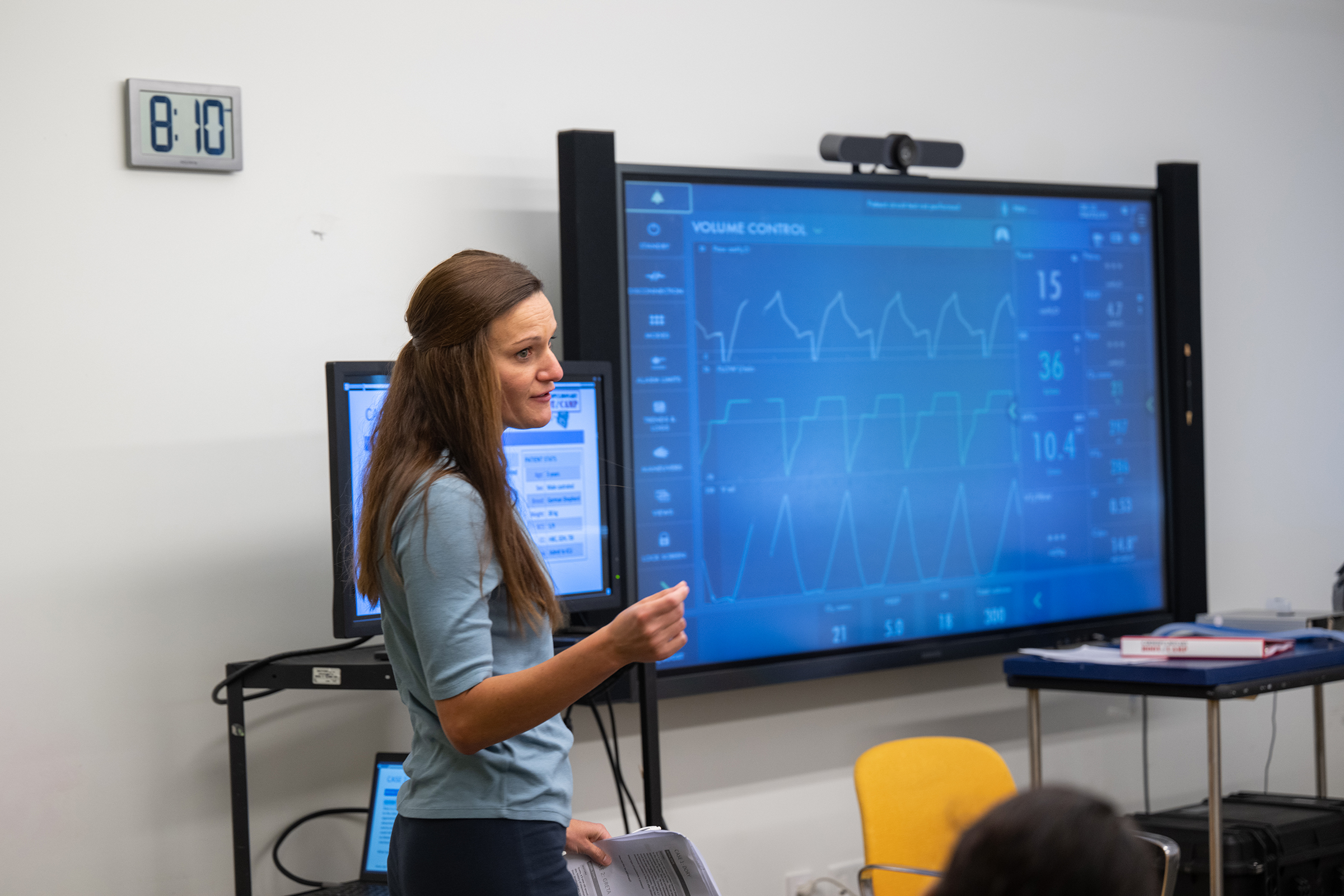 On the last day, the residents practiced CPR and post-cardiac arrest care scenarios. They used canine simulators developed at Cornell by Fletcher with the help of local company I-Town Designs and USDA and SUNY Innovative Instructional Technology Grant funding.
Fletcher drew on his background in electrical engineering to create veterinary versions of human patient simulators, powered by opensource software. They are augmented with pulses, have heart and lung sounds, and can look like they are breathing spontaneously. A patient monitor displays physiological information. "Doing CPR in a simulator lab felt far more life-like than any other CPR drill I have done before," said Dr. Georgina Hall, a resident in ECC at the Royal Veterinary College of the University of London.
Fletcher believes that the intensity of the experience directly contributes to the bonds bootcamp participants form over the course of the event. "On the first day, they're all sitting there looking very nervous because it's a pretty vulnerable position, going into a small group session where you're being called on and asked for things; but by the end of the session, they're all friends," he said. "This has been especially important for this class of residents who were heavily affected by COVID, with lockdowns and ECC case loads shooting through the roof because so many veterinary practices weren't available. They were pretty isolated and working very hard in challenging times."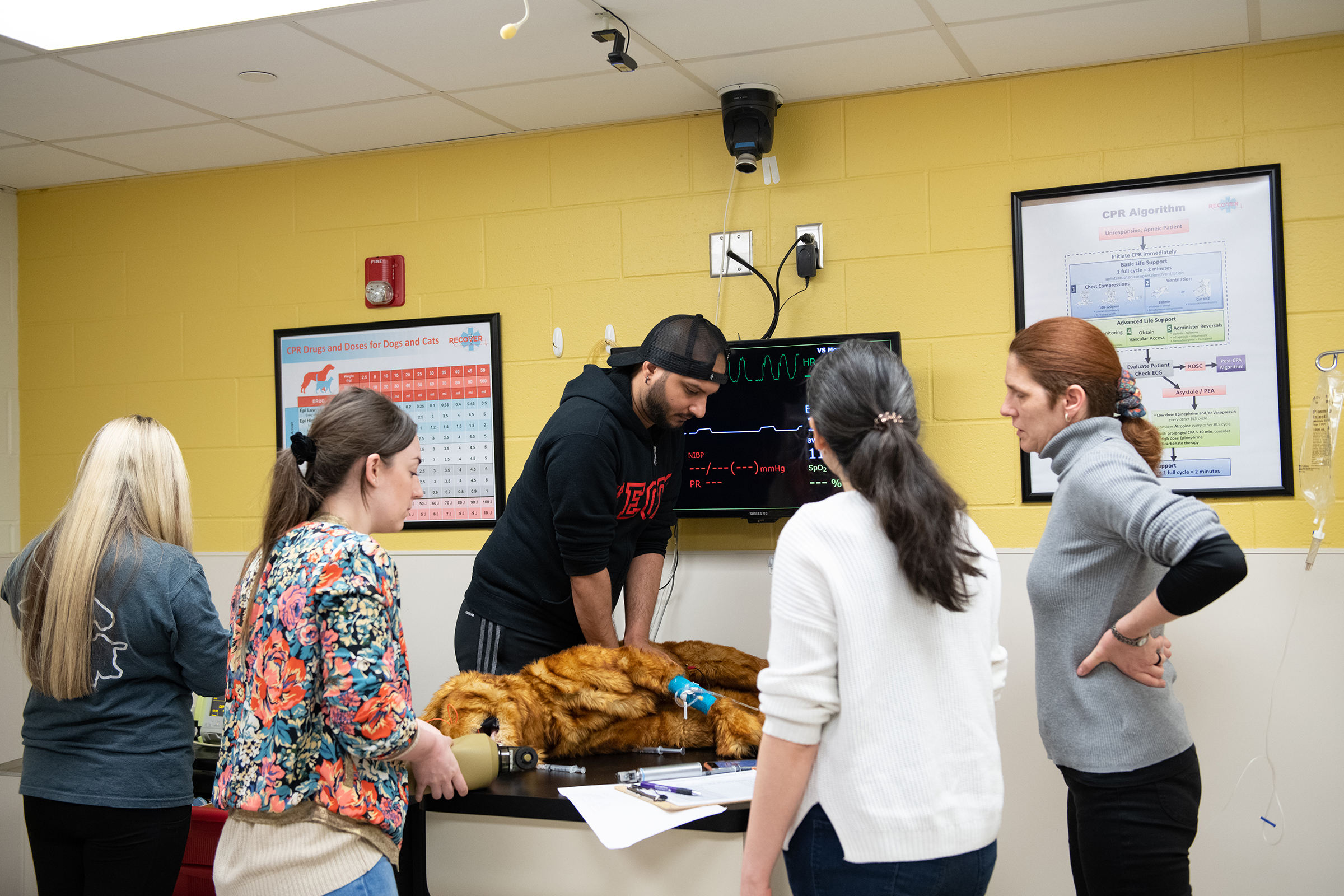 Soh, for example, has never attended the International Veterinary Emergency and Critical Care Symposium due to the pandemic. At Cornell, she appreciated being able to make connections in what is a relatively small community of about 800 veterinary ECC specialists worldwide. "It was really cool meeting residents from other parts of the world and talking about the different sorts of cases we see," she said. "Australia definitely wins regarding venomous animals."
Both Soh and Hall emerged from the bootcamp feeling more connected to their field and better prepared for their upcoming exams and careers. "Bootcamp was one of the best educational experiences I have ever attended," Hall said. "The enthusiasm, hard work and large number of hours put in by all the faculty, without waning enthusiasm, was inspirational to us all."
Written by Olivia Hall